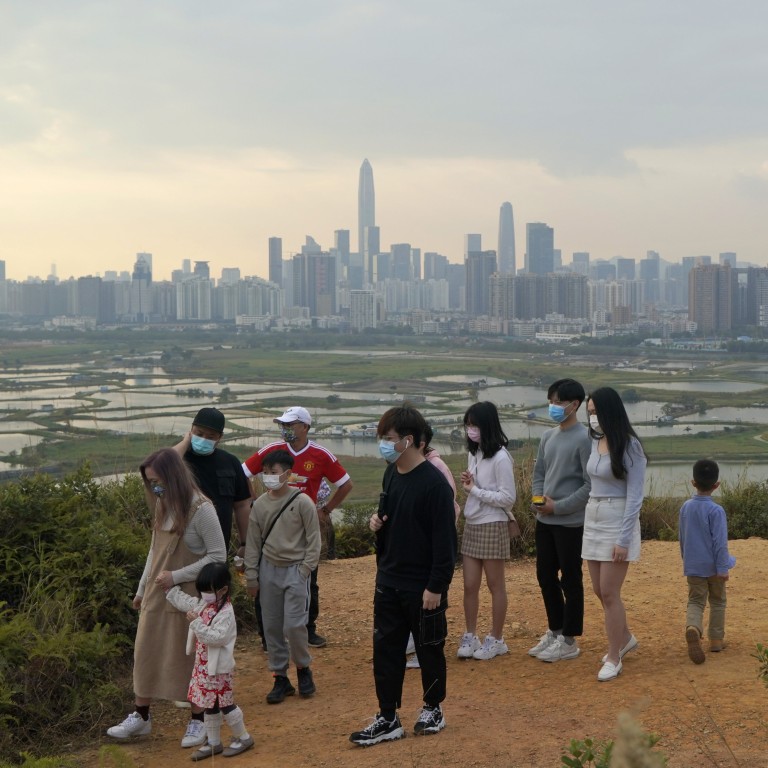 Letters

|
Hongkongers want quarantine-free travel to the mainland – that means a mandatory health code
Readers discuss a health code for Hong Kong, criticise media coverage of the Evergrande crisis, despair over national security law scams – and give a shout-out to quarantine hotel service
The absence of Mr Tam Yiu-chung at a National People's Congress Standing Committee meeting in Beijing this week has
made headlines
. As Hong Kong's sole delegate to China's top legislative body, he was barred by mainland health authorities from attending the meeting after a single, untraceable case of Covid-19 was found recently in the city.
Tam said that the incident underscores the central government's seriousness in upholding a zero-Covid approach to fighting the pandemic.
Regardless of other countries that have chosen to "live with the virus", I believe China will stay the zero-tolerance course.
Nobody is exempt from its strict preventive measures. Thus, as Tam has stressed, if Hong Kong is to reopen its borders with the mainland, a health code with mandatory contact tracing
will be necessary
.
A Hong Kong government suggestion of a voluntary scheme is unrealistic, as mainland health authorities would see such an arrangement as a loophole that could jeopardise the effectiveness of their pandemic measures. Given that the Delta variant is highly contagious, it makes sense for the Chinese government to take such a stringent approach.
People from all walks of life have told me that the most pressing issue they face is the continuing closure of the mainland border, preventing family reunions and business travel. Quarantine-free travel between Hong Kong and the mainland must resume. This issue is more important to Hong Kong than the resumption of normal travel to other places.
The time is ripe for Hong Kong to formulate a mandatory health code for people travelling to the mainland. This is a matter of great public interest and it's time to make a decision.
Holden Chow, Legislative Council member, Democratic Alliance for the Betterment and Progress of Hong Kong
The danger of under-reporting on Evergrande
I can't believe that the media, for the large part, are ignoring the financial disaster staring at China: the imminent collapse of
Evergrande Group
will resonate across all economic sectors and affect most harshly the struggling, hardworking lower and middle classes in the country.
Investors blinded by the lack of a free press have been duped and are facing financial ruin with Evergrande's imminent collapse, yet for some reason no one seems to see the iceberg ahead.
It appears the Chinese government does not want the public to fully understand the unseen dangers, and is limiting the press coverage that this looming disaster deserves.
I remember South Korea and the International Monetary Fund crisis in 1997, as well as its destructive legacy. I remember the 2007 housing market collapse in the United States. Look to the past to see the future. There is an iceberg ahead and the press is not sounding the warning bell.
I say: man the lifeboats!
Ryan Culliton, Tseung Kwan O
Tackle security law scams with public education
I am writing about the article, "Phone scammers cheat Hong Kong businesswoman out of US$1.28 million using national security scare tactics" (
October 19
).
The 58-year-old woman fell for the scam because she was afraid of breaching the national security law.
It's depressing to learn of another Hongkonger cheated in a phone scam, and of such a large sum of money too, when it could easily have been prevented.
The national security law that came into force last year has caused a lot of panic among Hongkongers. Many simply do not understand it fully, such that a convincing phone call from a scammer could trick victims into thinking they have breached the law.
The government should run a public education campaign to inform citizens of how this law works, so that Hongkongers can detect when it's a scam.
Clista Chau, Tseung Kwan O
Big thanks to quarantine hotel
Like many others, I was dreading my 21-day mandatory quarantine in Hong Kong. While I understand and appreciate that the government is trying to protect the 7.4 million people of Hong Kong from Covid-19, I wasn't sure how I would manage under this kind of lockdown, especially after recently reading about mouldy, dusty and dirty hotel rooms.
So I want to give a shout-out to Nina Hotel Island South in Aberdeen, where I have completed more than two-thirds of my quarantine.
After arriving, I was pleasantly surprised that my room was quite spacious and the view spectacular. I did pay a little extra to be on a high floor, but I'm sure the lower floors would have been fine too because there are unobstructed views of Aberdeen Country Park.
Not only does the hotel have a beautiful view, the floors in the room are made of wood and feel very clean. Sponges, dishwashing soap, metal utensils, bottled water, a kettle, toilet paper, tissue boxes, clean sheets, a floor duster, a welcome snack bag and more were provided.
What stood out for me were unexpected small things, like afternoon tea snacks (sweet tofu and fresh wife cake), as well as simple games (fun puzzles), which were delivered a few hours after lunch.
Finally, the meals always came piping hot and when I called to ask for something or had a delivery, it was sent to my room within 10-15 minutes.
Before I leave, I just want to give a big thanks to Nina Hotel Island South for turning my stay into a pleasant forced holiday!
Eileen Jung, Mid-Levels