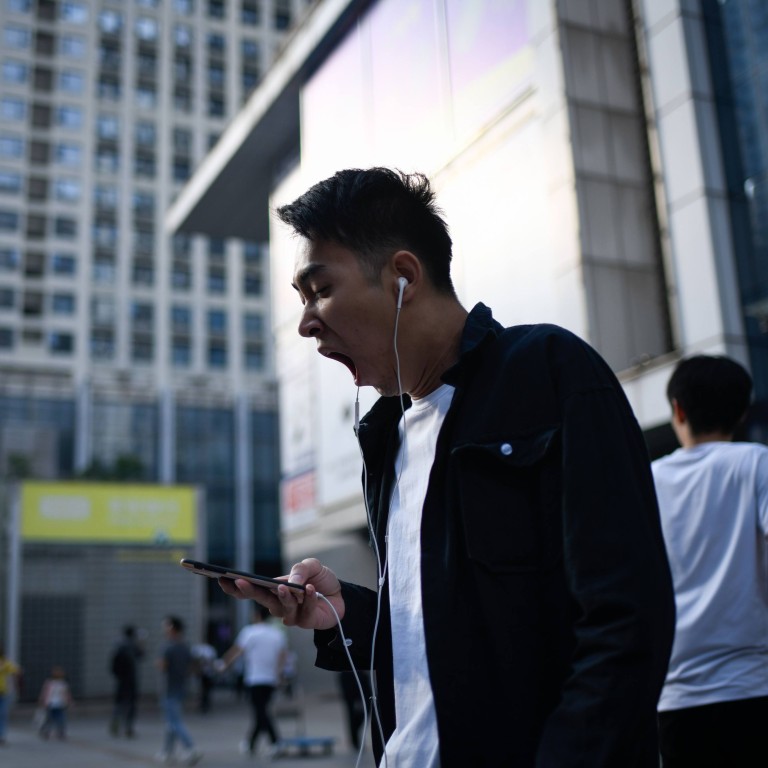 Letters
China's 996 work culture is labour exploitation by another name
Support for the practice of requiring employees to work from 9am to 9pm, six days a week, comes from the top, and is exacerbated by poor regulation of labour practices
Regulators should take steps to balance the power dynamics between companies and employees
Labour exploitation is often a product of unchecked management power. In China's tech industry, labour exploitation occurs in the form of the
"996" work culture
.
This culture, in which employees often work from 9am to 9pm, six days a week, has provoked nationwide debate as China's tech workers, most of them young and college-educated, take to the internet to complain.
The tone for this culture is set at the top. Alibaba's founder
defended
the 996 schedule as "a huge blessing" as these companies offer workers an opportunity that many would envy. Qihoo 360's CEO
dismissed
the anti-996 protest and the idea of true work-life balance as pie in the sky. He suggested that the solution to complaints about long hours is to simply make employees shareholders of the company: "Make them feel like they are working for themselves. Then they won't mind the 996 schedule."
The issue is exacerbated by poor regulation of labour practices in China. The Chinese government maintains close scrutiny of
labour rights advocacy
, which limits public visibility and discussion of companies' labour practices. Not allowing the establishment of independent labour unions, the government controls the All-China Federation of Trade Unions, which is often ineffective in protecting workers.
According to China's labour laws, employees should not work for more than eight hours a day, nor more than 40 hours a week. Employees who do not have standard working hours, such as senior executives, drivers or consultants, do not usually receive overtime pay. This system of irregular hours is abused by tech companies that overwork their employees without paying them extra.
Large tech companies' alignment with the national interest gives them more power. For example, Huawei is viewed as a national champion because it has grown into a global tech leader. Last year, when a court
ruled in favour of Huawei
in its dispute with a former employee over unpaid overtime and compensation, it effectively signalled the government's approval for the "fighter's pledge" – a signed declaration by employees that they will become warriors for the company and surrender their claims to some benefits.
Labour exploitation is rooted in a culture that sees overwork and sacrifice as virtues and which is supported by industry leaders. While cultural shifts would require years of education, regulators could take steps to balance the power dynamics between companies and employees.
They could mete out stricter punishments for companies that violate labour laws or establish a more rigorous approval process for companies that want to adopt irregular working hours. Regulators should also put in place an anonymous whistle-blowing mechanism.
Duncan Li, Kennedy Town