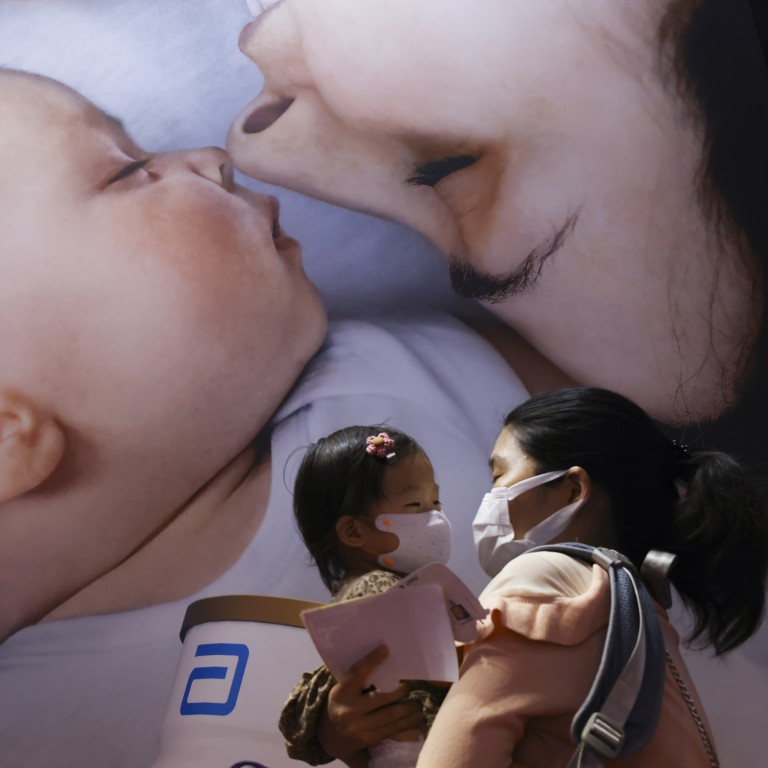 Letters
Carrie Lam's 'pro-child' push could deliver benefits for Hong Kong
Readers discuss the Hong Kong chief executive's pro-family stance, the benefits of open banking, and the importance of young people contesting Legco elections
I refer to the
article
, "Hong Kong leader Carrie Lam in 'pro-child' push for flexible employment for working mothers in public, private sectors" (October 30).
It is good to hear that the chief executive is making an effort to fulfil her promise to support families raising children. Applying her pro-child philosophy to social policy can benefit society in several ways.
Support for working mothers could help reduce
discrimination against them
in the workforce. Employers often deem working mothers "troublesome" as work is no longer their top priority and they need more personal time to take care of their children, which it is assumed will affect their work efficiency. A social policy that takes this into account will better protect working mothers' rights.
Lam's campaign also aims to keep women in the workforce. According to data from the Census and Statistics Department, the female labour force participation rate in Hong Kong has remained low compared with other advanced societies.
Given that the education level of women in Hong Kong is relatively high, the city needs to retain women in the labour force to enhance competitiveness. It will be the city's loss if women no longer contribute to our workforce after they get married, especially when our labour force is shrinking.
Moreover, the policy could encourage couples to have more children. Dual-income families are not uncommon in places like Hong Kong where the cost of living is high. This results in a
low birth rate
as couples are not confident they have enough money and time to raise children, which is not a good sign for our ageing society.
Therefore, I call on the government to do its best to implement these pro-family policies, which will undoubtedly benefit our city in the coming 20 to 50 years.
Gu Cheak-kai, Sha Tin
Open banking should be a fintech focus
During Hong Kong FinTech Week 2021 organised by InvestHK and FintechHK, over 17,000 professionals in the finance and technology industries attended over 120 talks and workshops addressing a range of topics including blockchain, open data and digital transformation.
One important but less well-known area of fintech is open banking, through which traditional banks collaborate with service providers to serve the community in a more innovative way.
For example, a major bank in Hong Kong collaborated with an online platform on enabling customers to make restaurant bookings more efficiently. Through an application programming interface (API) – a set of computer codes for data exchange between the bank and the platform – customers can connect their credit card accounts issued by the bank to a popular restaurant review app to make reservations.
With open banking technology, customers can place their orders on the restaurant platform, while enjoying the discounts and benefits jointly offered by the bank and the platform, without using a physical credit card.
This technology has improved the operational efficiencies of the restaurant platform and allowed the bank to access valuable data about customers' spending behaviour. Empowered by big data analytics, both the bank and the platform could offer customers more personalised services.
Open banking also allows traditional banks to partner with small and medium-sized businesses, including start-ups in the financial industry, to reach new customers by offering innovative services. It could also enhance financial inclusion. Promoting this technology can strengthen the city's status as an international finance centre and a fintech leader for the
Greater Bay Area
.
However, despite its great potential, open banking was discussed at only three talks at FinTech Week. We hope InvestHK could feature more speakers on this topic in future and attract more investment to this promising area.
As one speaker on open banking at FinTech Week pointed out, "Hong Kong is still in the early starting stage, but we are on the way on that journey".
Xizi Hong and Yitong Chen, Kowloon Tong
Young Legco candidates a winning trend
The nomination of candidates for the upcoming Legislative Council election
closed last Friday
(Nov 12). This is the first legislative election following improvements to Hong Kong's electoral system, under which only patriots can be nominated as candidates and run for election.
We see several new faces in the list of candidates in all three categories – geographical constituencies, functional constituencies and the Election Committee constituencies. We expect elected members to represent and stand for the community's interests.
Instead of criticising their competitors, candidates should emphasise their past contributions and debate their agenda, highlighting to voters their aims and abilities. They should focus on issues that are in the best interests of our society. We need constructive progress and development.
Through the Candidate Eligibility Review Mechanism, the nominees will be vetted and eligible candidates are expected to be confirmed and announced
within two weeks
of the closing of nominations. All non-patriots will be screened out.
Looking at the list of candidates, many are young, professional or have sound academic qualifications. Their backgrounds and enthusiasm would no doubt be an asset to Legco if they are elected. These talented people may influence their peers with their knowledge and unique views.
We should encourage more young people to stand for election, as young candidates may better understand the needs and demands of their cohorts.
No matter who wins the election, they should pledge their commitment to the community. We look forward to seeing elected members serve their community humbly.
Chu Kar-kin, Ho Man Tin