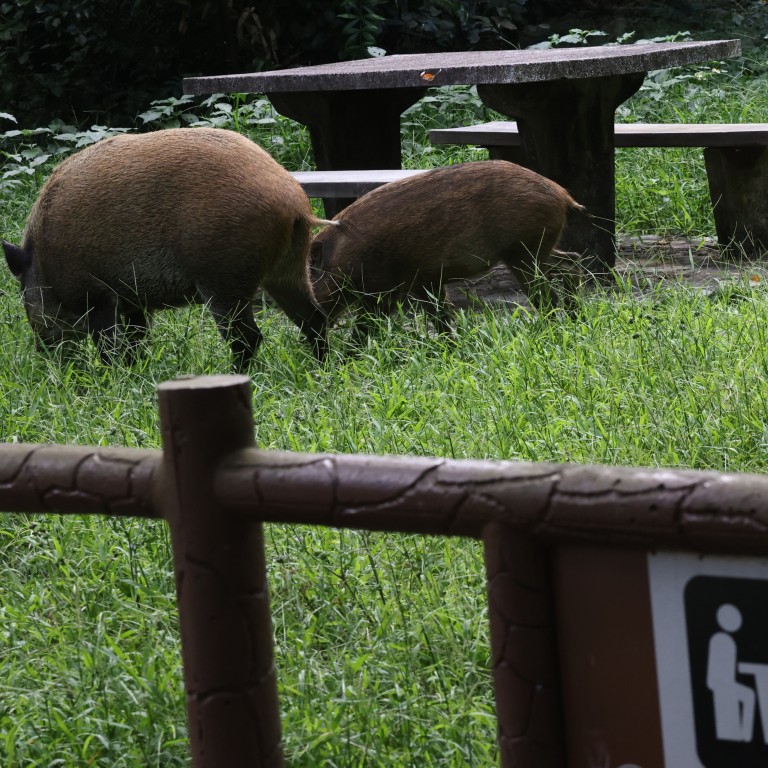 Letters
Hong Kong's wild boar conundrum could be solved by making space or building better boundaries
Readers discuss the government's plan to capture and put down wild boars that venture into urban areas
The Hong Kong authorities have recently decided to
capture and put down
wild boars roaming urban areas, following the case of a policeman
being bitten
by one. This move is only one among the government's responses to a string of public complaints regarding wild boar sightings since 2017, which included establishing a special team devoted to dealing with wild boar complaints and a sterilisation programme.
Educating the public not to feed the animals, a key factor that has drawn wild boars into the city, has also been high on the government's list of resolutions.
So far, the move to take the lives of wild boars has been the most radical and calls for our attention. Instead of stamping out wild animals, we can start by asking the question: how far have wild boars caused a nuisance to Hong Kong society? In most cases, seeing a wild boar in an urban setting has been enough to trigger anxiety and feelings of intrusion in many city dwellers.
But this is a sign of problematic deep-seated social and cultural preconceptions that need to be addressed. We should think about how our society has shaped a general perception of wild animals as not only a threat to the safety of human beings, but also as creatures inferior to humans in a hierarchy that has long been ingrained in our subconscious minds.
Instead of educating the public not to feed wild animals, humanity can better benefit by educating our younger generation to respect and care for other living creatures.
While it is understandable that urban spaces were constructed for human use, the boundary between the city and the wild is also constantly shifting. Surely, non-human animals do not read the daily news and should not be expected to understand when their living spaces shrink due to human activities. Should a wild boar be punished with death for not being able to find its way back to the wild, or for being captivated by the idea that there are humans wanting to feed it?
With no end to Hong Kong's urbanisation, and the lives of innocent wild boars at stake, it's high time we reconsidered whether we should make space in the city for docile wild animals or draw a more explicit boundary that even non-human animals will be able to recognise.
C. Chan, Fortress Hill
Wild pigs a menace to land and man
I hope that pigs will prove less controversial than politics.
Police shut down gatherings in country parks. However, walkers would be more satisfied if they could remove wild pigs instead.
I have noticed that the pigs strip all the undergrowth making
landslips
more likely
, as once eaten, plants can't absorb rain. This also reduces the evaporative cooling effect of leaves, and bare earth looks ugly. Pigs have attacked
old people
, and even the police.
Rather than warning us with posters, why not remove the pigs? They are a menace to land and man alike.
Paul Serfaty, Mid-Levels