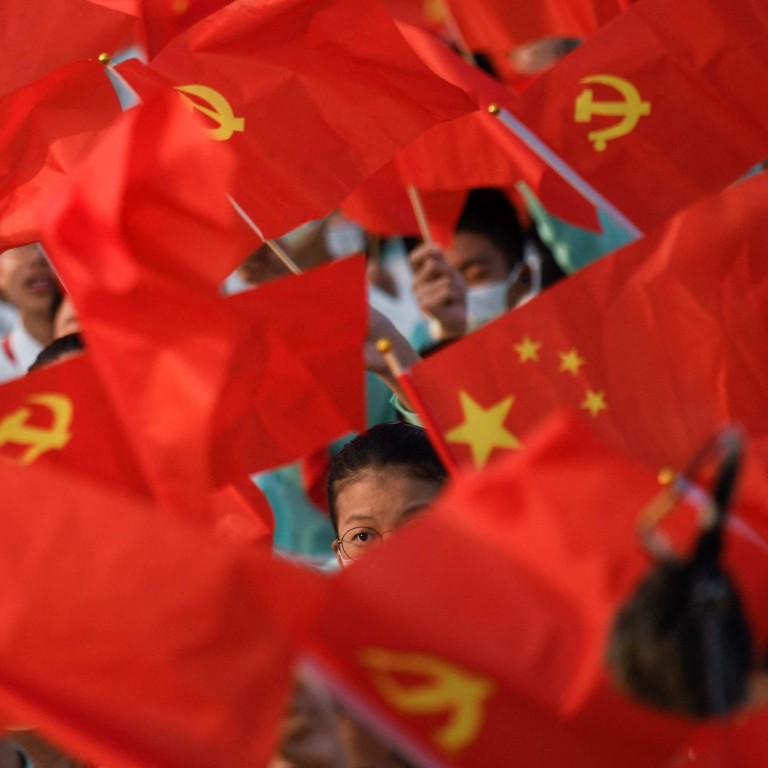 Letters
Overbearing Western democracies in danger of acting like dictatorships
Readers discuss China's democracy forum, protection for domestic workers in Hong Kong, career support for elite athletes and the controversial death scene of a cat in a Chinese drama
I could not agree more with Mr Tian Peiyan, deputy director of the Policy Research Office of the Communist Party's Central Committee ("China puts on its own 'democracy forum' in countdown to Biden's summit",
December 4
).
Isn't it a fact that our Western democracies mainly share thoughts on what can't be done or what doesn't work? Thus, decisions and actions are delayed almost indefinitely. Politicians are not rewarded for what they have achieved for the people, but rather for sailing smoothly from one election to the next.
State Council Information Office spokesman Xu Lin called US democracy "a disguise", which is the correct characterisation of our Western democracies.

In our capitalistic world, every "democratic" country, knowing that they have a "superior" system, should be happy about every competitor not having this marvellous system.
However, under the "disguise of democracy", some people believe that they have the final say. Doesn't this make Western democracy a kind of "dictatorship with Western characteristics"?
Roland Guettler, Lai Chi Kok
Give domestic helpers more protection
I'm writing in response to the article "Hong Kong's Pathfinders offering domestic helper mums Brighter Futures with help from Operation Santa Claus" (
November 16
).
When we talk about Hong Kong families, the first thing that comes to my mind is the domestic worker. In a family with working parents, domestic help is a good way for them to take care of their children. Yet, domestic workers are not always appreciated.
I couldn't help but be distressed to read in the article about the domestic worker who had been terminated without notice by her employer. There is still not enough protection for domestic workers working in Hong Kong. Some former helpers who stay in the city and become mothers find themselves without legal status or rights.
It is sincerely appreciated that the Bright Futures project provides these migrant mothers with an array of services including postnatal depression support, early learning opportunities, vaccinations and mediation. The project also helps to ensure migrant mothers' children have safe and loving homes, access to central services and supplies, and are able to meet health and development milestones.
To protect domestic workers, it is vital that the government introduce measures to ensure their welfare. As it is still important for many families in Hong Kong to employ domestic helpers to take care of their children, the government should afford more protection to attract these essential workers to Hong Kong.
I truly hope that these unhappy stories will become a thing of the past and that Hong Kong can be a more loving society towards the migrant workers in our midst.
Jasmine Law, Kwai Tsing
To support our athletes, learn from Australia
With regard to the letter "Retired athletes deserve more support"
(
December 4
), we agree that the government should review its Retired Athletes Transformation Programme to attract more elite athletes. The Home Affairs Bureau should learn from its Australian counterpart to offer career guidance and job referral services at various stages of the career development of our elite athletes.
For most of them, a career in competitive sports is relatively short. Instead of focusing on supporting the athletes after their retirement, the government should develop a programme that helps athletes to plan for their long-term career development while they train for international sporting events.
In Australia, a Career Practitioner Referral Network has been established to provide professional career advice and guidance for athletes to explore their career options and receive training to improve their career prospects. A work placement programme is also in place to connect elite athletes with jobs offered by a range of endorsed companies.
In Hong Kong, the Labour Department provides school leavers aged 15 to 24 with a wide range of employment-related training and workplace attachment opportunities through its Youth Employment and Training Programme. The Home Affairs Bureau could work with the Labour Department to provide similar services for elite athletes at various stages of their careers. The Human Resources Planning Commission has launched talent.gov.hk, an information portal offering consolidated manpower information to facilitate the making of informed career and learning choices. The bureau could collaborate with the commission to offer elite athletes more information about job and training opportunities.
Only through the concerted efforts of various government departments and bureaus can our elite athletes receive more comprehensive and quality support for their career development.
Bosco Ng Chun Lok and Arthur Tsang Hin Hei, Kowloon Tong
Leave acting to actors, leave animals alone
I am writing in response to "Death scene for cat forces Chinese period drama to prove they had not killed it for real" (
December 2
). The death of a pet cat in a drama recently caused a stir on Chinese social media and I, too, believe the scene was too realistic to have been faked.
I'm not persuaded the feline, called Mimi, survived the ordeal, even though the show released a video explaining how the scene was made to look realistic, and followed up with an interview with Mimi's owner.
We all know that a white cat has no distinctive pattern which means it's easy to find a substitute.
In addition, an extra said he witnessed the cat being injected with an unidentified liquid four or five times.
Finally, no matter what the truth is, what we need to focus on should be the acting of actors and not getting a performance out of an animal. Life cannot be scorned for lifelike effects.
Penny Shao, Tsuen Wan