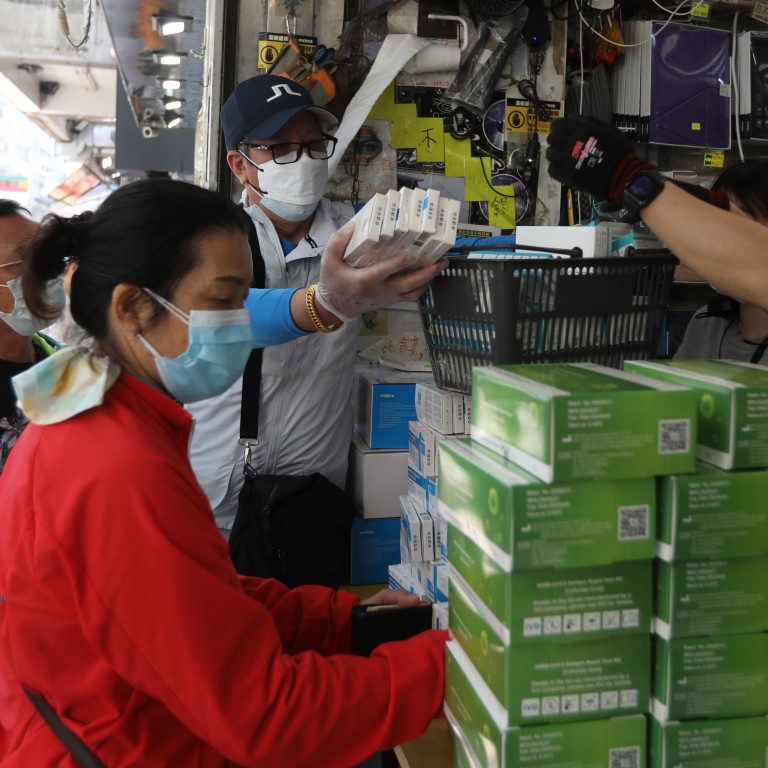 Letters
Clarity needed on how to safely dispose of used rapid antigen test kits
Readers discuss the potential health and environmental risks of used self-test kits for Covid-19, seniors struggling with contradictory information, and the UN agreement on curbing plastic pollution
Feel strongly about these letters, or any other aspects of the news? Share your views by emailing us your Letter to the Editor at
[email protected]
or filling in
this Google form
. Submissions should not exceed 400 words, and must include your full name and address, plus a phone number for verification.
The government
has announced
that members of the public who test positive by rapid antigen test (RAT) should be considered positive cases, and many more people are now using these self-testing kits. However, most of us might not know how to dispose of used RAT kits properly and we throw them away together with household trash.
According to Miriam Diamond, a professor of earth sciences at the University of Toronto, used RAT kits are considered biohazardous waste and should be disposed of at authorised disposal sites because they contain biological materials collected from the nose. Also, certain chemicals included in these test kits could be hazardous.
Used RAT kits may contain the Covid-19 virus. If they are disposed of as municipal solid waste, it could expose the virus to the environment and the people handling the waste.
In one brand of the
self-test kits
found in the European Union's common list of Covid-19 rapid antigen tests, for example, the instruction to users is to dispose of the used kit in household trash. It does not provide a plastic bag for the disposal. The Hong Kong government's advice is to "wrap and seal all components of the test kit carefully and dispose properly".
Shouldn't used kits be considered clinical waste? According to the Waste Disposal Ordinance, clinical waste means "waste consisting of any substance, matter or thing belonging to any of the groups specified in Schedule 8" that is generated in connection with, among other things, medical practice.
Schedule 8 of the ordinance lists a group of infectious materials including the severe acute respiratory syndrome (Sars) coronavirus. The Delta and Omicron variants of Covid-19, which may be more dangerous than the Sars virus, are not included in this list.
I think the Environmental Protection Department should clarify which kind of waste used RAT kits belong to and provide us with the proper disposal procedures for them.
Felix Mak, Kowloon Bay
Seniors left confused by lack of clarity
We seniors are going nuts trying to follow the latest news about Covid-19. The
contradictory information
that is being fed to us by various media and through WhatsApp messages is driving us up the wall.
We glued ourselves to government press releases and were comforted to know that areas where cases were discovered had been locked down. But later, we heard that tens of thousands of people had actually been infected.
Our children are worried about our movements, so we use the HealHK app to check the list of buildings with confirmed cases. We check to see which district tea shop is safe for us to have afternoon tea.
We felt relieved when we saw only a small number had been infected, but by evening reports said tens of thousands have been infected. Either our understanding of technology is poor or our experience is outdated.
To top it off, recently a
letter supposedly written
by Allan Zeman to Chief Executive Carrie Lam Cheng Yuet-ngor went viral in WhatsApp. Many seniors discounted it as fake, but others swore it was written by him. Who is correct? Argumentative, hot-headed seniors are again left no wiser. Poor seniors.
Lal Daswani, Tsim Sha Tsui
Landmark treaty to curb plastic pollution is our cue to act
The world is cheering on the
United Nations' agreement
at its recent meeting in Nairobi to develop a legally binding global treaty to curb plastic pollution. This agreement has been hailed as
the most significant
environmental deal since the 2015 Paris climate accord.
The mandate is expected to cover the plastics life cycle from design and production to disposal. There will be opportunities for chemical firms to revisit their production and shift gears to curb single-use plastic pollution. Governments, firms and consumers should seek to do the same or better, increasing their use of alternative, environmental-friendly materials.
According to Hong Kong's Climate Action Plan 2050, the administration will further promote waste reduction and recycling, and it expects to implement
waste charging
in 2023 and regulate disposable
plastic tableware
in phases from 2025. These are all positive news amid global efforts to curb plastic waste from going into landfills, the ocean and our food chains. Education and public-private partnership remain instrumental in making change.
With environmental, social and governance becoming a sustainable growth driver, businesses need to balance profitability with purpose. But even as companies prepare for that, the stark reality for many is they will be operating in survival mode for most of 2022. Businesses are being hit hard by the pandemic, stagflation,
supply chain disruption
, geopolitical risks, volatile exchange rates and trade imbalances. The Ukraine crisis has also created havoc in world trade and security, which could dampen investment or business expansion.
A whole-of-society effort is needed. Effective policies at local, regional and international levels can help curb plastic waste pollution, promote recycling, encourage innovation and foster collaboration.
Green finance
can help fuel companies' transition to a net-zero future.
Business needs to embrace a holistic, "cradle-to-grave" approach to create positive impacts. It is a testing time for leadership in an environment characterised by vulnerability, uncertainty, complexity and ambiguity.
The world needs to reset for a climate-friendly, life- and people-centric world order. People from around the world have cast their votes of support. While UN member states will negotiate the terms of the treaty, it is high time for the rest of us to get ready.
Dr Edmund Lee, general manager and head of group ESG initiatives; and Dr Brian Li, vice-chairman, Gold Peak Industries (Holdings) Ltd