Russia
Get more with myNEWS
A personalised news feed of stories that matter to you
Learn more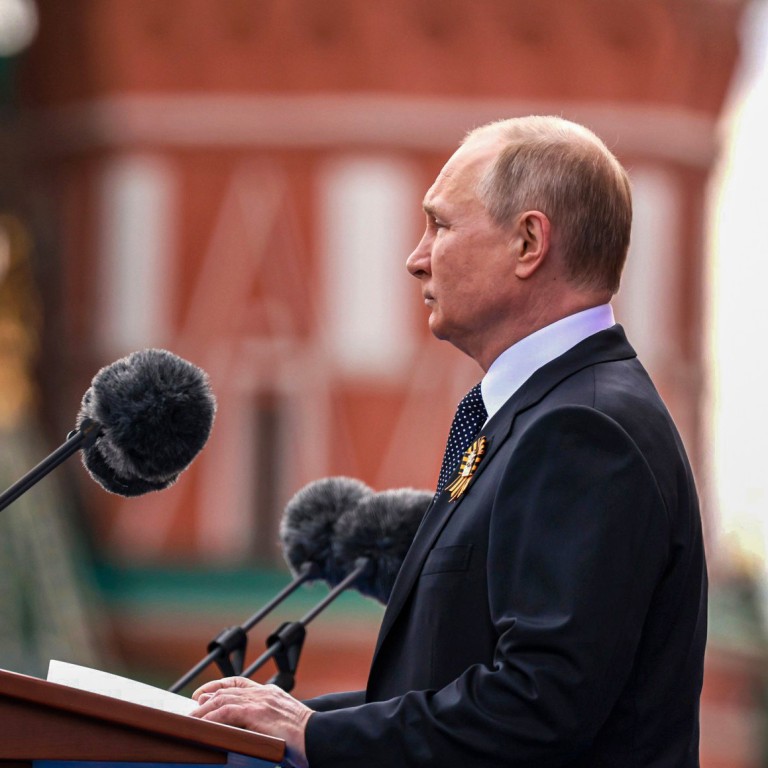 Letters
Lesson from Russia-Ukraine war: why Taiwan must choose words carefully
Readers discuss the lesson to draw from Putin and Zelensky's war of words, the safety of Hong Kong taxi services, an overdue raise in the minimum wage, and why online learning is underrated
Feel strongly about these letters, or any other aspects of the news? Share your views by emailing us your Letter to the Editor at
[email protected]
or filling in
this Google form
. Submissions should not exceed 400 words, and must include your full name and address, plus a phone number for verification.
On Russia's
Victory Day
on May 9, President Vladimir Putin once again stuck the "neo-Nazis" label on the Ukrainian government. In return, Ukrainian President Volodymyr Zelensky accused Russia of "repeating the horrific crimes of Hitler's regime".
These rhetorical campaigns, in essence, only narrow the space for both leaders to reach a peace settlement. As Financial Times columnist Gideon Rachman pointed out, how can anyone arrive at a compromise with fascism?
I argue that these episodes provide Taiwan with a valuable lesson: rhetoric matters.
As Taiwanese "nationalism" continues to rise, there is growing appetite among the island's politicians to question the status quo in the Taiwan Strait. For instance, Taiwan's Legislative Yuan President You Si-kun recently said that "the two sides of the Strait belong to two different countries, it is a solid fact".
By threatening to cross China's red line on Taiwan independence, this type of remark could accidentally trigger a military conflict in the Taiwan Strait that involves two nuclear powers, the US and China. In such a situation, it would be even harder to envision a peace settlement.
Ultimately, there are various lessons for Taiwanese politicians to draw from the war in Ukraine. And I believe one of them must be showing more prudence about what they say in public.
Chin Hsueh, Taipei
Taxi fares are higher but are cabs safer?
Taxi fares are
increasing
from July by up to 13.8 per cent, while there is also discussion about improving services by upgrading 600 taxis to a premium fleet, increasing taxi seating to six and introducing a taxi driver offence points system. But will service and safety actually be enhanced?
A 2017 study found bright car colours to be safer than dark – yellow vehicles were 9 per cent less likely to be involved in accidents than blue ones. Why not mandate that all premium taxis be yellow and safer by design?
Since October 2020, potential new taxi drivers have been required to pass a pre-service course. Between October 2020 and December 2021, 4,834 taxi drivers passed. Has it improved safety?
Comparing official figures for 2021 and 2017, there has been a 16 per cent decrease in the daily number of taxi passenger journeys, yet the number of taxi collisions causing injuries increased by 6 per cent to 4,081.
Taxi operators are asking for six-seater vehicles to compete with Uber. But is it wise to increase the number of passengers per taxi, and if so, should the pre-service course content be reviewed?
Eleven offences have been put forward for inclusion in the taxi driver offence points system, which seems only to ensure the correct fare is charged. For example, not using the most direct route will result in 10 taxi driver offence points, yet not one of the eleven offences is connected to behaving in a rude or impolite manner. Astonishingly, it does not seem points will be issued to a taxi driver convicted of speeding, careless driving, driving while under the influence of drugs or alcohol, or dangerous driving while carrying passengers. While this offence points system may ensure the correct fare is charged, it seems to do little to ensure polite and safe drivers are at the steering wheels of our taxis.
The Transport Department urgently needs to rethink its approach to regulating taxi services – or it could perhaps contract out to the Uber management team.
Neil Dunn, Kowloon Tong
Minimum wage not enough to live on
The statutory minimum wage in Hong Kong has
for years
remained at HK$37.50 per hour. Compared to other economies, this may not be low, but in a place like Hong Kong where the prices of everyday goods are expensive, it may not be enough.
Labourers who live in subdivided flats on average need to pay HK$4,500 each month in rent. This means that even if they work eight hours a day for 26 days each month while earning the minimum wage, they are only left with around HK$3,000 per month for their living expenses. Which is not really sufficient. The statutory minimum wage should be increased to at least HK$45 an hour, so that they have enough money to live on.
The current level also essentially means these labourers have no choice but to work six days a week. Work-life balance is quite out of the question. Hong Kong should probably have more statutory holidays.
Alvin Chan, Tseung Kwan O
Online lessons not inferior to in-person teaching
It is said that face-to-face learning is much better than online learning. I beg to differ.
First, commuting to school is time-consuming. In the two hours needed to go to school and back, I could have done more homework, revision for the coming quizzes, and lesson preparation. Instead, I am sitting on the bus, watching the world go by or daydreaming.
Second, face-to-face learning does not help revision. During online learning, we have recordings of whole lessons. We can easily check the parts we missed or didn't understand. If we don't copy notes down quickly enough, we don't have to worry; we can just go over the recording again.
Still, whether learning is done face to face or online, they are just different ways of increasing knowledge. If you really love studying, it will not matter too much how you do it.
Phoebe Chang, Kwai Chung