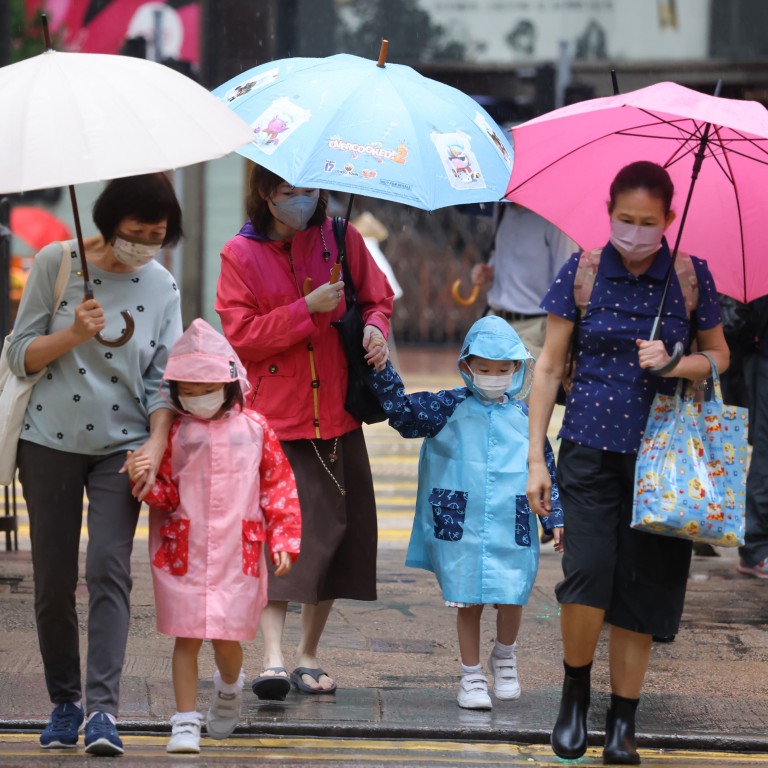 Letters

|
Will there really be a sixth wave, or is it a false alarm like the red rainstorm warning?
Readers discuss the likelihood of another serious coronavirus outbreak, the need to protect sex workers in Hong Kong, the UK's plan to crack down on protests, and a bill that would change the way child custody cases are handled
Feel strongly about these letters, or any other aspects of the news? Share your views by emailing us your Letter to the Editor at
[email protected]
or filling in
this Google form
. Submissions should not exceed 400 words, and must include your full name and address, plus a phone number for verification.
Hongkongers are some of the most cautious people on earth. Just look at how many people get out their umbrellas when it is only drizzling, and when it is really raining, they will open them just to walk the two steps from the bus stop to the bus.
When the Hong Kong Observatory issued a
red rainstorm warning
on May 13, it meant that all school classes were suspended, even though the weather ended up being quite nice and calm that Friday. Meanwhile, on Thursday, when no warning was issued, the weather was really bad, with heavy winds and lots of rain.
It's no wonder, then, that local experts like Gabriel Leung now warn of a
sixth wave of Covid-19
. But isn't is actually a fact that most people in Hong Kong are either fully vaccinated or have already contracted Covid, and that many people who test positive for Omicron experience no symptoms?
Even if Hong Kong's official number of Covid-19 cases is 1.2 million, I would assume that the non-reported numbers are more than double that figure. People with mild or no symptoms might not want to report positive tests because of the city's tough quarantine and isolation measures, which have also resulted in very few foreigners wanting to travel to Hong Kong.
I agree with epidemiologist Yuen Kwok-yung's
recent suggestion
that the government should focus on the number of deaths or severe cases of Covid-19 rather than the total number of daily cases, of which many are asymptomatic. Then we would know how great a threat Covid-19 really poses, and could begin to coexist with the virus. Perhaps these figures could also be compared with those related to normal influenza?
Jan Hökerberg, Tuen Mun
Give sex workers their due labour rights
Although prostitution is legal in Hong Kong, it is illegal to promote prostitution, coerce or control individuals engaging in sex work, keep or manage a prostitution establishment, or organise sex services for commercial gain.
However, it remains a fact that sex workers operate in the city, and as such, face
ongoing threats
to their well-being and livelihoods. These threats include clients taking off or refusing to wear condoms, or refusing to pay or haggling after sexual intercourse. Due to the stigma and legal ambiguity of sex work, sex workers avoid seeking help from the appropriate government authorities for fear of prosecution.
As journalism students, we felt it was important to research this issue to get a greater understanding of the situation, and to raise public awareness of it. As a result of our research, we would like to suggest some ways in which to address the above problems.
In the Netherlands, prostitution is considered labour, so sex workers can seek help from the Netherlands Labour Authority if they have any questions or complaints about unsafe working conditions. Following the decriminalisation of the sex industry, there appears to have been an increase in awareness among operators and prostitutes around preventing involuntary prostitution and exploitation.
We therefore suggest that the Hong Kong government establish an independent group to help resolve sex worker disputes on a case-by-case basis, separate from the law enforcement authorities. This team should maintain anonymity during the investigation of the case.
Again, in the Netherlands, suspicions of forced prostitution can be reported to the police anonymously. Staff at Report Crime Anonymously cannot see a caller's phone number and will not take down the caller's name, address, or other personal details, and conversations are not recorded.
To sum up, we hope sex workers in Hong Kong can be better supported by the government and protected by the law.
Kylie Wong, Phoebe Law and Serena Kong, Kowloon Tong
UK supports protesters in HK but not those at home
The duplicity of The Rt Hon Priti Patel MP, Secretary of State for the Home Department, who stated her government's support for the vandals that sought to destroy Hong Kong's infrastructure when she said, "The United Kingdom will stand by the people of Hong Kong and keep our promise to protect and uphold their freedoms," is reflected in her recent comment that the UK government's planned new legislation of up to 12 months imprisonment for those who "interfere with key national infrastructure" such as airports was required to clamp down on "outrageous" behaviour.
Can she explain why in Hong Kong when legislation was introduced to stop the same destruction, it was seen as an infringement of democracy and social liberty, but in the United Kingdom, it allows police to stamp out "antisocial, disruptive protests carried out by a self-indulgent minority"?
Mark Peaker, The Peak
Legal community supports children proceedings bill
With regard to the letter "Bill to protect children's interests in divorce cases deserves its day in Legislative Council" (
May 16
), the Hong Kong Family Law Association (HKFLA) supports the ongoing dialogue and consideration of children's welfare, best interests and rights in any context.
Children are the most vulnerable in our society and are deserving of special attention and protection. The Convention on the Rights of the Child came into effect in Hong Kong in 1994 and prompted the review of existing legislation relating to children and divorce, which culminated in the 2005 Hong Kong Law Reform Commission report on child custody and access.
The HKFLA specifically welcomes, and indeed urges, a renewed consideration of the Children Proceedings (Parental Responsibility) Bill, which has stood stationary, despite widespread support from the legal community. The bill seeks to improve numerous areas of child law and specifically provides for a move towards a parental responsibility model which has long been considered in the best interests of children.
Lisa Wong, chairlady, HKFLA