Taiwan
Get more with myNEWS
A personalised news feed of stories that matter to you
Learn more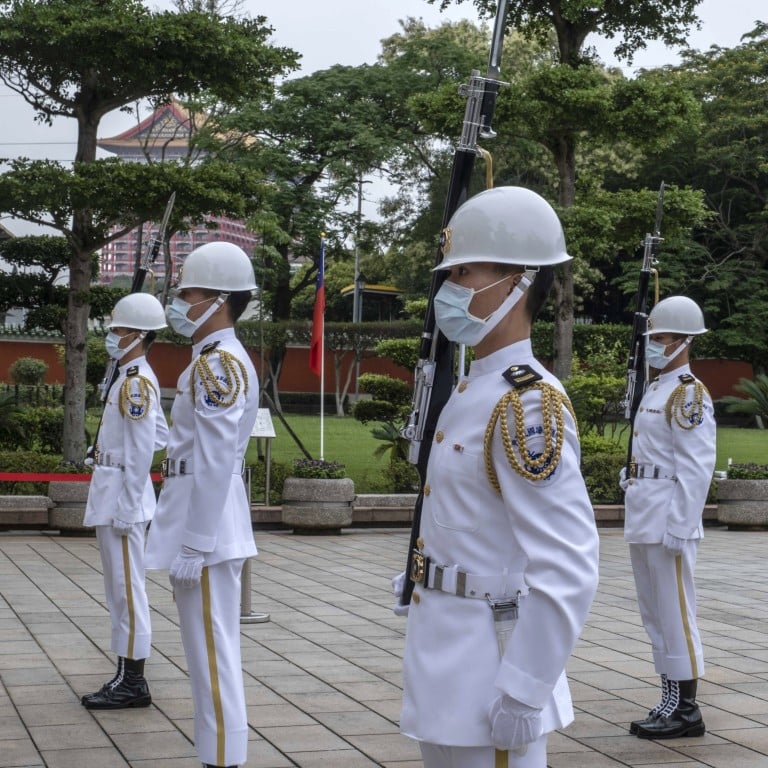 Letters
Does Taiwan really want to be a US proxy in a war with China?
Readers discuss why Taiwanese leaders should not glorify Ukrainians' fighting spirit, Joe Biden's words on Taiwan, and how China's demographic problem has taken on a geopolitical dimension
Feel strongly about these letters, or any other aspects of the news? Share your views by emailing us your Letter to the Editor at
[email protected]
or filling in
this Google form
. Submissions should not exceed 400 words, and must include your full name and address, plus a phone number for verification.
Earlier this month, Taiwanese Foreign Minister Joseph Wu was interviewed by Fareed Zakaria on his CNN show. During the conversation, Wu emphasised that if a war broke out in Taiwan, the island would need support from friends and allies "as in the case of Ukraine". While that statement is true, I argue that Taiwan should also be careful what it wishes for.
On the surface, Ukrainian President Volodymyr Zelensky has been described as a war hero for his determination to
resist Russian aggression
. In reality, that status came at the cost of sacrificing the lives of his soldiers and letting his country become, essentially, a US proxy that helps achieve America's goal of weakening Russia, as US Secretary of Defence Lloyd Austin has acknowledged.
Taiwan must not become the second one, yet the opposite seems to be taking shape. As academic Hal Brands pointed out, a proxy is a major power's committed local partner ready to do the killing and dying. Unfortunately, the Taiwanese government seems to tick these boxes.
First, it has worked hard to prove itself as a committed partner of the United States by acceding to demands such as
lifting the ban
on imports of US pork containing ractopamine. Second, it has time and again shown its readiness to push Taiwanese onto the battlefield. For instance, in that same interview, Wu said the Ukrainian spirit of wanting to fight in the war zones was "enviable" and that Taiwanese should learn from it.
To make matters worse, the Taiwanese government seems to have embraced the role of vanguard in the US-China competition by trying to turn itself into a porcupine that can trap mainland Chinese forces. As a former Pentagon official put it, at the heart of this porcupine strategy is letting mainland Chinese soldiers battle beyond the beaches and fight for every square block in Taiwan. In other words, it would involve letting Taiwan play the role that Ukraine is playing now.
It is undeniable that the Ukrainian people's spirit in the war is admirable. However, the Taiwanese government should not be glorifying that. Instead, its overriding objective must be depriving the Taiwanese of the opportunity to even show that spirit in the first place. To achieve this, it must avoid becoming a US proxy.
Chin Hsueh, Taipei
Leaders' words and actions must align
US President Joe Biden raised eyebrows recently, when he said militarily defending Taiwan is the "commitment we made". The White House has stated it does not
support Taiwan independence
and upholds the one-China policy. However, Biden's words about defending Taiwan do not seemed to be aligned with that attitude.
The geopolitical situation in Ukraine and Russia remains unclear. No one knows when and how it is going to end. World leaders, as massive influencers and decision-makers, should not add fuel to the fire. It is odd to see the United States promoting peace and human rights and at the same time providing lethal weapons to Ukraine.
Words from world leaders must match their behaviour. Promoting peace and at the same time indirectly advocating Taiwan independence is not the way. The world is gradually stepping out of Covid-19 misery. World leaders should join hands to ease tensions, not to create more.
Jacky Wong, Kwun Tong
Is China trying to beat the clock?
It might baffle some why China seems to have suddenly become globally assertive and is not playing a long game towards world domination.
But Beijing is sitting on a
demographic time bomb
of population decline, just like Japan and South Korea, and all three reject mass immigration. This could be why China under President Xi Jinping is in a rush to be top dog on the planet.
Rod Matthews, Melbourne