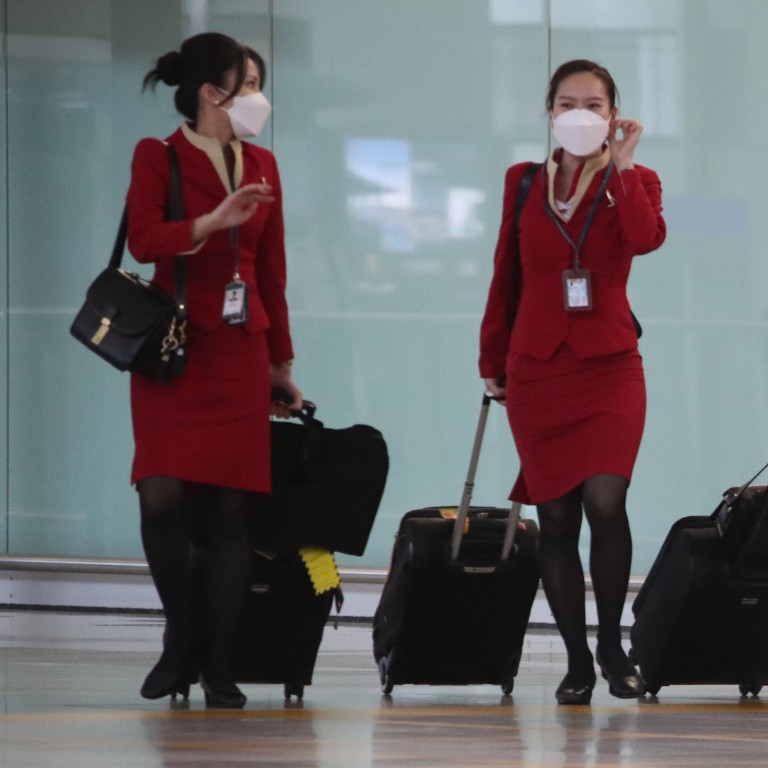 Letters
Cathay Pacific doesn't deserve eye-rolling for seeking to rehire ex-staff
Readers discuss Cathay Pacific's offer to rehire former staff, Japan's decision to welcome back tourists, safety standards among lifeguards and the delayed reopening of public pools
Feel strongly about these letters, or any other aspects of the news? Share your views by emailing us your Letter to the Editor at
[email protected]
or filling in
this Google form
. Submissions should not exceed 400 words, and must include your full name and address, plus a phone number for verification.
Cathay Pacific seems to be damned if it does and damned if it doesn't.
It is incredible that as the company
seeks to rehire
cabin crew previously laid off, some feel the action is insincere. When the pandemic hit, CEO Augustus Tang made an emotional statement on October 21, 2020, clearly pained by the decision the company had to take to remain viable and by the impact of job losses on individuals. No one could have predicted that the pandemic would last so long or cut so deep.
As global aviation recovers, Cathay Pacific has not forgotten its commitment to former staff and should be commended for reaching out to them and inviting them back to be part of the recovery of the airline and of Hong Kong.
Mark Peaker, The Peak
Japan is ready to accept tourists, Covid-19 and all
I refer to the letter "Why Japan has come round to welcoming Hongkongers vaccinated with Sinovac" (
May 28
). When analysing the reasons for Japan's change of heart, most people will focus on the economic angle; Japan is looking at a severely weakened yen and Chinese tourists will stimulate the stagnant economy. I agree with this point.
At the same time, as a Chinese person living in Tokyo, I can feel the substantial difference in attitudes to Covid-19 between China and Japan. In China, we have adopted a serious stance towards Covid-19, while in Japan most people don't consider it that important a matter.
Generally, people are not worried even if they are found to be close contacts of Covid-19 cases; companies continue business as usual even if employees get infected; restaurants, stations and shopping malls are crowded. The total number of Covid-19 fatalities in Japan is around 30,000 as of May. This mortality rate is quite low compared to most other countries. Under such circumstances, Japanese people are increasingly beginning to see Covid-19 as just another type of flu.
Ultimately, if Japanese people are not worried about the virus in the first place, why should they care which vaccine tourists took?
David Lu, Saitama, Japan
Do lifeguards take safety seriously enough?
How many kids have to drown before the Hong Kong Life Saving Society and lifeguards' unions recognise that they have a duty to improve the work attitude and performance of their members?
The latest
tragedy
happened in a small, simple swimming pool with two lifeguards on duty. Of course parents have a responsibility to look after their children and regardless, accidents happen, but what were the lifeguards doing? They said they didn't hear any cries for help, but when a child is drowning and struggling to breathe, can they be expected to shout for help?
It is also irresponsible for spokesmen for the unions to try to deflect attention from the lifeguards' responsibility by making comments such as parents must watch their children and children might push each other in the water. There did not seem to be a word on reviewing the incident and whether there is room for improvement in the performance of their members.
I used to swim a lot at my residents' clubhouse. Without suggesting that the same happened in the recent incident, let me share some observations from my pool. Most of the time, the lifeguards sitting on the tall chairs were not keeping their eyes on the pool or the swimmers, but were either dozing or using their mobile phones, and on at least one occasion the lifeguard was even wearing earphones connected to his phone.
I specifically timed their behaviour, and found that on average, they spent two to three attentive minutes on the mobile phone, before raising their head to take a brief glance over the pool for only about 10 seconds, and then went back to their phone. Why are lifeguards allowed to use mobile phones while on duty, and how can they hear anyone crying for help if they are using earphones to listen to whatever it is? I have reported such behaviour to clubhouse management, but it appears they are unable to ensure the lifeguards' performance.
What should the Life Saving Society and lifeguards' unions do to improve the professional conduct of our lifeguards? Since people's personal safety is at stake, I think the government needs to step in and regulate the profession, if it is unable to self-regulate.
Joe Lee, Kwun Tong
Swimmers are still waiting for some pools to reopen
I am writing to express my disappointment at the closure of a number of swimming pools for maintenance.
In Hong Kong, public swimming pools are closed for a season for annual maintenance, sometimes as long as four months. However, due to the fifth wave of the pandemic, all pools were closed simultaneously for four months, with some
finally reopening
in mid-May.
You would expect pool maintenance to have been conducted during those months of closure. It is shocking, then, that several pools remain closed for maintenance or reconstruction. It is hardly ideal when these pools have already been closed for many months.
It leads me to wonder, what has the Leisure and Cultural Services Department been doing during the pandemic? Surely maintenance could have been conducted during that period, so that all pools could be ready for the reopening.
I hope that the government will learn a lesson and do better in future.
Gilbert Chan, Kwun Tong