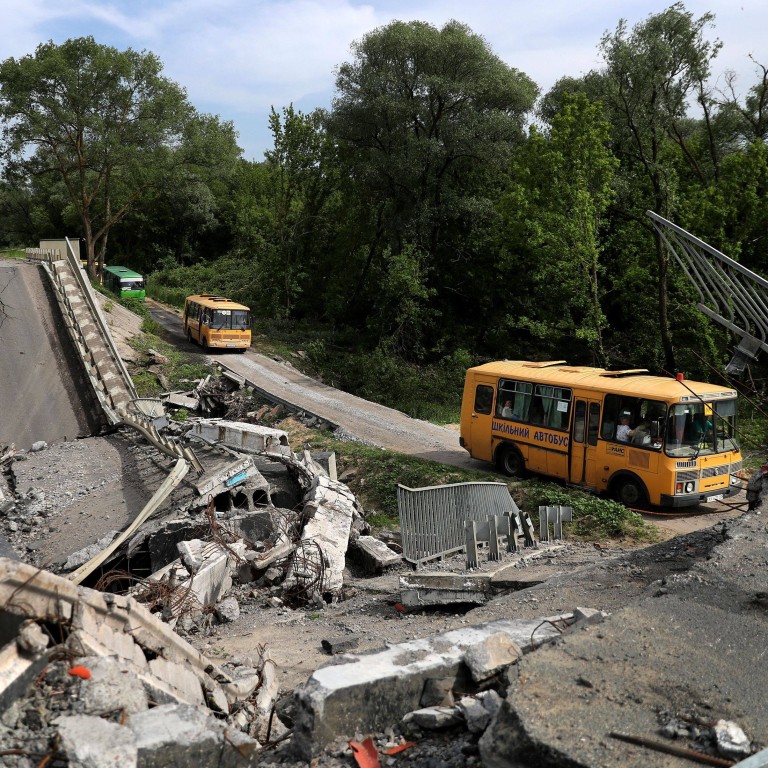 Letters
Ukraine war a reminder that sexual violence often accompanies armed conflict
Readers discuss reports of rape by Russian forces in Ukraine, the likelihood of a nuclear catastrophe, an obstacle to returning to Hong Kong from overseas amid Covid-19 rules, and lack of progress on refunds from a troubled school
Feel strongly about these letters, or any other aspects of the news? Share your views by emailing us your Letter to the Editor at
[email protected]
or filling in
this Google form
. Submissions should not exceed 400 words, and must include your full name and address, plus a phone number for verification.
There are growing
reports
of Russian soldiers raping women to terrorise Ukrainians. Militarily, Russian President Vladimir Putin will do whatever it takes to defeat Ukraine. When Russian forces recently withdrew from northern Ukraine, investigators began looking into cases of torture, summary executions and other abuses that could constitute war crimes.
Throughout human history, sexual violence has been a feature of war. These crimes are mostly perpetrated by men and often with impunity. Sexual violence can have a profound impact on survivors' mental health and well-being. Shamefully, we're complicit by our silence and inaction.
Iris Chang wrote a detailed account of Japanese war atrocities in her book,
The Rape of Nanking
. She estimated that tens of thousands of Chinese women were raped by Japanese soldiers, who in December 1937
seized Nanjing
, the capital of the Republic of China. Many were subsequently murdered. Others
were forced
into militarised sexual slavery. An estimated 100,000 to 300,000 Chinese civilians and soldiers were killed.
Global citizens are on a slippery slope when the things that should unite us instead steadfastly divide. When heads of state can't universally condemn Russian soldiers' sexual violence, it's no wonder leaders struggle to respond effectively to the effects of climate change, an existential threat that has arrived on cue as science has predicted, and is relentlessly bearing down on humanity.
Dr Michael Walton, New South Wales, Australia
Stop egging on war that could lead to nuclear holocaust
Russia has every reason to fear an aggressive German-dominated Nato on its doorstep. Foolishly, Ukraine wanted to join both Nato and the European Union, which fuelled Russia's fears. Russia has not forgotten that during World War II, Germany occupied Ukraine, and German troops were welcomed by some quarters of the Ukrainian populace. An estimated 26 million Soviet citizens died during World War II.
Russia has also not forgotten that Western powers tried to crush the Russian Revolution. The Obama administration in the US – in which Joe Biden served as vice-president – supported and exploited the
Maidan Revolution
in Ukraine which ousted a democratically elected president.
Today, Germany, the US, the UK, Canada and other Western nations have supplied Ukraine with vast amounts of money and military equipment. The US has also led the world in imposing
harsh sanctions
on Russia.
This war could easily lead to a nuclear holocaust. In 1945, US atomic bombs killed an estimated 200,000 people in the Japanese cities of Hiroshima and Nagasaki. There was also a near miss during the Cuban missile crisis in 1962. There have been other near misses when communications between Russia and the US broke down because of technical and human error.
All life on Earth will be destroyed if there is a nuclear exchange between Russia and the US. We should never forget that human stupidity has been the cause of most wars throughout history.
Morris Givner, Halifax, Canada
Prior Covid-19 infection a hurdle to returning to city
My son was tested in Singapore as having the Covid-19 virus although he had Covid-19 in late April in the United Kingdom and has since fully recovered. He was not able to board his flight to Hong Kong and so the quarantine hotel booking here had to be cancelled and his flight rebooked.
However, the Hong Kong government announced that effective June 1, travellers who have contracted Covid-19 in the past and whose PCR test comes back positive may still travel back to the city if they hold documentary proof to show they were infected with the virus 14 to 90 days before boarding and have recovered. They must also show a negative result of a rapid antigen test conducted within 24 hours before boarding.
This problem here is that in much of the UK, reporting of Covid-19 to the authorities is no longer required. The only proof my son has right now is his correspondence with his university's Covid-19 point of contact.
I am at a total loss as to how to get my son back to Hong Kong. He is stranded in Singapore, since we could not get a direct flight from London to Hong Kong.
My question to the Hong Kong authorities is how do we get documentary proof when most parts of the UK opened up months ago?
Jolene Char, Mid-Levels
Parents of former Mount Kelly pupils need more help
With a new chief executive of Hong Kong set to take office on July 1, I hope Hong Kong will thrive. There are many issues in the city which need to be addressed. One of them is the security of schools and education.
Parents of former pupils at Mount Kelly School
, which suspended classes last year, have seen little progress in the police investigation of what happened to the money which had been paid in fees. The Education Bureau, which supervises schools, has no essential updates on the Mount Kelly case, except for telling parents that it has been monitoring the operation of the school. That is not enough.
The bureau has failed to honour its duties as the regulator of schools. Parents trusted the authorities' licensing of the school. They believed that students were safe and money wasn't at risk because they believed that education is one of the supervision priorities. The government should consider compensating parents, because the Education Bureau didn't meet the expected standards.
Maybe Hong Kong's new leader and former police officer John Lee Ka-chiu could help improve education regulation in the city and assist Mount Kelly victims.
Maria Ignatova, Mid-Levels