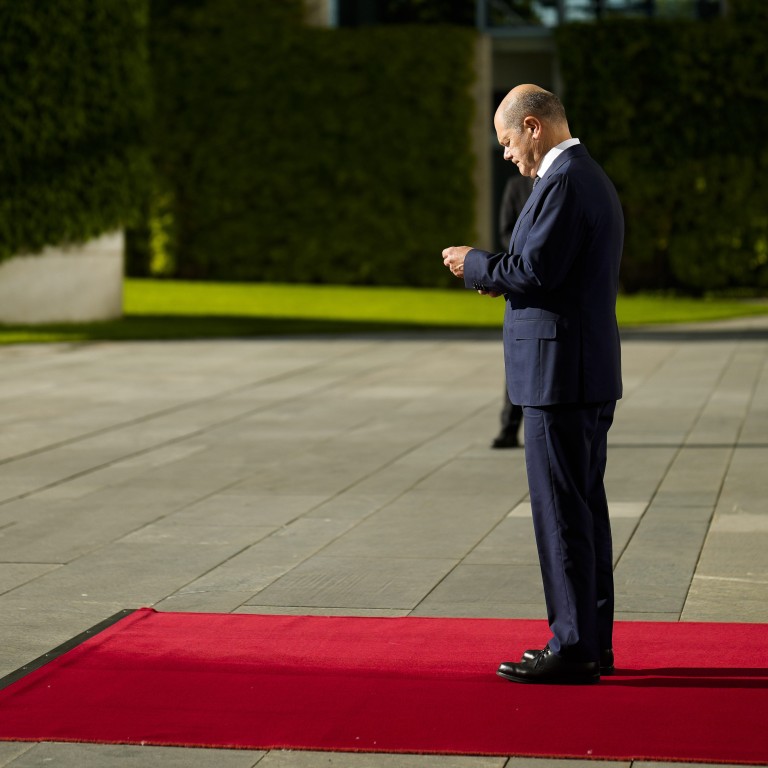 Letters
Ukraine war: Germany should focus on its economy, not an arms race
Readers discuss what Germany could do to win the peace, Queen Elizabeth's jubilee celebrations, smartphone use among the elderly, bus accident rates, and a record-breaking woman mountaineer
Feel strongly about these letters, or any other aspects of the news? Share your views by emailing us your Letter to the Editor at
[email protected]
or filling in
this Google form
. Submissions should not exceed 400 words, and must include your full name and address, plus a phone number for verification.
The conflict in Ukraine has affected the German economy and increased the already strong inflationary pressure. The inflation rate in Germany stood at 7.9 per cent in May, its highest level in nearly 50 years.
Escalating energy costs brought on by the Ukraine war have caused a swell in consumer prices within the euro zone and dampened growth in the German economy. European Central Bank president Christine Lagarde warned that a lasting Ukraine conflict would increase the cost of living, destroying hopes of a post-Covid recovery.
An arms race has emerged in some parts of the world, triggered by the war. Germany has announced an additional US$110 billion in defence spending, to be used over several years, and in March the Italian parliament backed a vote to increase the country's defence spending to 2 per cent of its GDP.
German Chancellor Olaf Scholz should move away from an arms race, strengthen the German economy and control inflation. The proposal to impose a tariff on Russian oil imports, alongside a phased oil embargo, is an economically less costly way to starve Moscow of oil revenue while securing European oil supply. This will reduce the impact of a supply chain disruption that would trigger higher inflation.
Second, Scholz ought to tread a fine line diplomatically in dealing with the US and Russia. He should balance two opposing demands: US-led Nato expansion and Russian resistance. Nato's expansion into Eastern Europe angered Russian President Vladimir Putin and triggered the military operation in Ukraine.
Putin is now riding a tiger and surely finds it difficult to dismount. On Finland and Sweden's bid to join Nato, Putin said he saw no threat but cautioned that Moscow would not tolerate the US-led alliance bolstering its military infrastructure in the two Nordic countries.
Scholz should ensure that Nato does not cross the red line, or the misery of Ukraine would repeat itself.
Wanda Siu, Tuen Mun
Jubilee joy a tribute to Queen Elizabeth's service
During the darkest days of the pandemic in early 2020 that saw unprecedented social isolation inflicted on the masses, Britain's Queen Elizabeth used a rare broadcast to assure the UK populace that "we will meet again" and that "better days will return". How fitting that the queen's reassuring words have been vindicated by celebrations of her Platinum Jubilee over the weekend across the 54 capital cities of the Commonwealth, marking 70 years of her reign as head of the Commonwealth.
Cheerful crowds gathered in the Mall in London for the Trooping the Colour parade. Australians renamed an island in the queen's honour and illuminated city skylines in royal purple. In a more lasting tribute, trees are being planted across the UK as part of the Queen's Green Canopy initiative, as a statement of hope and faith in the future.
The Jubilee joy reflects the deep respect of people worldwide for the queen's lifetime of service to others. Her example is an inspiration to all.
On behalf of the Commonwealth community in Hong Kong, thank you for your service, Your Majesty. God Save the queen.
Nicholas Tam, council member, Royal Commonwealth Society, Hong Kong Branch
Teach elderly to use a smartphone, not just give them one
I refer to the article "More elderly Hongkongers have smartphones, survey shows, but 'access to such devices does not necessarily mean digital awareness'" (
May 26
).
More senior citizens in Hong Kong had access to smartphones last year, but although they have their own phone, some don't even know how to use it.
The increased smartphone penetration rate among the elderly was mainly due to the mandatory use of a Covid-19 contact-tracing app to enter premises including restaurants and government facilities. Many elderly residents were left with no choice but to get smartphones.
The government should not just force the elderly to use smartphones without making an effort to educate them about the correct way to use the phone. The government should explain more clearly the policy of using QR code scanners.
Nickolaus Tjhai, Tseung Kwan O
Bus accident rate vindicates switch to MTR
"Cross-harbour buses take a hit" (
May 28
) is a very apt headline. According to the Hong Kong police's
2021 traffic statistics
, franchised buses took 10 per cent or 154 more hits in 2021, to a total of 1,641 – which works out to almost 4.5 traffic accidents a day.
In 2021, franchised buses held onto the No 1 spot on the list of accident-prone vehicle types, with 270 franchised buses per 1,000 being involved in accidents, despite a robust challenge from taxis, at 257 hits per 1,000 licensed taxis.
In fact, franchised buses have been No 1 on the "accident rate per 1,000 licensed vehicles" hit list for at least a decade. No wonder bus passengers are choosing the train.
Neil Dunn, Kowloon Tong
Women mountaineer an inspiration to all
I refer to the article "First Indian woman to scale five peaks over 8,000m says climbing brings her 'peace, happiness'" (
May 21
).
I admire Priyanka Mohite for her great achievement. The mountaineer has had to overcome many challenges such as a natural disaster, the Covid-19 pandemic, the pressures that come with being a woman in a sport dominated by men, and the lack of sponsors. Her perseverance is something we can learn from.
Mohite said: "There is risk at every step and that is the nature of the sport." This is true of life too. In life we encounter risks and difficulties. Instead of shrinking back, we should conquer the obstacle with patience.
Iris Liang, Tseung Kwan O