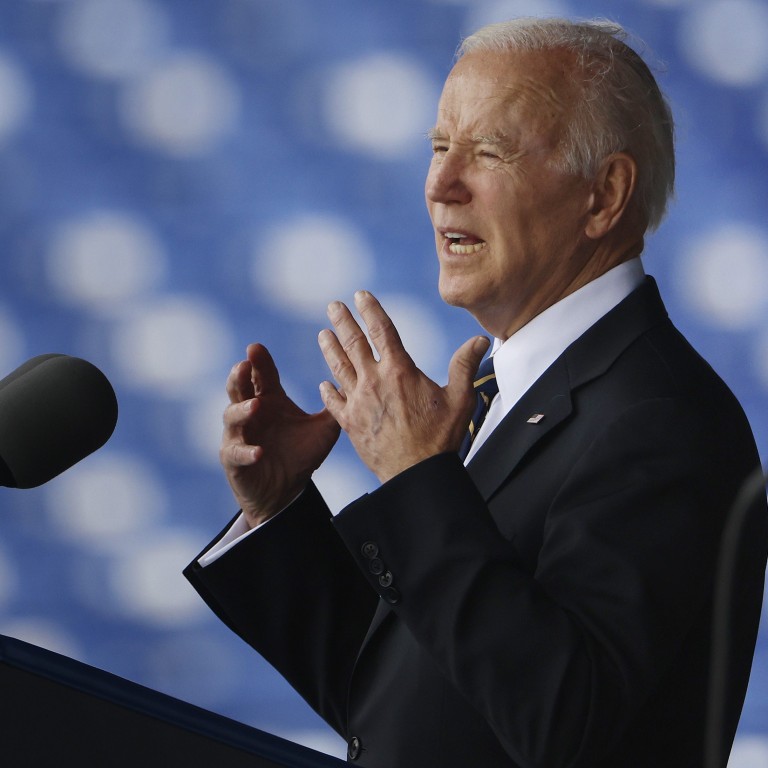 Letters
Why Xi wouldn't have told Biden 'autocracies will run the world'
US President Joe Biden's account of his phone call with Chinese leader Xi Jinping, in which Xi was said to have praised autocracy, may contain a mistranslation
Feel strongly about this letter, or any other aspects of the news? Share your views by emailing us your Letter to the Editor at
[email protected]
or filling in
this Google form
. Submissions should not exceed 400 words, and must include your full name and address, plus a phone number for verification.
In his
speech
to the US Naval Academy's graduating class on May 27, President Joe Biden revealed some chilling details about his phone call with Chinese President Xi Jinping the night he was elected president.
"We're living through a global struggle between autocracies and democracies," Biden said in his speech. "I've met more with Xi Jinping than any other world leader has. When he called me to congratulate me on election night, he said to me what he said many times before."
The president then quoted Xi as saying: "Democracies cannot be sustained in the 21st century. Autocracies will run the world. Why? Things are changing so rapidly. Democracies require a consensus, and it takes time, and you don't have the time."
Xi is wrong, Biden said.
If Biden's quotation of Xi is correct, Xi's views on autocracies are not only worrying for democracies around the world, but also at odds with the Chinese leadership's own official doctrine.
In 2012 the Chinese Communist Party endorsed a set of 12 core socialist values as the party's interpretation of Chinese socialism. Notably, "democracy" is one of these core values. Xi has since repeatedly
noted these values
in his speeches.
It is even more unthinkable that Xi would praise autocracy and reject democracy so bluntly when engaging internationally, especially with the leader of the free world. Biden defines the strategic competition between the US and China in terms of
democracy vs autocracy
; Xi's quoted words serve to support this narrative.
The answer to this puzzle might lie in the confusion between two different Chinese expressions which are pronounced exactly the same: "concentration of power" (集权, or jiquan in pinyin) and "autocracy" (极权, also pronounced jiquan).
Xi may actually have been referring to "concentration of power" in his conversation with Biden, but the interpreter might have mistakenly translated the words as "autocracy" to Biden.
This would explain Xi's views. Unlike his predecessor, whose tenure featured the decentralisation of authority and collective leadership,
Xi has pursued
a highly concentrated form of personalistic leadership and consolidated power. Under Xi, the centralisation of political power became an official policy that is actively promoted n China and beyond, in the name of improved efficiency in a rapidly changing world.
For example, in a speech to the party's Central Committee members in 2018, Xi said "nothing could be achieved in this vast country and in this large party without upholding the authority of the party's Central Committee".
Therefore, "concentration of power", not "autocracies", should be what Xi referred to in his call with Biden.
Hao Tan, associate professor, University of Newcastle, Australia