Crime
Get more with myNEWS
A personalised news feed of stories that matter to you
Learn more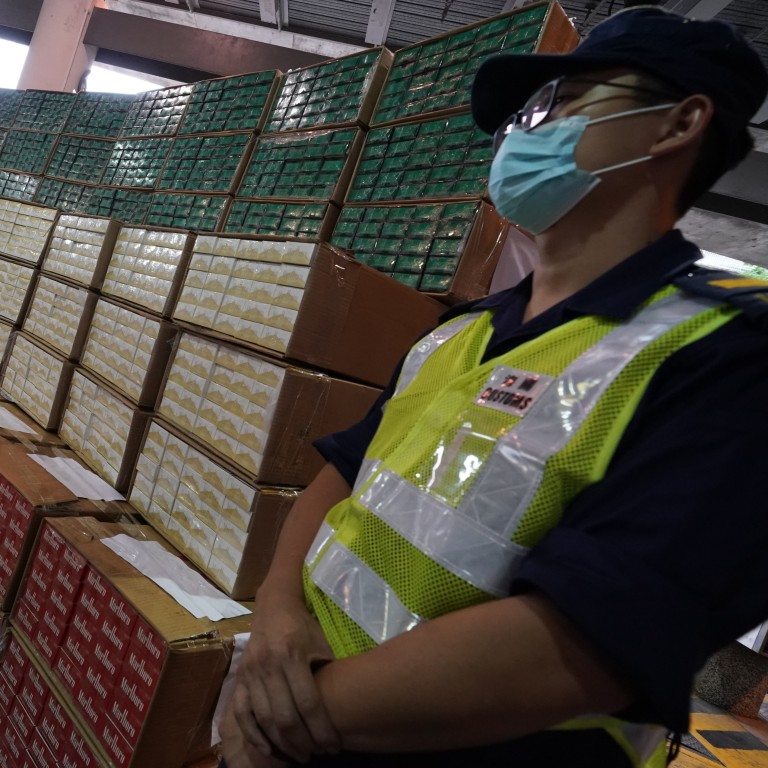 Letters
One more task for Hong Kong's incoming leader John Lee: coordinate crackdown on illegal cigarettes
Readers call on the new administration to curb the black market in cigarettes and hasten the entry of foreign-trained doctors, and also warn of an economic recession ahead
Feel strongly about these letters, or any other aspects of the news? Share your views by emailing us your Letter to the Editor at
[email protected]
or filling in
this Google form
. Submissions should not exceed 400 words, and must include your full name and address, plus a phone number for verification.
Law and order should always be the paramount duty of any government. For the first time, Hong Kong will have a chief executive with
first-hand experience
in public security. Nevertheless, since 2019 the number of
illicit cigarettes confiscated
by customs officers has increased by more than six-fold.
Just last month, customs officers
confiscated
28 million cigarettes worth HK$77 million in raids in Chai Wan and Ap Lei Chau.
As a Sheung Shui resident, I witnessed peddlers of illegal cigarettes distributing promotional fliers in a public housing estate. Residents who complained to the Housing Department were told to report the matter to the Customs and Excise Department.
I got in touch with Hong Kong Customs and was told the act of distributing fliers per se is not under its purview, and that I should contact the Department of Health's Tobacco and Alcohol Control Office. However, on the Tobacco and Alcohol Control Office website, we find information on smoking cessation and no specifics about law enforcement.
Who doesn't know smoking is bad for their health? The sad reality, however, is that many people still choose to smoke. Instead of standing on the moral high ground and staying in an ivory tower, the government should put more resources into cracking down on criminal acts. The black market in cigarettes undoes all the well-intentioned efforts to contain the harm of smoking.
Jasper Law Ting-tak, chairman, North District Council
Bring in foreign-trained doctors sooner
The graduates of the institutions listed so far should have no problems communicating in English.
However, in Hong Kong, given many locals' lack of English proficiency, doctors who don't speak Cantonese might still struggle to communicate with patients.
Communication issues aside, Hong Kong should also ensure we offer these elite doctors enough to make them want to establish their careers in the city.
Many Hongkongers would like to see the shortage of medical doctors addressed, to enhance our healthcare service and reduce the workload of local doctors. Many hurdles remain, apart from the long-standing resistance of the local medical community to opening the door to foreign-trained doctors.
I do hope our new government will hasten the pace of change for the well-being of Hong Kong people.
Randy Lee, Ma On Shan
With recession likely, it's time to watch our spending
It's prudent to spend wisely in the coming six months because nobody knows what will happen as central banks keep fighting inflation. It's a tough time for investors.
Rishi Teckchandani, Mid-Levels