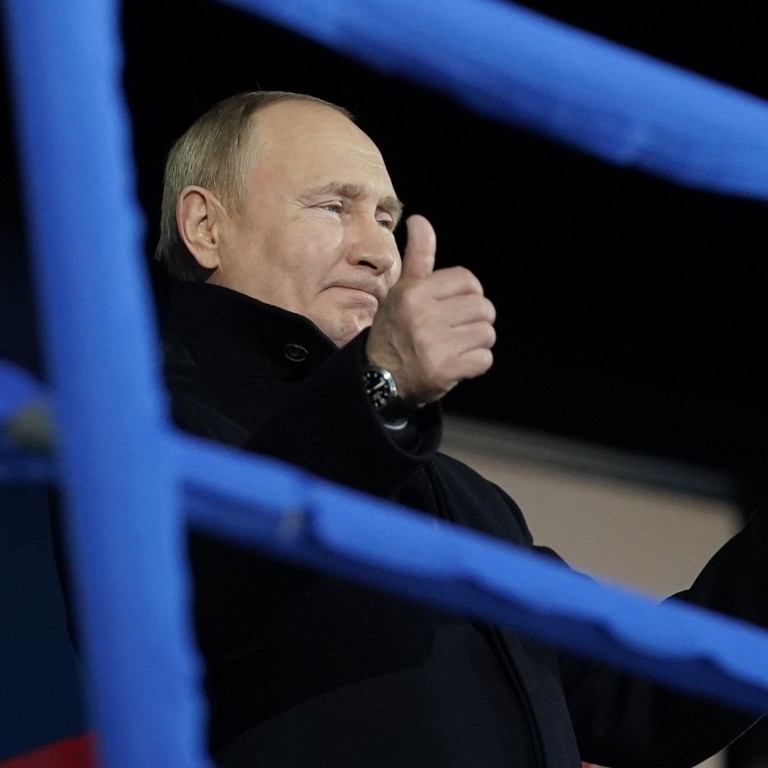 Letters
What was the real motive in Putin's Winter Olympics trip to China?
Readers discuss whether Putin had a hidden agenda when he attended the opening of the Beijing Winter Olympics, Western criticism of China's treatment of minorities, and why the Indo-Pacific Economic Framework is not attractive to small states like Cambodia
Feel strongly about these letters, or any other aspects of the news? Share your views by emailing us your Letter to the Editor at
[email protected]
or filling in
this Google form
. Submissions should not exceed 400 words, and must include your full name and address, plus a phone number for verification.
Looking back now, what did Russian President Vladimir Putin hope to achieve by
attending
the opening ceremony of the Beijing Winter Olympics on February 4? Did he truly want to show friendship with China, as people generally believed at the time?
The Russia-Ukraine military conflict did not begin until February 24, four days after the end of the Beijing Winter Olympics. It seems that Putin showed respect for China by not causing trouble during the games – unlike when the Russia-Georgia war began on August 8, 2008, the same day as the opening of the Beijing Summer Olympics.
But maybe Putin's attending the Winter Olympics opening ceremony was just an insidious trick: the West would suspect Russia
had informed China
before the conflict and that China agreed or acquiesced.
Qin Gang, Chinese ambassador to the US, explained in an op-ed in The Washington Post on March 15: "There have been claims that China had prior knowledge of Russia's military action and demanded Russia delay it until the Winter Olympics concluded. Recent rumours further claimed that Russia was seeking military assistance from China. Let me say this responsibly: Assertions that China knew about, acquiesced to or tacitly supported this war are purely disinformation."
However, this has hardly dispelled the West's doubts, and makes it difficult for China to remain neutral. If Putin's aim was to drag China into this situation and make it look like it was on Russia's side, he may have succeeded.
Speaking on Russia's annexation of Crimea in 2014, Putin inexplicably said the country was "grateful to all those who understood our actions in Crimea; we are grateful to the people of China, whose leaders have always considered the situation in Ukraine and Crimea taking into account the full historical and political context".
Li Yanzhou, Sham Shui Po
West must stop beating China with 'repression' stick
The
Opinion column
, "Mass shootings now define American exceptionalism" (June 7), was spot on in deploring rising gun violence in the United States. But, strangely enough, half the article was devoted to refuting China's criticism that gun violence should make people reflect on US-style human rights.
It said the difference between gun violence in the US and repression of minorities in China is that while many within the US' political system are trying to fix the former problem, the latter is a top-down government directive. Repression of minorities in China is taken as a fact, when there is scant credible evidence for this claim, only oral allegations by overseas dissidents, and images and reports largely produced by various organisations with dubious agendas supported by certain Western nations.
I wish to remind the author that the torture and violence committed against inmates of Guantanamo Bay – a facility sanctioned by the US government – has been there for the world to see.
The world still cannot acknowledge that China is as vulnerable to terrorism as any other country. Where forceful actions are taken to detain and re-educate terrorists and extremists in the West, it is known as deradicalisation, but in China it is branded as repression. My friends who have visited Xinjiang or done business there all find the allegations of racial and religious repression, forced labour and even genocide utterly unfounded and reprehensible.
When will the West abandon this line of tiresome and fruitless attack on China?
Raymond Young Lap-moon, Mid-Levels
Why Indo-Pacific economic plan doesn't suit Cambodia
US President Joe Biden launched the
Indo-Pacific Economic Framework
(IPEF) on May 23 in Tokyo with 12 regional partners. The framework is widely seen as both a sign that the US is refocusing on the region and an attempt to counter China's economic influence.
Countries can choose to join all or any of the IPEF's four pillars: connected economy, resilient economy, clean economy and fair economy. However, the framework remains vague compared to other regional initiatives led or supported primarily by China. This makes the IPEF unappealing to small states in the Association of Southeast Asian Nations and the wider region.
The new economic framework is not a free-trade agreement, which could, for example, allow a country like Cambodia to access more markets with tariff reductions and to diversify trade partners to minimise economic impacts.
China has become a major economic player in Asia. It initiated the China-Asean free-trade agreement and, through its
Belt and Road Initiative
, has been cooperating on infrastructure development. It is also a member of the
Regional Comprehensive Economic Partnership
. Furthermore, the IPEF's focus on security – particularly countering China's rise – may make it unattractive to nations like Cambodia.
The IPEF may be short-lived, given that US administrations are not always consistent with the policies of their predecessors. For example, in 2017, under president Donald Trump, the US
withdrew
from the Trans-Pacific Partnership, which had been initiated by the Obama administration.
The high standards required by the IPEF on the digital economy, labour, market monitoring, environmental protection and anti-corruption may be difficult for small states like Cambodia to meet in a short period.
The new US-led economic framework could also undermine Asean unity and centrality as not all Asean member states joined the IPEF.
In short, because of its vagueness, lack of incentives and the focus on China containment rather than a commitment to economic enhancement, the IPEF does not suit Cambodia's interests.
Nay Chanratanak, Ranvorng Virakthida and Seng Sereyvuth, Phnom Penh