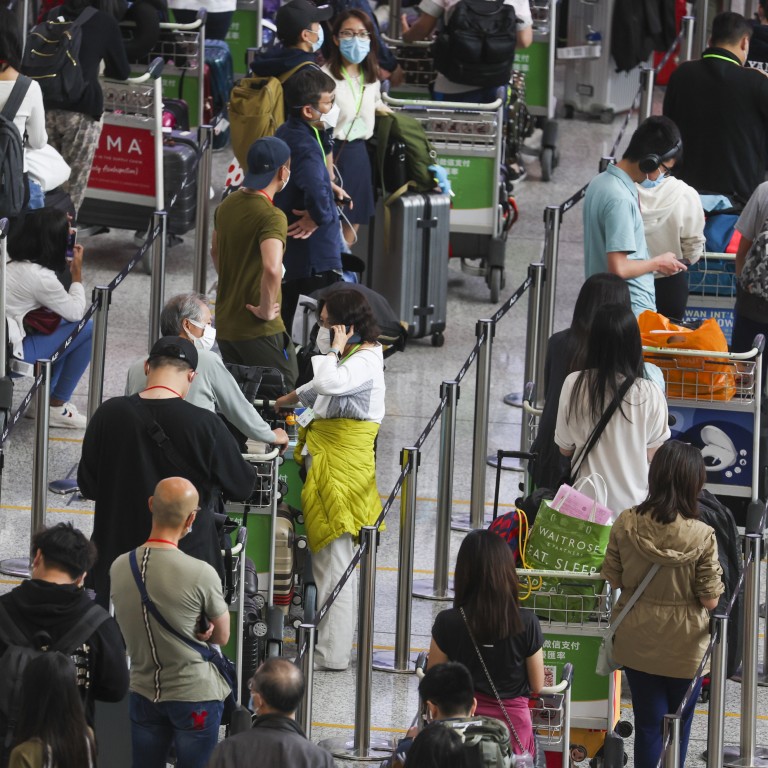 Letters
Covid-19 and Hong Kong: finally, light at end of border control tunnel
Readers discuss Chief Executive Carrie Lam's remarks on travel rules, the erosion of Hong Kong's status as an Asian business hub, the dangers of wearing personal protective gear outdoors in the heat, and British hypocrisy on human rights
Feel strongly about these letters, or any other aspects of the news? Share your views by emailing us your Letter to the Editor at
[email protected]
or filling in
this Google form
. Submissions should not exceed 400 words, and must include your full name and address, plus a phone number for verification.
At long last I feel like shouting from the rooftops now that Carrie Lam Cheng Yuet-ngor, Hong Kong's outgoing chief executive, has finally found the courage of her convictions and announced that the city's border control rules are unsustainable ("Coronavirus: Hong Kong's border control rules untenable, Carrie Lam says, while city logs 1,276 cases",
June 19
).
Although this pronouncement came just days before Lam passes the baton to the incoming John Lee administration, I see it as her Damascene moment, when the truth is out officially, or rather, allowed by our political masters. Very late, but the saying "better late than never" stands.
So finally there is light at the end of the proverbial tunnel. Hong Kong most probably will be allowed to open up to international travellers like the rest of the world. However the
equally important
border reopening with our motherland is likely to have to wait till the
party congress
in the autumn. When the exact date of such an important event is still held as a state secret, Hongkongers should realise the mental make-up of our political masters.
Of course, all this is a political gift bestowed on the incoming administration. Hongkongers wait with bated breath for the resumption of quarantine-free travel.
Lam Kam Shing, Tai Po
Hong Kong must wake up and reopen to world
As Asia has opened up, Hong Kong has become impossible as a place from which to base oneself for connectivity to the wider region. I left in April because I had a board meeting in Seoul, and another in Manila. In May and June, I took the opportunity to catch up with family in Australia and the United Kingdom and to catch up with business associates in Australia and Bangkok.
I am now in Manila, looking at my calendar. I have a conference in Vietnam in three weeks, one in Bangkok two weeks later, a board meeting in Tokyo in August and another conference in September. Pre-Covid, I would just have travelled out of Hong Kong for each of these and come straight home – usually flying
Cathay Pacific
. Now I am basically stuck outside Hong Kong because it is impossible to get home.
The cost of paying for a week in a quarantine hotel (even more overpriced this cycle) makes any kind of business trip economically infeasible for a one-person company. The fact that you have to book months in advance with zero flexibility makes business trips, which usually have little notice, totally impossible.
Thus, I cannot come home. It is cheaper to live in a hotel outside Hong Kong than it is to pay for one week in three at a quarantine hotel in Hong Kong.
Who in their right mind thinks that this is sustainable for a (previously) global city like Hong Kong? I had lunch in Manila with a friend who has finally given up and left Hong Kong permanently. He is not alone. Soon I will have to decide whether we give up waiting for Hong Kong to come to its senses or also leave forever.
Travelling around Europe and Australia, the pandemic is totally irrelevant. Nobody is even wearing masks. Travelling around Asia, it is a minor inconvenience and barriers are falling by the day. Everywhere else has moved on.
Hong Kong is caught in a time warp but the economic costs to the city, and the mental costs to its residents, are very real. Someone needs to wake up and open Hong Kong up.
Sarah Fairhurst, Tuen Mun
Wearing personal protective gear in the heat is risky
I wish to air a concern and a warning to the government's so-called health experts and advisers who are mandating compulsory Covid-19 testing and/or the implementation of access control at building entrances.
My concern is for the security staff and health workers who have to work outside (or in a flimsy tent) in temperatures now exceeding 30 degrees Celsius and with very high relative humidity. Most of the biohazard suits and the clear plastic face shields worn by staff impair the body's ability to lose heat by evaporation of perspiration.
Far from "saving lives", as the government keeps telling us, the measures are putting workers at risk from suffering heat exhaustion or, worse still, death from heatstroke.
If you are going to compel staff to dress like astronauts, then you have to provide them with comfortable air-conditioned facilities. Any manager or supervisor who orders a staff member to work outside for protracted periods in the sun and in high humidity fully covered in biohazard protective gear should be warned by the Labour Department that they risk prosecution for endangering the lives of their staff.
The Occupational Safety and Health Ordinance provides that a failure to provide or maintain a working environment for employees that is, so far as reasonably practicable, safe and without risks to health can result in a fine of HK$200,000 and imprisonment for six months.
Now that summer has arrived, this nonsense has to stop.
P.A. Crush, Discovery Bay
UK has no right to lecture others on human rights
The United Kingdom insists on going ahead with its plan to
send refugees to Rwanda
blatantly against their wishes. At the same time, it incessantly lectures others on human rights. The double standards are glaring.
Francis Lo, North Point