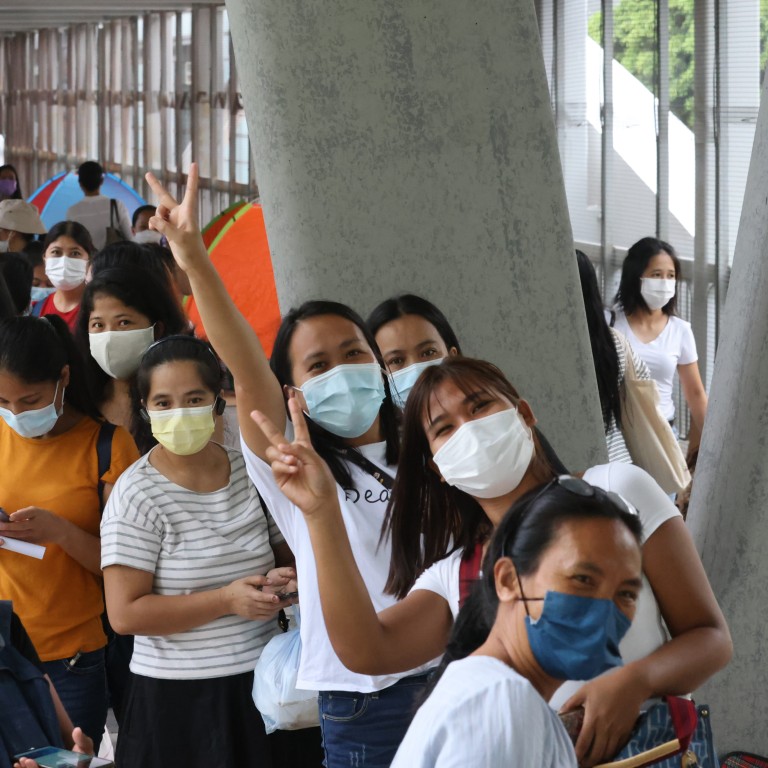 Letters
Give foreign domestic workers the consumption voucher. They deserve it
Readers discuss the maths of making the consumption voucher scheme more inclusive, Western media coverage of the Ukraine and Yemen conflicts, the energy and food crisis, and why the US-China competition is ultimately America's to squander
Since the travel restrictions in early 2020, many helpers have not seen their families for more than two years. With Hong Kong making limited progress in reopening its borders, some helpers may consider leaving for good.
Shenyan Zhou, Kowloon Tong
A tale of two hegemons?
Hence French historian Alexis de Tocqueville wrote in his 1835 book Democracy in America that although the West and Russia are different, each "seems to be marked out by the will of Heaven to sway the destinies of half the globe".
So the difference in how the Western media treats the conflicts in Ukraine and Yemen is similar to how it covers the Oscars and the Cannes Film Festival. The difference between how it treats Russian President Vladimir Putin and Saudi Crown Prince Mohammed bin Salman is akin to how it portrays a Hollywood star and a French actor, however famous.
Mergen Mongush, Moscow
War-hungry leaders are hurting us all
Where there is no unity, there is no progress. The world is facing an
energy and food crisis
because nations are unable to work together. For the sake of war, we are giving up our fundamental human values and making ordinary people pay the price of inflation. Leaders need to come together and find a way towards peace.
If they don't, we will lose time and money, see discontentment rise, poverty worsen and dreams shatter. Please recognise what is really important in life, and end the energy and food crisis before it is too late.
Rishi Teckchandani, Mid-Levels
China's short game vs America's long game
China remains a most serious challenge to the American order and its resilience this century. Washington, which relied on the now-futile approach to mould and support Beijing in embracing change and transitioning to democracy, has been forced to remodel the game in the face of China's meteoric rise.
Beijing's dominance in new critical sectors including hypersonic defence technology and the semiconductor supply chain has forced Washington to restart its Cold War mode. For decades, the US has stuck to a three-pronged mantra: firstly, building a global American-led system of democracy and rules-based liberal norms, secondly, inviting others to join the system and finally, protecting the order from any challengers.
This stability built by the Americans allows Beijing to pursue its ambition of state renewal and modernisation, capitalising on its vast resources and public support.
The dramatic transformation through China's modernisation of the military, technology and the economy, and its dominance in innovation, research and other critical sectors, has created a new sense of awe and anxiety, but Washington remains confident in its capabilities and advantages.
Through a three-pronged emphasis – invest, align and compete – Washington will continue to take the moral high road in upholding the values of freedom, democracy and respect for human rights.
While both Beijing and Washington are aware of their inevitable interdependence and the critical cooperation needed to address global challenges, their respective urgent pursuits of the edge over each other remains a bigger theme.
Washington's confidence stems from its advantages, which have stood the test of time, and an awareness that its conflict with and competition against Beijing will not be fought alone. With the solid global system it has built and an alliance of competent and credible allies, Uncle Sam continues to target the long game, its potential still untapped in its competition against China.
Washington is also aware that the outcome of this game is very much shaped by its own progress and future orientation and that, barring a total collapse of America's institutions and internal systems, China's pathway to global superiority is not guaranteed.
America, while ensuring that China remains on the periphery of the global system, is thwarting any attempt by Beijing to undermine this deeply entrenched American-led order. The short game might be Beijing's to lose but the long game is only Washington's to squander.
Collins Chong Yew Keat, University of Malaya