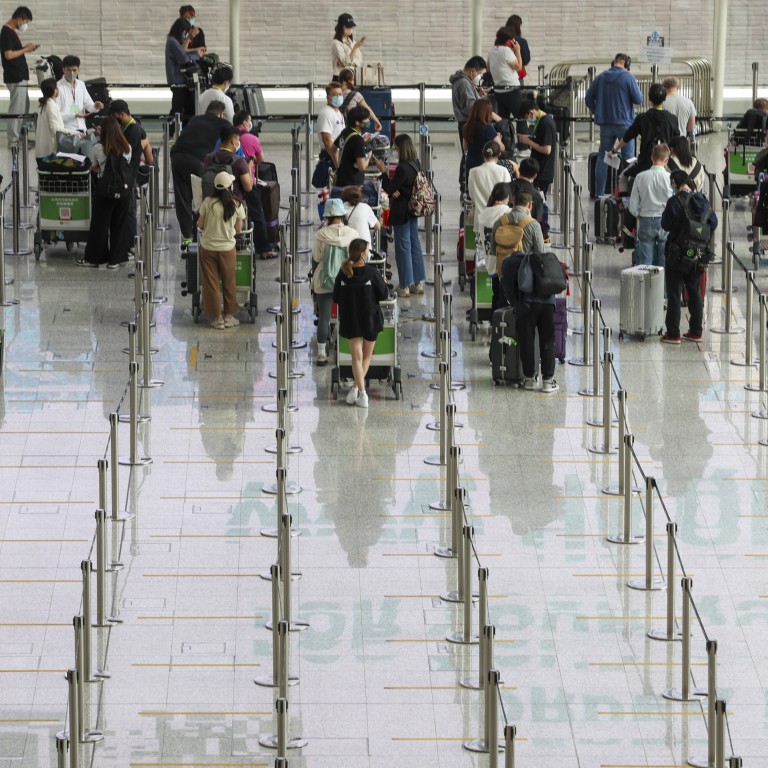 Letters
Why Hong Kong should simply scrap Covid-19 quarantine
Readers discuss Hong Kong quarantine requirements, why five days in quarantine should suffice, how the American system deals with extreme views, and the kindness of strangers
Feel strongly about these letters, or any other aspects of the news? Share your views by emailing us your Letter to the Editor at
[email protected]
or filling in
this Google form
. Submissions should not exceed 400 words, and must include your full name and address, plus a phone number for verification.
I have been in quarantine nine times in Hong Kong. I am fully vaccinated and have previously contracted Covid-19 and experienced the treatment offered by the government-run medical facility in Lantau (that's another story).
The merits of mandatory quarantine are debatable in the third year of the pandemic and whether one has been previously infected or not should surely be considered.
With the incubation period of the current Omicron strain standing at just three days, a reasonable person is left to ponder: have the restrictions – masks, vaccinations, isolation, quarantine and other precautions – actually prevented the spread? And if so, why are we still having wave after wave of coronavirus?
To many, common sense seems to have evaded the Hong Kong government and we are now subject to the repercussions of the unsustainable "zero-Covid" policy.
Three years since the outbreak of SARS-CoV-2, we still live under a regime that professes all are at risk at the same level. All citizens are subject to restrictive controls when in fact the pendulum is swinging in the opposite direction – the virus is now to a degree controllable if proper precautions are taken.
Treatments do exist, and the severity of the reiterations of the virus continues to decrease. In any case, from the beginning, Covid-19 has challenged primarily the vulnerable such as the elderly, and it is towards them most of the attention should have been and should continue to be directed. Focus on safeguarding the vulnerable and let the rest of us get back to fixing the mess that has been created.
All the restrictions should be evaluated against the numbers available globally and then rational, honest and unbiased discussions should be entertained, or we are doomed to relive the follies of the past three years.
Today, in view of all the science available, quarantine is no more than detention and thus the hotels involved in this farce can be likened to government-appointed detention centres.
Sadly, too many have been willing to go along with it. But as long as we are silent, our way of life prior to Covid-19 is doomed.
Larry E. Cowle, Causeway Bay
Quarantine period of five days is reasonable
Sitting in my quarantine hotel room and having received a negative result for my polymerase chain reaction (PCR) test on the fifth day of quarantine, I couldn't help but think: why isn't this the optimal time to release people back into civilisation? Instead, I would have to wait another 36 hours for release when I was clearly not a threat to anyone out there.
Andrew Tjaardstra, Tai Hang
Checks and balances in US democracy provide stability
This is the age of extreme politics combined with cancel culture and so it seems that anything can be said and done at any time irrespective of long-standing traditions of decency and respect for others. But one of the beautiful things about the plans our founders devised for the country is the checks and balances they constructed to provide stability to our constitutional system.
Our democracy provides for changes in how we legislate and judge according to the express will of voters; it provides for the ebb and flow, as it were, letting steam out of the pressure cooker of extreme political opinion. Silent voters are far more numerous and wiser than the extreme voices on the margins, and they usually express their will only on election day. The idea that the end of this glorious experiment is nigh is highly unlikely.
Paul Bloustein, Cincinnati, Ohio
Kindness of strangers makes world a better place
A Chinese farmer left his fruit cart unattended on a street in Zhengzhou, Henan province, only explaining in a note that he had to go home for a few days to harvest wheat and raise money to treat his granddaughter, who was diagnosed with a cancer affecting nerve tissue.
Over the next few days, strangers donated 100,000 yuan (US$15,000) through the payment QR code left on the cart.
Often, the worst social issues are associated with poverty. Also, what's stopping anyone from taking a watermelon from an untended street stall without paying?
Thus, it is so heart-warming to know good, altruistic people exist in the world, who step up to help the needy quietly.
How wonderful it would be if the farmer's grandchild could go on to have a healthy life, thanks to the kindness of strangers.
Pearl Tse, Tseung Kwan O