India
Get more with myNEWS
A personalised news feed of stories that matter to you
Learn more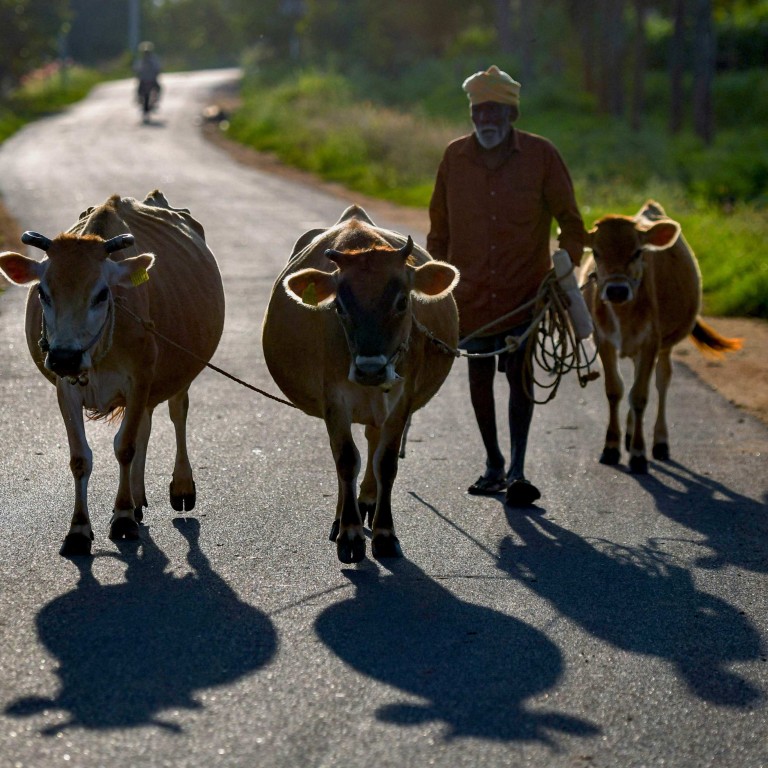 Letters

|
Brouhaha over India's vegetarian diet and meat ban smacks of hypocrisy
Readers discuss vegetarianism in India and criticism of BJP and its allies, and the characterisation of China as the aggressor in the Asia-Pacific region
Feel strongly about these letters, or any other aspects of the news? Share your views by emailing us your Letter to the Editor at
[email protected]
or filling in
this Google form
. Submissions should not exceed 400 words, and must include your full name and address, plus a phone number for verification.
I refer to the article, "Pound of Flesh" (
July 3
). The Bharatiya Janata Party and its allies have never called for a "blanket" meat ban, though meat is banned in most temple towns and during festivals of Hindu, Jain and Sikh religions that together form more than 80 per cent of India's population. Even though most Indians do consume meat, most temples are vegetarian places, like the Buddhist temples in Hong Kong and mainland China.
Yes,
cow slaughter
is banned in 20 out of 28 states in India, but many of those bans have been in effect since before the BJP came to power. The predominantly Muslim state of Jammu and Kashmir's ban on slaughtering cows, which carried a penalty of a fine and up to 10 years in jail, was in effect even before the BJP was formed.
To put things in perspective, much of the beef consumed by Indians comes from buffaloes rather than cows. Only around 2 per cent of Hindus consume beef, though Kerala is a notable exception with cow meat being widely consumed there.
Different surveys put the number of vegetarians in India at between 20 per cent and 39 per cent of the population. Even at the lower end of the estimate, that is around 260 million people. Even when Indians do consume meat, more than 90 per cent do not do so on a daily basis.
India has one of the world's lowest levels meat consumption at 4.5kg per person, according to 2017 data, compared to 61.7kg per person in China and 121kg in the United States. Meat eating has never been an essential part of the average Indian diet.
Hindu scriptures might not prohibit the consumption of meat to all, other than the flesh of cows, but they do encourage a vegetarian diet as being more conducive to fulfilling a morally upright and spiritually enriching lifestyle.
It is astonishing that some people in the West will support a vegetarian or vegan diet and praise it for its environmental, moral and even health benefits. The concerns of most meat-eaters do not receive any attention. But when it comes to India, these same people mock the world's largest vegetarian population. It is nothing but first-class hypocrisy.
Nirmal Laungani, Sai Ying Pun
China is not source of 'aggression' in Asia
I write in opposition to Collins Chong Yew Keat's letter claiming Chinese "aggression" in the Asia-Pacific ("Britain should seize Indo-Pacific moment to reclaim its global standing",
July 3
).
It is the United States that comes to this region to stage war games and other intimidating military actions as part of its pivot to Asia. China has not fired a shot at anyone.
The US, a wealthy country which can dominate the international media, can convince many people that China is the threat, even though the US is the one bombing and killing people around the world. Even old ladies in American cities aren't safe from violence.
The US did not object to nationalist China's original 11-dash line (now a
nine-dash line
). Furthermore, China's militarisation of some islands in the South China Sea was a direct result of Washington's announcement during the Obama administration that it would pivot to Asia and increase US naval assets in the Asia-Pacific, presumably to keep China in its place.
John Chiu, Chai Wan