Nato
Get more with myNEWS
A personalised news feed of stories that matter to you
Learn more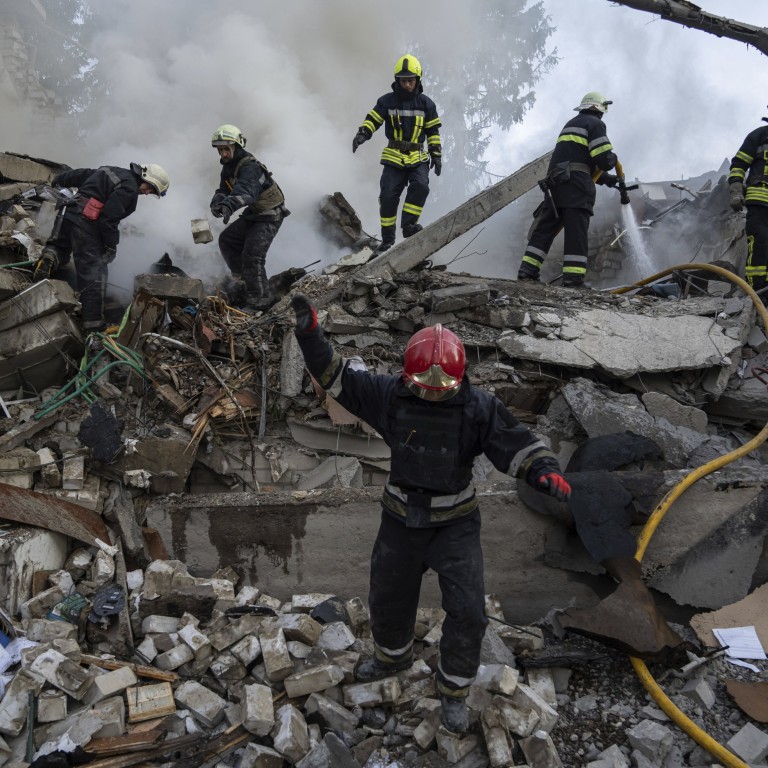 Letters
One path Europe can choose to de-escalate the Ukraine conflict
Readers discuss the pitfalls of Europe's security dependence on the US, how Chinese state media and US right-wing media might find themselves on the same page, and the casting of China as being in retreat from international engagement
Feel strongly about these letters, or any other aspects of the news? Share your views by emailing us your Letter to the Editor at
[email protected]
or filling in
this Google form
. Submissions should not exceed 400 words, and must include your full name and address, plus a phone number for verification.
Over two centuries ago, Kant summarised the era of enlightenment with the following words: "Have the courage to use your own mind". In German, the key term is mündigkeit, which encompasses independence and maturity.
The freedom to act based on your own mind is an oft-acknowledged principle in the West. Contrary to those beliefs, Europe is not leading decisions on its own security, relying instead on a US-led Nato. Many credit US policy with rebuilding and uniting Western Europe after World War II. However, today, security dependence on the US is an obstacle to European integration and cooperation: it suppresses the development of Europe's own armies, including an
integrated European army
.
Security dependence demands alignment to US interests and policies. It brings US rivalries into Europe, which is problematic for European Union expansion in the East.
European countries have participated in US-led conflicts in Afghanistan, Iraq, Syria, and Libya, with devastating effects on these countries, and negative secondary consequences on Europe.
Europe is now also following the US' lead in attempts to resolve the conflict in Ukraine, through increasingly confrontational policies towards Russia. Despite tragic results thus far, the US and Europe are staying the course on a path that failed to prevent the conflict in the first place. The door to Nato membership remains open to Ukraine, as does the door to further escalation and
a direct conflict
of Nato with Russia.
There may be but one path to de-escalation that can be a win for all involved: to close
US military bases
in Europe, in particular in Germany. This is not a radical idea.
Security dependence is not normal. The US would never allow a foreign military to be stationed on their own land. French President Emmanuel Macron has repeatedly advocated for European
strategic autonomy
. While France's strategy includes Russia, Nato's is dividing the continent.
By delegating its defence to the US military, Germany ties itself and Europe to US rivalries with Russia and China, encouraging bloc confrontation against its own interests, compromising its economy, and creating new security problems.
The focus should be on building German and European security and foreign policy independence. China may play an important role in this by advocating for its principle of non-interference in internal affairs of other states. US military bases interfere with autonomous decisions in Europe. China's is, in fact, the policy resulting in mündigkeit.
Security independence encourages accountability for one's own actions. If Ukraine is a warning sign of what is to come, the dangers are too great to perpetuate the status quo.
Germany and other countries hosting US military bases need to address the stark choices that are to be made: between independence and the ability to find a regional balance that can advance peace and prosperity, or to serve as a conduit of global rivalries and be drawn into avoidable conflicts.
Dieter Egli, associate professor at Columbia University Medical Centre, New York
Chinese state media caught in crossfire of US politics
On July 2, US President Joe Biden tweeted, "My message to the companies running gas stations and setting prices at the pump is simple: this is a time of war and global peril. Bring down the price you are charging at the pump to reflect the cost you're paying for the product. And do it now."
Later that day, Fox News published an article headlined, "Biden tweets demand for gas stations to 'bring down' prices, gets praised by Chinese state media".
Fox, a right-wing US media outlet that supports former US president Donald Trump, uses Chinese state media as a weapon to attack Biden. This is an example of how Chinese state media and by extension the Chinese government get caught in the crossfire of US domestic political quarrels between pro-Trump media and Biden.
During his visit to Hong Kong on July 2, Chinese President Xi Jinping called for bigger flats for people in Hong Kong. This is a clear message from Xi to Hong Kong's property tycoons to lower property prices so that more people in Hong Kong can afford to buy a home.
If Xi is successful in getting Hong Kong tycoons to lower property prices in Hong Kong, and if Biden is unsuccessful in inducing US gas stations to lower petrol prices, this will give ammunition to Chinese state media and Chinese leaders to argue that Chinese Communist one-party rule is more effective than US democracy. If that happens, Chinese state media and pro-Trump media may criticise Biden, albeit from different angles.
Toh Han Shih, Happy Valley
West, not China, is promoting disengagement
We live in an epoch dictated by technology. News of all kinds comes to our smartphones whether we wish to see it or not.
In the
op-ed
"Why China has more to lose from decoupling than America" (June 29), George Magnus wrote that the "People's Republic would not be where it is today without globalisation. International trade, investment, and capital market access drove economic growth, while knowledge transfer … enabled technological levelling up".
On decoupling, he went on to say, "China might not have initiated the disengagement process, but it seems committed to seeing it through".
Unless I have been reading the wrong material, China, through public forums, has been consistent in its world view and strategic thinking since the dawn of the century – in that its government has been advocating world peace, collaboration between countries and their people, non-interference, free trade, inclusiveness and tolerance. In fact, it is campaigning for and enshrining decent values and practices for the social good.
Yet unless I have missed reading the right articles published by the West, I see in the West the promotion of isolationism, exclusionism, protectionism, racism, economic sanctions and gun crimes.
Perhaps the article needs a new title: reversing the positions of the two countries in the heading would have been appropriate.
Philip S.K. Leung, Pok Fu Lam