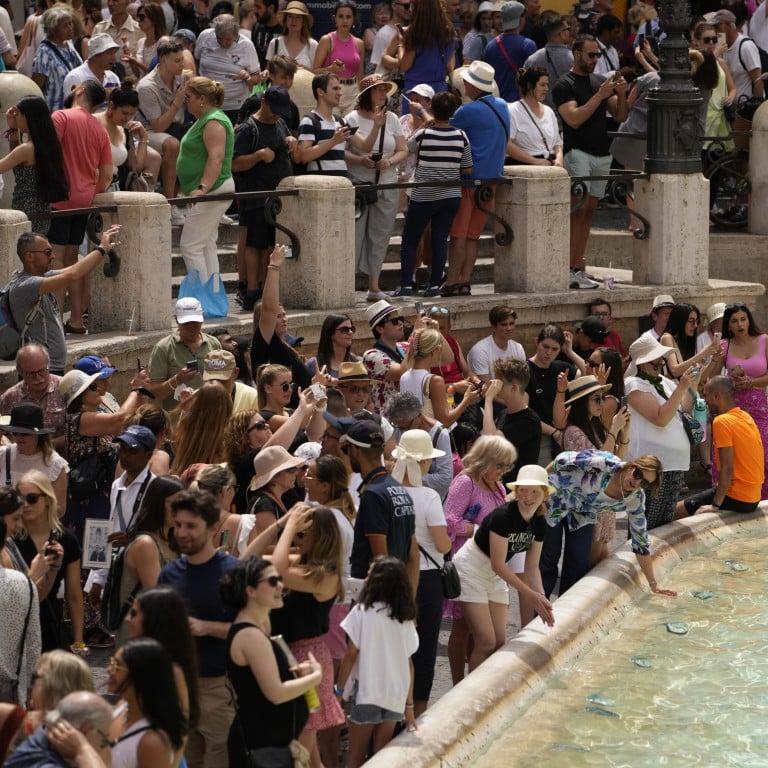 Letters

|
Hong Kong needs more easing of Covid-19 rules for travellers, not cheery corporate messages
Readers share their views on Hong Kong's failure to open up to the world, and pandemic-prevention measures that need to go
Feel strongly about these letters, or any other aspects of the news? Share your views by emailing us your Letter to the Editor at
[email protected]
or filling in
this Google form
. Submissions should not exceed 400 words, and must include your full name and address, plus a phone number for verification.
After spending a month in Europe, I came back to a message of "Let's cheer up" displayed on the HSBC building in Central last week, a jarring reminder of how far Hong Kong is slipping behind.
That an advertising or public relations executive was able to convince HSBC management to "cheer up" people is a sad sign of the prevailing sentiment in Hong Kong.
Facing a third summer locked up, Hongkongers are capitulating. The fearmongering is increasing again, in line with the
number of infections
. There are few flights in and out of Hong Kong. The cost of travel is outrageous; ticket prices are expensive and on top of that you have to pay for a quarantine hotel room.
Meanwhile, mainland China has yet to address the issue of weak immunity levels. Macau is
locked down
for a week.
Cheers are hard to come by, despite the colourful sign.
What a contrast with Europe. I had a good chance to improve my immunity levels. I attended a wedding, as well as a funeral, with family members arriving in the Netherlands from around the world. And some turned out to be Covid-positive.
I joined the World Urban Forum in Poland, attended by a global – maskless – audience of thousands, online and in person. Exuberance abounded. Amsterdam was bustling with theatre and live music, and dining and drinking in large congregations in parks and streets. The trains and planes were full.
I'm sure every variant of Covid-19 was present. Most people had already had the virus. It is considered a minor inconvenience, not much worse than flu.
No one needed to call for cheers. While worried and concerned over the war in the Ukraine and the rising cost of food and energy, people were smiling. The summer is here. The world is open.
The first masks reappeared on my last flight section back to Hong Kong. It was a reminder that not the whole world is open. Some four hours after landing, I walked into my hotel room – locked up for a week for no good reason.
I wish our leaders had the wisdom to open up to the world before the community immunity gained through exposure to Omicron wanes. Dispense with the
hotel quarantine requirements
. Welcome everyone who wants to visit.
I also wish they would focus on rapidly improving hospital capacity, instead of maintaining quarantine facilities. Despite capacity worries, infections are not a bad thing – we've got to live with them. Let's stop the murder of our economy and rejoin the world. That would cheer up Hong Kong.
Paul Zimmerman, district councillor and CEO, Designing Hong Kong
Lift requirement to use Leave Home Safe app
I echo the letter on how quarantine for Covid-19 is no longer justified ("Covid is now far too small a threat to justify quarantine",
July 9
).
Not only should the quarantine measure be lifted, so should the use of the Leave Home Safe app. Government statistics show that more than 92 per cent of Hong Kong residents are now vaccinated with at least one dose, and nearly 90 per cent have had two doses. It is a waste of time and manpower to check the app of those who wish to go into government facilities, hospitals, restaurants and other venues.
Further, the
new health code
proposed by the government is totally unnecessary.
In the meantime, wearing a mask in crowded places, such as the MTR, buses, crowded indoor meetings and so on, can stay a bit longer until the situation further improves.
Covid-19 is now just like a common flu. Sensible, considerate and responsible people getting Covid-19 can just take some available medication, drink lots of water and stay home. Provided the symptoms are not serious, there should be no need to even report the case.
Cecilia Lanz, Ma On Shan