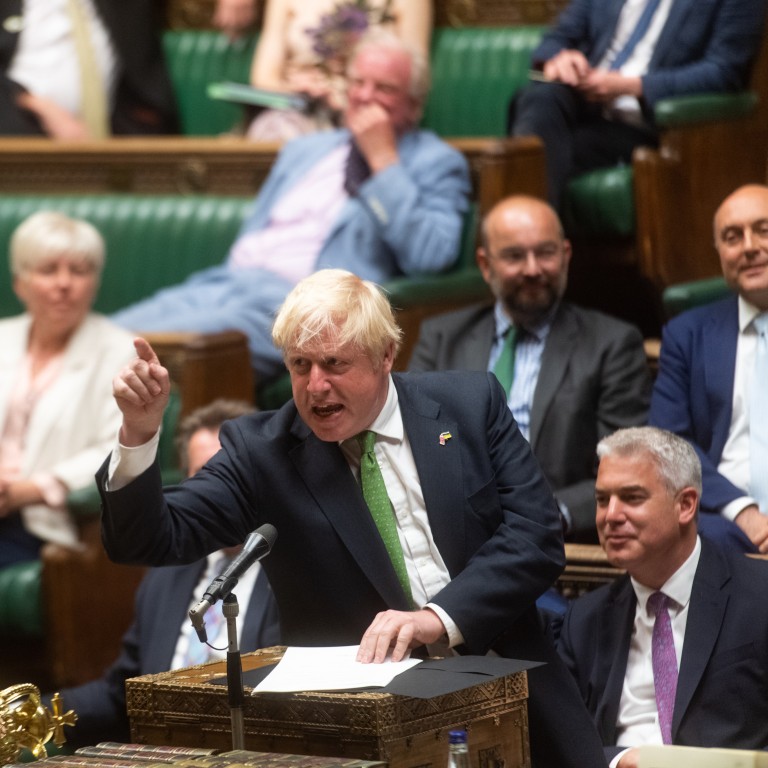 Letters
The UK is an example of why democracy badly needs rethinking
Readers discuss how Boris Johnson's tenure is an emblem of what is wrong with democracy, and why Hong Kong parents must go beyond buying exam workbooks to raise good learners
Feel strongly about these letters, or any other aspects of the news? Share your views by emailing us your Letter to the Editor at
[email protected]
or filling in
this Google form
. Submissions should not exceed 400 words, and must include your full name and address, plus a phone number for verification.
As one of the world's oldest democracies, the United Kingdom has now found itself bogged down in a democratic quagmire.
After an endless barrage of gaffes and scandals, a string of ministerial resignations finally pushed the beleaguered British prime minister Boris Johnson to step down. Nevertheless, his downfall does not bring an end to the political turmoil facing the British government, but is a sign showing that something is wrong with the country's centuries-old democratic system.
Former British prime minister John Major blamed Johnson's government for breaking the law and ignoring conventions, inflicting widespread damage on the country. During his three-year tenure, Johnson challenged the constitution by, among other things,
unlawfully proroguing parliament
for five weeks amid the Brexit crisis and trying to keep the police's investigation into
partygate
from parliamentary scrutiny.
Also, his government put forward highly controversial bills, including the Police, Crime, Sentencing and Courts Act 2022 and the Elections Act, which are believed to undermine democracy and human rights.
We cannot help asking, why did the British people choose such a pompous, unscrupulous and incompetent buffoon to lead their country? Well, it may not be the electors' fault because, in fact, the mandate that Johnson claimed to have amounted only to less than 30 per cent of the electorate in the 2019 general election – the Conservative Party won about 42 per cent of the votes, and voter turnout was about 67 per cent – even though the party
won a landslide majority
of parliamentary seats.
Thanks to the widely unpopular first-past-the-post voting system, the Scottish National Party garnered 48 seats with only 3.9 per cent of the votes, while the Liberal Democrat won only 11 seats despite clinching 11.6 per cent of the votes in the same election!
Many of us are used to simplistically equating "one man, one vote" with fairness and democracy. However, in reality, "one man, one vote" may yield ridiculous yet irreversible results like the aforesaid.
Of course, first-past-the-post is not the only undemocratic element in British democracy and the UK is not the only democratic polity where the elected government has wreaked havoc in the country. What the political turmoil in the UK tells us is that elections and democracy need to change as society changes. In a world that is more complex and chaotic than ever, if you still consider democracy a universal value, maybe it is time to unthink and rethink what it really means today.
Adrianna Mak, Tai Po
Exam workbooks are no ticket to student success
The annual
Hong Kong Book Fair
will be held at the Hong Kong Convention and Exhibition Centre for about a week from July 20. The opening of the Exhibition MTR station, coupled with the end of exam season for most schools, provides impetus for book lovers and students alike to attend the event.
Hong Kong people tend to have a utilitarian mindset, so it's little wonder that how-to books such as investment guides, biographies and self-help books are usually among the more popular titles.
In particular, exam practice books and workbooks are some of the bestselling volumes for an obvious reason – parents' obsession with kids' exam grades. They are willing to spend lavishly at the event buying exam exercises and non-fiction books in a bid to foster good reading habits and revision routines in their children.
We need to ponder the following questions: are these two categories of books alone effective in promoting reading and learning? Would such an excessive emphasis on exam practice and exam-related reading discourage reading or even defeat the purpose?
To answer the above question, we need to make a distinction between extensive and intensive reading. The former entails reading a huge quantity of books across a plethora of subjects, whereas the latter emphasises an in-depth analysis of texts, usually for academic purposes.
Extensive and intensive reading are by no means mutually exclusive. Instead, they complement each other.
From a young age, kids need to develop a passion for reading and an affinity for books, which are the prerequisites for intensive reading and academic learning. By reading extensively, kids can build up their literacy, critical thinking and thirst for knowledge.
Books containing pictures and colourful illustrations can cater to a wide range of readers, engage them and aid comprehension. As kids' vocabulary and reading abilities grow, such scaffolding can be taken away. Once extensive reading is part of kids' skill set, their intensive academic reading ability will develop under the guidance of teachers at school.
Parents are indeed having kids' best interests at heart by doing their utmost to ensure their academic success, yet high-achieving Hong Kong Diploma of Secondary Education students are usually avid readers. Only when kids develop a passion for books can they truly enjoy reading and reap the benefits of it. Then, students will be able to read the world and
tell stories of Hong Kong
.
Jason Tang, Tin Shui Wai