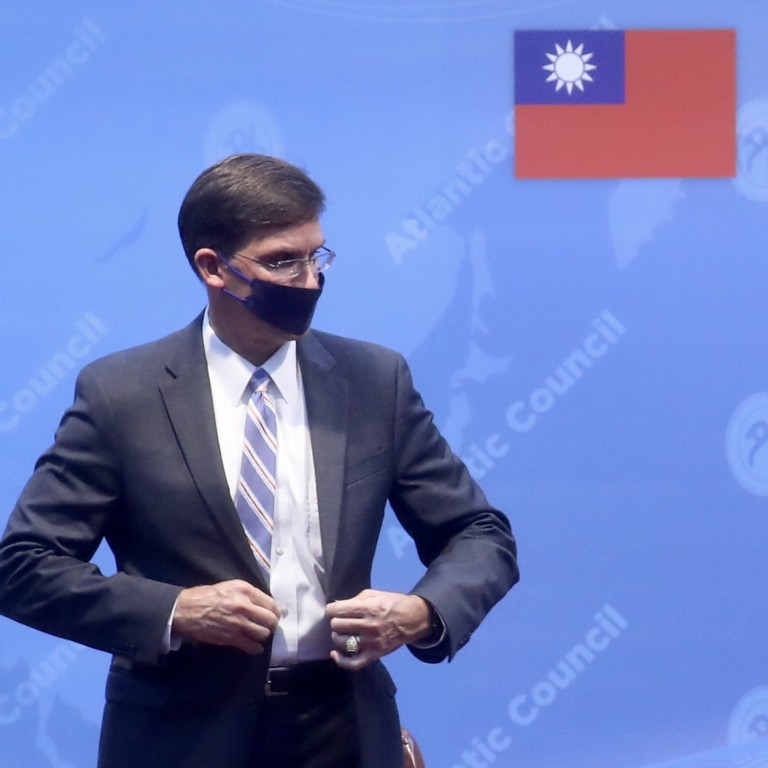 Letters
The outcome of US-China power struggle seems to hinge more than ever on relations with Taiwan
Readers discuss rising US-China tensions over Taiwan, Russia's role in the downing of flight MH17 in 2014, media ambivalence to the climate crisis, and Shinzo Abe's environmental legacy
Feel strongly about these letters, or any other aspects of the news? Share your views by emailing us your Letter to the Editor at
[email protected]
or filling in
this Google form
. Submissions should not exceed 400 words, and must include your full name and address, plus a phone number for verification.
Cross-strait relations are poised to determine the ultimate balance of power between the US and China in the Indo-Pacific, as well as the possibility of an all-out conflict.
The increasing noise over Taiwan has highlighted the enormous stakes at play, and the geopolitical and economic importance of Taiwan to both the US and mainland China ("Beijing warns US of 'forceful' reply to Taiwan visit by Pelosi",
July 22
).
The narrative in the West over the past two decades has shifted from wariness over Beijing's intentions to outrage at its growing power.
Regardless of any change to Washington's policy of "strategic ambiguity", this remains Beijing's ultimate red line. It will not allow Washington to use the island province as leverage in its aims to reshape power dynamics in the region.
However, openings to advance negotiations between Beijing and Taipei have been limited by the sentiment of the general Taiwanese populace, especially the younger demographic. This has been worsened by the mainland's no-holds-barred stance on Taiwan's future.
In a decade where the risk of an all-out conflict over Taiwan is higher than ever, the chances of Beijing taking military steps rest on three main parameters.
Firstly, the ability of Washington and its allies to serve as a deterrent.
Secondly, President Xi Jinping's desire to cement his grip and the narrowing window for achieving the dream of reunification by 2049.
Thirdly, Donald Trump's potential running in the 2024 US presidential election, which would drive up America's hardline approach.
Xi, for his part, is likely to stop at nothing to consolidate China's position.
Collins Chong Yew Keat, University of Malaya
Russia is too busy to defend itself over MH17 downing
Had it been otherwise, they would have no doubt released our military satellite video showing who really destroyed the plane. So quite possibly the world ought to think about what Russia has done instead.
In 2013, we planned a huge underground gas storage facility in the Kaliningrad region and pretty soon built it. Now in 2022 our Baltic exclave is safe in spite of being blockaded.
The latter episode makes me remember a 1995 Hollywood thriller Seven, in which a suspect allows the police to discover a victim exactly a year after he disappears and a detective describes him as "methodical, exacting and, worst of all, patient".
In Russia, like everywhere, people seek a ford to cross a river and run where they can if surrounded by a fire. With Nato relentlessly marching on our borders, we are methodically, exactingly and, worst of all for Nato, patiently bracing ourselves for a major showdown with the West. Little wonder we are too busy to defend our good name over the MH17 tragedy.
Mergen Mongush, Moscow
World's media is asleep on the climate crisis
Frank Sterle Jnr, British Columbia, Canada
Shinzo Abe's legacy tainted by track record on whaling
Although Shinzo Abe made significant contributions to one of the world's most important democracies, for which he should be commended, he largely failed the world's whales. In the twenty-first century, a leader's legacy should also be judged by their impact on the world's shared environment.
The International Whaling Commission's moratorium on commercial whaling came into force in 1986. Despite this, Japan continued whaling in the Southern Ocean under the pretext of scientific research.
In 2014, in a case brought by Australia, the International Court of Justice held that Japanese whaling was not scientific research. Japan temporarily suspended its whaling operations in the Antarctic region but recommenced them again in late 2015. In 2019 Japan left the International Whaling Commission but said that in the future it would hunt whales only in its own economic zone.
Whales deserve international protection both as inhabitants of our shared environment and for their own sake as highly intelligent and emotionally complex creatures.
Bruce Couchman, Ottawa, Canada