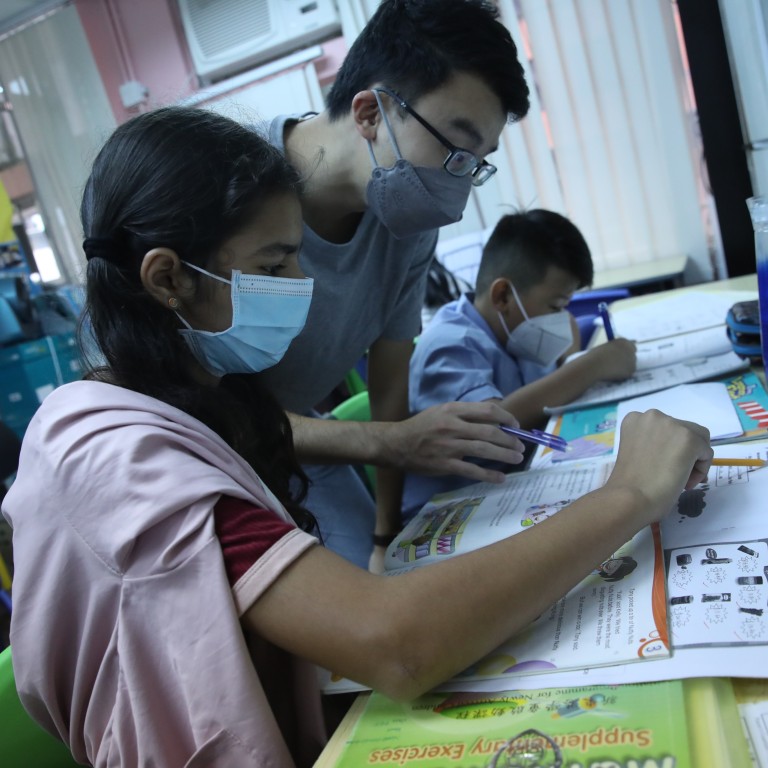 Letters
Why Hong Kong should accept less than stellar Chinese skills from its ethnic minority students
Readers discuss the language barrier facing ethnic minority students, support for young artists, choosing a career path and retaining experienced staff
Feel strongly about these letters, or any other aspects of the news? Share your views by emailing us your Letter to the Editor at
[email protected]
or filling in
this Google form
. Submissions should not exceed 400 words, and must include your full name and address, plus a phone number for verification.
It was heartening to note that both Chief Executive John Lee Ka-chiu and the Commissioner of Police Raymond Siu Chak-yee have spoken about the need to create
an inclusive society
for all. In his speech on July 9, Siu made clear this applies even to those who were charged with crimes during the tumultuous years since 2019 provided they repent and are willing to rejoin society.
But listening to what Unison – an NGO that advocates for equal opportunities for those who are not ethnic Chinese – had to say on July 13 on RTHK's Backchat, one can't help but get a feeling that ethnic minority groups have been left out, especially in better-paid or more secure jobs. This is especially so for those of South Asian descent.
In my view, the primary reason is
the language barrier
– to wit, their inability to read and write Chinese characters. This is a prerequisite to entering a job beyond a delivery service, road works, construction site odd job worker and the like.
Put simply, they are barred from upwards social mobility because of a cultural divide. A primary school level of knowledge of Chinese characters would empower non-ethnic Chinese students to read, write and improve their understanding of Chinese culture, an essential element when one lives in a society where most people speak, read and write Chinese.
A major difficulty for non-ethnic Chinese students is regular opportunities to practise what they learn from school. Herein lies a Catch-22. If they don't practise they can't improve, but they can't practise because their parents probably don't read or write Chinese, either, so what is learned today has to be learned again tomorrow.
Frustration soon sets in for teacher and student and everyone loses. The ideal situation is total immersion such as in boarding schools for the dedicated learning of Chinese, but this will not happen any time soon.
To overcome this predicament, society needs to reconsider the weight placed on the ability to read and write Chinese. Of course, speaking Chinese will and should remain imperative in all walks of life as it is the national language.
We in Hong Kong have always prided ourselves as being an inclusive and tolerant society. The need to project these virtues seems more urgent now as our ethnic minority communities have increased to be a not-insignificant portion of the population. Looking after their welfare should get more attention from everyone regardless of our station in the city.
James A. Elms, Wan Chai
Make Hong Kong a hive for budding artists
I developed a fascination with the rich wildlife within this fast-growing concrete forest at a very young age. As a child I enjoyed observing the birds and flora around my daily life, doodling all the time. As I learned to paint with watercolours and Chinese ink, I cultivated an eye for details and began to appreciate the urban environment we live in.
It was beyond my wildest dreams that winning the Wharf Secondary School Art Competition would bring me an opportunity to study architecture overseas with an art scholarship. The six years of study in Britain has tremendously broadened my perspectives.
Besides studying architectural theories and forms, it is the exposure to the diverse building types, cultures and people that has enriched my experience of architecture. It has been a fruitful journey that changed my perception of our built environment.
Despite the challenges with Covid-19, I completed my studies last year and am working in an architectural practice in London, gaining practical experience for my professional exam. It is encouraging to see a growing appreciation for art and design in Hong Kong in recent years, and I hope more budding artists can receive great support from society.
Clarice Hong, London
Students must choose their path wisely
Worse, many secondary school graduates still fantasise about earning a Bachelor of Business Administration degree. They believe it's the way to get a high-paying banker job or become an entrepreneur. I am sorry to offer bad news.
To begin with, you don't have to be a banker to make a decent money. According to a report from HK01, the average monthly salary for a business administration graduate is HK$19,500 (US$2,500) while a person with an education degree – a course of study that is much easier to gain admission to, according to the 2021 JUPAS admissions scores – enjoys a HK$27,833 monthly income. If you are interested in business, think like an entrepreneur and maximise your profit.
If you want to make your fortune, follow the money. Seven out of the 10 richest people in the world are from the technology field, including Elon Musk, Jeff Bezos and Bill Gates.
As a former business student, I hope new graduates can make better decisions in choosing their university path.
Nicholas To, Kennedy Town
Retaining experience is good for Hong Kong
Edmond Pang, Fanling