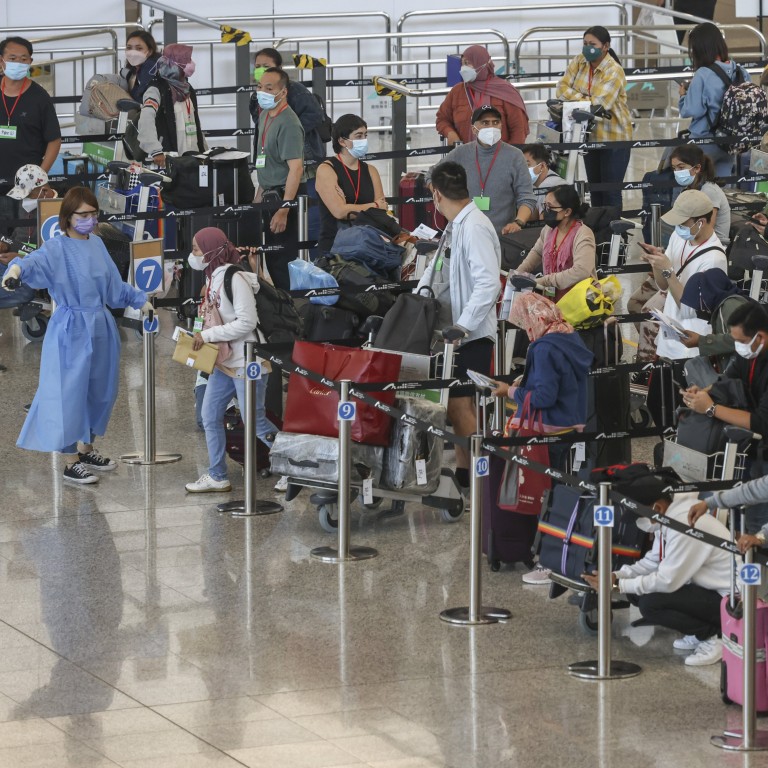 Letters
New rule must end the nightmare that now passes for Hong Kong airport's arrivals process
Readers discuss measures to improve the on-arrival quarantine procedures, how to prevent Covid-19 surges in care homes, and wonder why triple-vaccinated residents must submit to quarantine
Feel strongly about these letters, or any other aspects of the news? Share your views by emailing us your Letter to the Editor at
[email protected]
or filling in
this Google form
. Submissions should not exceed 400 words, and must include your full name and address, plus a phone number for verification.
I read the news regarding the
changes to the health declaration routine
for the airport with interest ("Hong Kong may adopt colour codes for infected patients and quarantined arrivals within weeks; new airport declaration rule coming",
July 24
)
After spending six weeks in Thailand – where life is pretty much back to normal and the government seems be doing a remarkably good job of protecting both its people's health and their livelihoods with its Covid-19 management – we arrived back in "Asia's World City" last week, and entered another universe.
The arrivals process at the airport appeared to have been taken over by the Department of Health, with zero consideration for the well-being of arriving passengers. During the process, which lasted three-and-a-half hours, we passed through a lengthy maze of walkways between different stations, with no provision for drinking water and poor air-conditioning. Worst of all, at two stages we waited for close to an hour in tightly packed pens and queues, with zero recognition of any kind of social distancing.
Having suffered the torture of the existing system, I would appreciate any improvement.
Requiring all travellers to submit their health declaration electronically before their arrival is aimed at hastening the on-arrival quarantine procedures. But if one still has to take the train and walk through a maze of the Department of Health's making, do a PCR and an RAT test and pick up a quarantine order before taking the train back to normal arrivals, it could hardly be defined as an "express channel" as mentioned in the press release.
And having completed these health declaration forms online just last week, I recall they required seat numbers. How many people will be able to provide that information until they have checked in?
As long as the Department of Health is left to organise such matters, we stand no chance of returning to anything like normal travel.
We have lived in Hong Kong for almost 50 years and have always been strong supporters of the way the city functions, but when we were finally spat out at the end of the horrible experience last week, exhausted and stressed, we were seriously questioning the wisdom of choosing to live in Hong Kong.
Chief Executive John Lee Ka-chiu has said
reopening Hong Kong
to the world was a priority. We hope he lives up to his bold statements.
Bob Rogers, Sai Kung
As cases trend higher, we must defend care homes
As the number of Covid-19 cases is on the increase in the city, it is important to pay attention to the
care homes
which have suffered devastating losses. It was observed during the
fifth wave
that most of the cases and deaths recorded were from elderly care homes.
Several appeals were made by these care homes concerning the lack of isolation spaces for recovered patients, and the lack of personal protective equipment for staff ("Hong Kong shores up defences at care homes, requires weekly PCR tests from staff",
July 19
).
To reduce transmission of the virus within care homes, all necessary resources should be deployed to help prevent a surge in cases among carers and residents.
I believe building control regulations can be explored to see how the environment can be manipulated to reduce transmission. Ventilation within these facilities should be also enhanced.
Keeping this vulnerable population safe should be a priority. Hopefully we can weather the challenge.
Adeoti Joy, Causeway Bay
Triple-vaccinated but we can't come home
It is extraordinary that my wife and I cannot return to Hong Kong without meeting the outrageous quarantine requirements, despite both of us having been triple-vaccinated. I, a UK citizen, have been resident in Hong Kong for 46 years and my wife, who has a Hong Kong passport, is Chinese and was born in Shanghai.
We are prepared to accept social distancing, mask wearing, frequent testing and other reasonable restrictions but why can we not be quarantined in our own apartment with electronic tags and whatever other requirements are deemed appropriate? We know a number of people who are in the same position, but there must be many others.
It is surely time to allow us, and others, to return home to resume our lives in the place where we have spent most our lives.
David Paterson, Mid-Levels