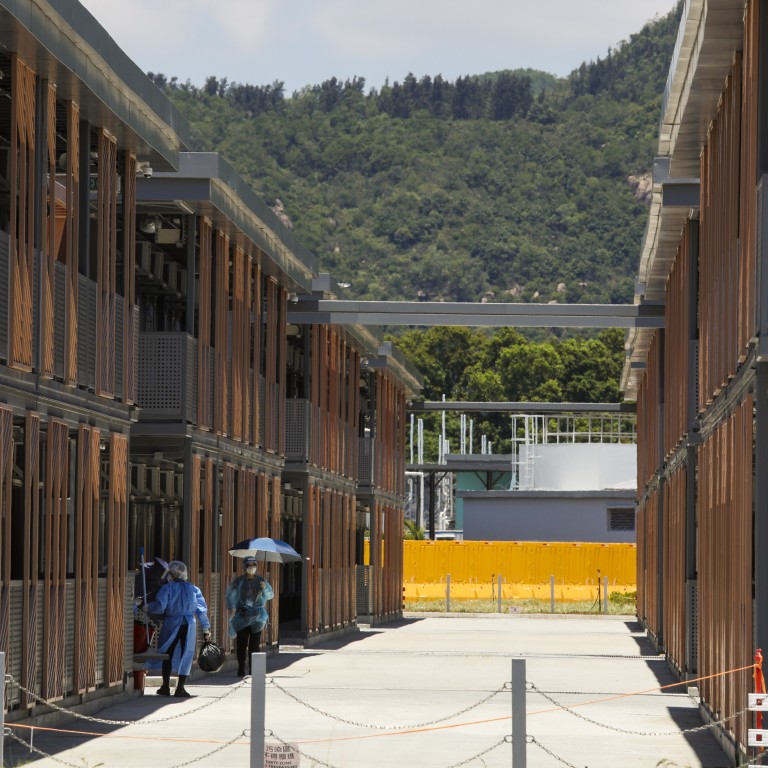 Letters

|
Inconsistencies in Hong Kong's pandemic policies erode faith in government
Readers discuss the need for science-based pandemic rules, the logic of the quarantine policy and the dilemma facing some permanent residents
Feel strongly about these letters, or any other aspects of the news? Share your views by emailing us your Letter to the Editor at
[email protected]
or filling in
this Google form
. Submissions should not exceed 400 words, and must include your full name and address, plus a phone number for verification.
Hong Kong's travel restrictions, quarantine policies and isolation rules are not only unnecessary and ineffective, as many residents and experts
have already stated
, but they are not even internally consistent or adhere to a coherent logic.
While the new administration has begun to slowly lift the
travel restrictions
that have destroyed the global connectivity and reputation of our city, the lack of consistency and coordination across various departments means the intended results of each policy change are never achieved. One such example is the recent provision of allowing recently recovered residents to return provided they have an a certificate issued by a medical practitioner or an official recovery record that confirms their date of infection being at least 14 days before their flight.
Understanding that PCR tests can still detect viral segments long past the infectious period, the government has amended the preflight requirements for recovered patients who have a valid certificate. They only need a negative rapid antigen test (RAT) result within 24 hours of the flight.
However, upon arrival in Hong Kong, this sensible consideration is immediately overlooked. Recovered travellers are still required to undergo a PCR test. If the results come back positive, they are taken from their quarantine hotel and sent to isolation.
Administrators have not explicitly set this policy in writing. However, Dr Chuang Shuk-kwan, head of the Communicable Disease Branch of the Centre for Health Protection, mentioned during a recent press conference that travellers who tested positive could stay in their quarantine hotel if their PCR test showed a CT value greater than 30, but those whose test showed a value less than 30 would be sent into isolation.
Setting aside the fact that CT values are notoriously imprecise at establishing infectiousness of a person, the lack of transparency and consistency in the government's policies highlight serious problems in the quarantine and isolation bureaucracy built by the government. In its blinkered effort to minimise the risk to the community, the various government agencies seem to have lost sight of basic considerations of science, logic and fairness.
As the new administration pursues its
results-driven approach
and sets out its considered, science-based policies, I hope it can make sure that all its various agencies can act in a coordinated and consistent manner so the situation for returning residents can be improved in reality as opposed to just in theory.
The lack of recourse and the utter randomness of these policies do great harm to residents' faith in the government. If there really is a desire to rebuild the community's trust, this administration needs to take a comprehensive review of all its policies to ensure they are fair, balanced and fact-based as well as being theoretically effective.
Rob Cheng, Mid-Levels
Taxi driver hits the nail on the logic of quarantine
It has finally been confirmed to me that Hong Kong taxi drivers are far more sensible than the decision-makers in the Hong Kong government.
As quoted in the local press on the matter of taking taxis to
designated quarantine hotels
, one driver said he felt safe carrying inbound travellers as they had already tested negative on arrival at the airport. He further stated: "If we drive passengers in the streets, we don't know whether they are confirmed with Covid."
As a Hong Kong resident undergoing extremely expensive quarantine, I have tested negative for Covid-19 in three PCR tests and four RAT tests in the last five days but continue to be locked up in the most stringent clinical conditions.
Perhaps the Health Department could explain why this is necessary when other residents with Covid-19 can isolate at home. It is time to use some common sense.
Andrew Brooks, Discovery Bay
Help permanent residents keep their residency
Hong Kong is on the way towards three full years of requiring quarantine for arriving visitors. There are some permanent residents who are waiting to come back to Hong Kong or risk losing
their permanent residency
.
By removing quarantine entirely, the city will see an instant response from permanent residents who come back from their second homes abroad. It would be good for families to reunite.
Please remove the quarantine by the end of August. Let those fearful of quarantine return back home and meet loved ones. It has been a long time since Hong Kong felt like Hong Kong.
Rishi Teckchandani, Mid-Levels