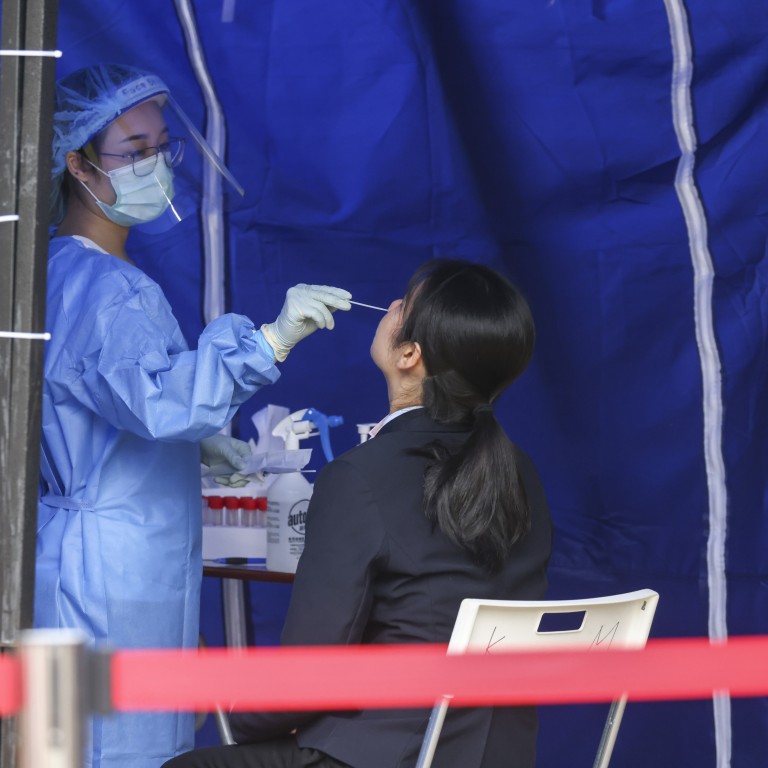 Letters

|
Being zealous about Covid-19 testing won't make Hong Kong safer
Readers discuss why focusing on the quality of overseas tests is impractical, and declare Hong Kong unfit for travel until 2024
Feel strongly about these letters, or any other aspects of the news? Share your views by emailing us your Letter to the Editor at
[email protected]
or filling in
this Google form
. Submissions should not exceed 400 words, and must include your full name and address, plus a phone number for verification.
Prompted by the number of imported cases, one of your correspondents
calls for
vetting to be tightened before reducing hotel quarantine and cites the need for policy based on scientific evidence. Likely, the views expressed may be shared by some members of the public, and perhaps even healthcare professionals and policymakers.
The following are some facts about the current practices.
How and where a specimen for PCR testing is taken (e.g. nasopharyngeal swabbing versus bronchial washing) affects the test result. This variability is difficult to regulate when both local and overseas test sites are involved.
The test result takes on average 24 hours, and when overseas, one needs to travel to specific labs for the test. At airports, the test can be done within a few hours, but for an exorbitant fee. Thus there are many opportunities to get infected – on public transport, at the airport, at an eating place – after the test.
One could reduce this risk by taking an RAT test before boarding, as this takes only about 20 minutes. However, this option was ruled out on the basis that the test is less accurate, without taking into account the inaccuracy of PCR testing, given the time lag.
An RAT test is carried out anyway on arrival, and then both RAT and PCR testing during hotel quarantine. A case is classified as imported when a PCR test is positive at any of these stages.
Infection can occur at any stage in the above process: preventive measures merely reduce the risk. Even in a quarantine hotel,
transmission can occur
. Merely focusing on overseas testing is impractical and unlikely to contribute to effective epidemic control.
The above considerations are vital lest we lapse back into the cocoon mentality of feeling safe as long as borders are shut, when Hong Kong is currently trying to reopen.
J. Wong, Tai Po
World can forget about Hong Kong till 2024
A word of warning to the world: Hong Kong does not welcome you.
As I am writing this, I am stuck at a friend's place in Singapore, trying to find a quarantine hotel room so as to get back to Hong Kong. I think anyone who has been outside Hong Kong in the past six months will agree that Hong Kong is not a good place to be at the moment.
If you are a business traveller, it's best to stay away and leave the limited quarantine hotels to the residents who are painfully trying to get back in. Conduct your business elsewhere. It might be better to fly the person in Hong Kong that you need to meet to Singapore and meet them there – they'd be happy for a chance to get out for a bit.
If you are a tourist, well, no tourist in their right mind would think that now is a good time to visit Hong Kong. The next six to 12 months are not going to be much better, with the
new health code
being put in place. Going around Hong Kong as a tourist will be an absolute pain.
Travellers don't need the added uncertainty and anxiety over their health code turning red. Just plan for a trip elsewhere.
If you are planning a major event in Hong Kong, you're not going to get any attendees from mainland China, nor are you getting any from the rest of Asia-Pacific. So why are you doing the event in Hong Kong? Plan it somewhere else till at least 2024.
I caught Covid-19 even though I stayed mostly in my apartment in Hong Kong. On this trip I caught up with a friend from New York who spent one of his lockdowns watching the hospital across the street pile bodies into freezer trucks; my parents in Malaysia had to go to hospital for the necessary procedures while large tents outside triaged Covid patients. Hong Kong managed to avoid the worst of it. What is happening now is self-inflicted.
The fact is there seems to be little care on the part of the government whether Hong Kong keeps its relevance on the international scene. It's not just business that is taking a hit; arts, culture, leisure, sports, travel … these are all fickle industries that can change overnight.
When most of the world was on pause, the effect of Hong Kong standing still wasn't as noticeable. Now that they're running and trying hard to put some distance between us, are we still going to be standing still?
Jack Yu, Prince Edward