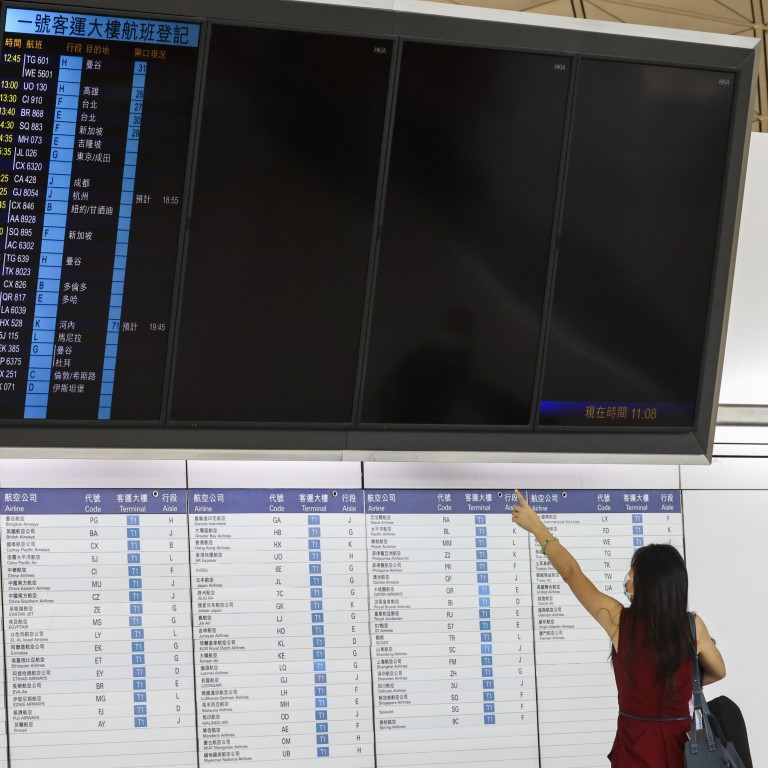 Letters

|
Three reasons Hong Kong must drop all Covid-19 restrictions
Readers discuss the need for Hong Kong to move on from Covid-19, how the government can acknowledge the financial and emotional cost of quarantine restrictions, and the overreaction to the threat posed by the coronavirus
Feel strongly about these letters, or any other aspects of the news? Share your views by emailing us your Letter to the Editor at
[email protected]
or filling in
this Google form
. Submissions should not exceed 400 words, and must include your full name and address, plus a phone number for verification.
Hong Kong must remove all Covid-19 restrictions immediately. No quarantine, no school disruptions, no testing, no apps, no mandatory masks – all restrictions must be removed. There are three main reasons for this.
First, Hong Kong is an international financial centre and regional hub for many businesses. Without the ability to freely travel, it is impossible to sustainably work in Hong Kong for people engaged in such businesses.
Second, Hong Kong's children cannot have any
more disruptions
to their education. A whole generation of children are falling behind previous generations and children from other countries, which no longer have restrictions.
Third, there is no medical reason to retain the restrictions. Like Europe and the US, Hong Kong has a high vaccination rate and a fairly
high rate
of previous infection. For those who are fully vaccinated (three doses and above), the
Covid-19 death rate
is not dissimilar to that for
traditional flu
.
My family and I spent the last two months travelling freely in Europe without any restrictions. Covid-19 is everywhere and will not disappear. My family caught the virus and many people we know caught it. The symptoms were no worse than traditional cold or flu. Covid-19 is highly contagious and will evolve and be with us for decades at the very least.
In Europe, if people have a vulnerable person in the family, they keep their distance, as they would with flu. This is personal responsibility and does not require mandatory quarantine – Hong Kong's quarantine facilities could be used on an optional basis for those with limited space to distance from the elderly or vulnerable. The key is for governments to encourage people to stay vaccinated.
However, mainland China still faces the challenge of getting its huge elderly population fully vaccinated and boosted. Until that happens, China will need its zero-Covid policy and fully opening to mainland China will be impossible. If Hong Kong waits for that, it may emerge from the pandemic as little more than an uncompetitive regional city, with international business and much talent having moved to Singapore, Sydney, Tokyo, Seoul or London.
I think Hong Kong is the greatest city on the planet. I met my wife here, my children were born here, and I built my business and career here. I do not want to leave.
Hong Kong did a great job in protecting us from the worst of Covid-19, but the worst has passed and the current situation is becoming unsustainable. Hong Kong should fully move on from Covid-19 like almost the entire rest of the world has. This is now critical for the future of this great city.
Chris Gradel, CEO and co-founder of PAG
Make quarantine hotel payments tax-deductible
The stress caused by this policy is my primary complaint, but hot on its heels is the extraordinary expense.
I've been throwing money at airlines and hotels for months, yet still could not get my daughter home from the United Kingdom because so many airlines just stopped flying to Hong Kong. And even paying for a business class flight offered no possible flights that might tie in with an available quarantine hotel slot.
The government simply doesn't seem to recognise the enormous emotional and financial toll of its policies.
To show it has an inkling of the burden it has created for Hong Kong residents, I would like to hear Chief Executive John Lee Ka-chiu announce that all quarantine hotel payments are tax-deductible for the financial year 2022-2023.
Liz Gower, Lamma Island
Covid-19 is a paper tiger, not the plague
So stop treating it like a plague. Our hospitals are well-equipped to handle the few truly sick. Stop treating a paper tiger like a real threat.
Kinming Fung, Ma On Shan