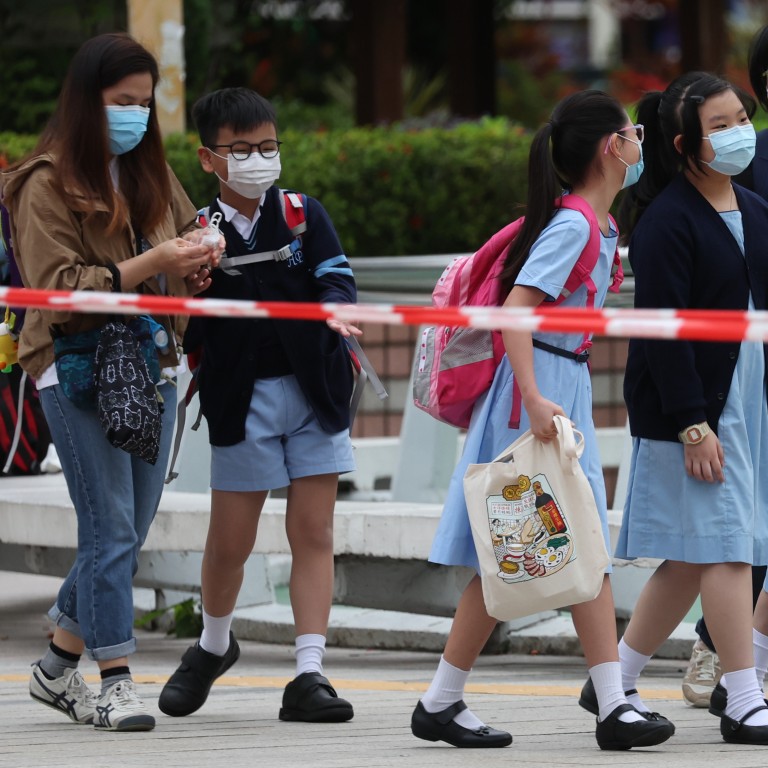 Letters
Hong Kong must make return to full-day in-person school a priority
Readers discuss the city's failure to get children back in classrooms for the entire school day, the contrast between the stringent testing for arrivals at the airport and those already in the city, and the rules on items allowed to be handed in for prisoners
Feel strongly about these letters, or any other aspects of the news? Share your views by emailing us your Letter to the Editor at
[email protected]
or filling in
this Google form
. Submissions should not exceed 400 words, and must include your full name and address, plus a phone number for verification.
I commend the new government for hitting the ground running in regard to the city's Covid-19 strategy, with several important
policy changes
since taking office. However, the government
has not changed course
on one key issue – the resumption of full-day face-to-face schooling for children.
Children, the lowest risk group in terms of age, are disproportionately shouldering the consequences of social distancing restrictions. It has been almost three years that children have had their education – and consequently their social, mental and physical development – severely disrupted. Yet there is no road map to when local schools will fully resume.
It's baffling that groups can eat unmasked in a restaurant and thousands can gather at a book fair or concert but children cannot spend the full day in school, even those who are vaccinated.
Chief Executive John Lee Ka-chiu rightly emphasises the need to follow science and the evidence is clear – several reports, including those from the World Bank, Unicef and Unesco, show the benefits and importance of in-person schooling. While online learning can sometimes be effective, it provides lopsided development, particularly among young or disadvantaged children, who cannot fully engage with screens.
Haphazard and insufficient face-to-face schooling will further drive unequal access to education and inequality of outcomes. I urge this government to make the resumption of full-day classes an urgent priority in our city's return to normalcy.
Jillian Xin, Pok Fu Lam
Arrivals well tested for Covid, what about everyone else?
As a dutiful resident of Hong Kong, committed to the central government's mission to eradicate Covid-19 from our society, I am proud to say that I have done my part for the "Together, We Fight the Virus" campaign upon my return to Hong Kong. Within 12 days of my travels, I have passed six polymerase chain reaction (PCR) tests and eight rapid antigen test (RAT) tests with flying colours. Hence presently, I am among the decidedly "Covid-negative" cohort.
Which brings me to my concern: as I am now sent wading back into the general Hong Kong public, the prospect of interacting with the under-tested population in Hong Kong makes me extremely uneasy. Everyone, from the postman to my colleagues and friends, is a threat to me and others who have recently returned from abroad and have been proven negative in these 14 tests we have taken.
If this administration is serious about aligning Hong Kong with the motherland, I humbly request that the general Hong Kong population be as well tested as the cohort of Hongkongers who are inbound travellers. It is time to implement mandatory PCR testing for every Hongkonger every two days, with daily RAT tests in between.
If not, what would be the point of dedicating so much bureaucratic bandwidth and resources to testing inbound travellers so thoroughly, only to dump us right back into a society with thousands of reported cases, and many more unreported ones, daily?
Akshat Vaidya, Sheung Wan
'Hand-in articles' list for prisons needs an update
Apart from the bizarre prison rule of
quarantining incoming letters
for inmates for three days, Hong Kong's Correctional Services Department should also review its restrictions on "hand-in articles", or items allowed to be brought in for use by prisoners.
These hand-in articles are often needed for a dignified life inside prison. For example, from our experience inmates are given only one roll of toilet paper every fortnight.
On security grounds, the department has strict requirements for these hand-in articles. Only 10-pack Tempo brand pocket tissue and Bic brand pens are allowed, for instance.
While I do appreciate that there are legitimate security concerns over hand-in items, evidenced by the prevalence of drugs often seen in other institutions in other jurisdictions, the rigid requirement has created a profiteering system, given that ordinary supermarkets and shops simply do not stock niche-size tissue and ballpoint pens that were popular two decades ago.
I suggest the department conduct a regular check, perhaps in collaboration with the Consumer Council, on what products are actually available in the market, and allow a wider variety of brands, to tackle the profiteering behaviour that the government has committed to getting rid of for
concert tickets
.
W. Chan, Tseung Kwan O