Taiwan
Get more with myNEWS
A personalised news feed of stories that matter to you
Learn more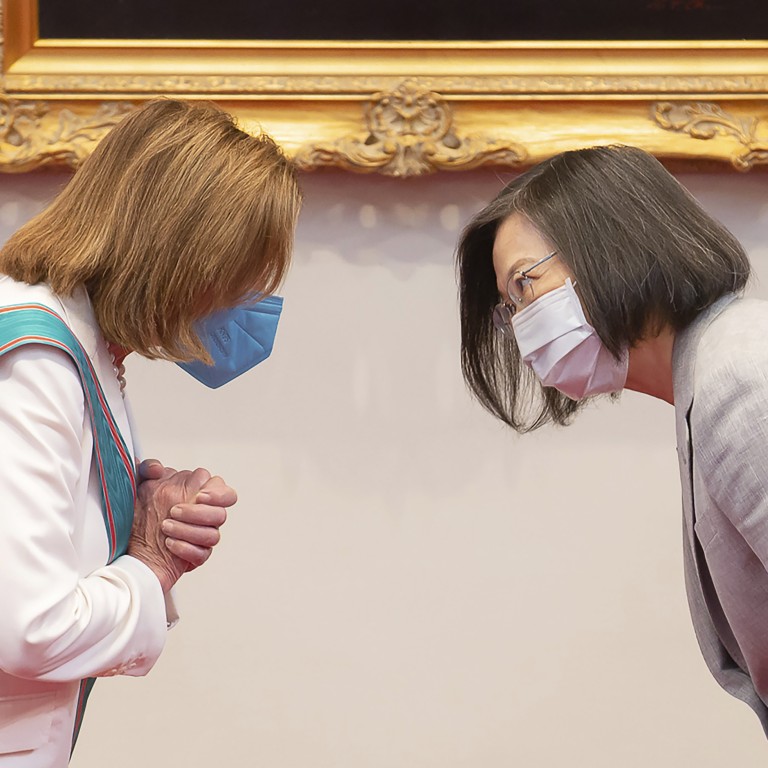 Letters
Biggest winners of Nancy Pelosi's Taiwan visit? Tsai Ing-wen and her party, unless Beijing changes course
Readers discuss the implications of the US House speaker's visit to Taiwan, the US' obligations under the Taiwan Relations Act, and the importance of language to determining national allegiance
A new strategy "one Chinese, two systems" (一中兩制) could be the answer. If nearly 30 countries of different backgrounds and diverse culture can form a European Union, surely the People's Republic of China and Chinese Taiwan can form a "Chinese Union". A bilateral treaty can spell out common grounds such as travel, trade and heritage, and add more elements as the relationship improves.
The key is that the Taiwanese recognise themselves as Chinese by blood, but not under the authority of "one country" or the Chinese Communist Party. Taiwan is different from Hong Kong.
If Beijing would take such a new direction, the Kuomintang may have a chance to win elections in the future, a war could be averted, and the great Chinese rejuvenation would not be derailed.
Kwok Hung, Wan Chai
Taiwan Relations Act does not mention combat obligation
It is incorrect to say that US President Joe Biden's verbal pledges to defend Taiwan island if attacked are "in line with the Taiwan Relations Act" ("How will a controversial visit play out amid an already strained relationship?",
August 3
). The
act
merely says that the US would supply Taipei with defensive weapons. There is no mention of any US combat obligation.
The Democratic Progressive Party in Taipei constantly colludes with anti-mainland Chinese forces in the US to aggravate tensions in the region to create pretexts for never-ending arms sales to Taipei.
Jim Robinson, New York, US
In Taiwan and beyond, language is at heart of nationality
I refer to
the article
, "Why Russia is strongly backing China on Pelosi's Taiwan visit" (August 10).
The rationale behind the Kremlin's stance could have been easily explained by something a man once told me: a man's nationality is determined not by his passport but by the language he thinks in. He was right, with Taiwanese who think in Chinese being as Chinese as Ukrainians and Belarusians who think in Russian.
Although I grew up in Tuva in Siberia that was once part of China, the first time I met a Chinese person was only in 1991 at Moscow University. When I asked her what she felt about that region now being in Russia, she shrugged my question off saying that all that was in the past. Fair enough, as my ancestors never spoke Chinese to think in the language.
In 2002, I travelled to Crimea and searched every which way there to learn what the Ukrainian was for "thank you". In the event, no one knew as everyone was perfectly happy with Russian. That's one of the many reasons we so quickly absorbed the peninsula in 2014.
Unlike Crimea, Taiwan was never part of another country, and it is clearly a very affluent island. So perhaps the Taiwan Strait crisis is one always dreaded but never enacted.
Mergen Mongush, Moscow