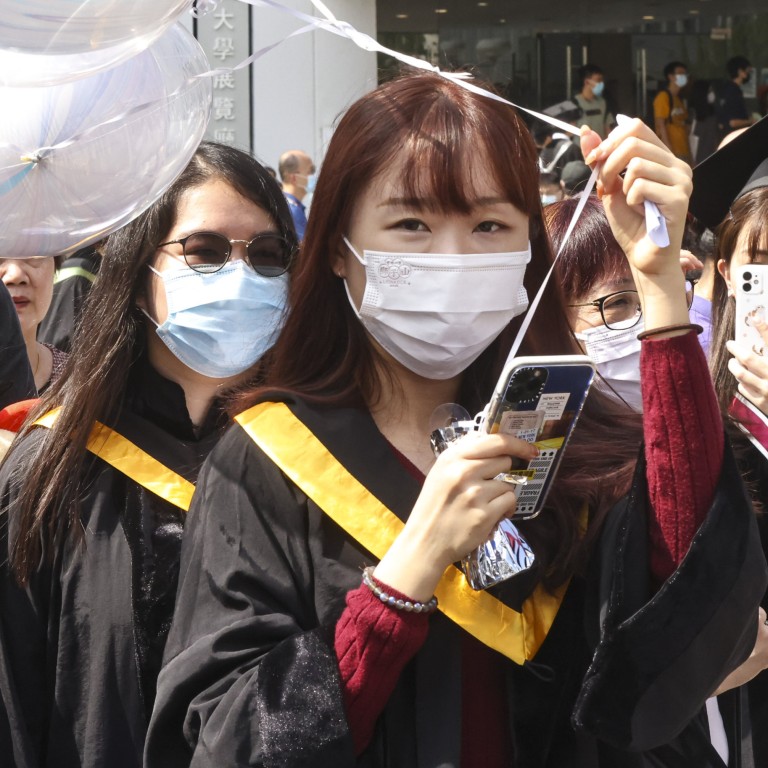 Letters
Remember struggling youth when touting Hong Kong's bright future
Readers discuss the career prospects of Hong Kong youth, the unintended effects of pandemic policies, new rules for arrivals and the consumption voucher scheme
Since the start of the pandemic, we have been exhorted to protect the vulnerable, elderly and children, and we have all done our part getting vaccinated and obeying the restrictions imposed upon us. But with the economy now in a downturn and Hong Kong still far short of any kind of normal life, how much thought has been given to the future of our youth?
The words "Stability, Prosperity, Opportunity", the theme of this year's 25th anniversary celebrations, are displayed all over Hong Kong. I wonder what an unemployed school leaver or university graduate feels when they see this as they struggle to find meaningful employment in a slowing economy.
Bob Rogers, Sai Kung
Covid-19 policies ignore rules' consequences
Government rules for incoming passengers from most overseas countries require those who have recently recovered from Covid-19 to choose one of two options. They must either produce a negative result from a PCR test taken within 48 hours of boarding the plane or produce a certificate issued by a medical practitioner or the relevant authorities as proof the passenger was infected between 14 and 90 days before the flight.
I have been told problems could arise with the first option. The preflight test could still turn out positive even after one has recovered and is not infectious because of a very low viral load. This makes it necessary for such travellers to obtain a certificate of having
recovered from Covid-19
.
After contracting Covid-19 in the UK and now making preparations to return to Hong Kong, I have tried in vain to do so. No private or public health doctors in the UK that I know of are willing to issue these certificates. There are a limited number of specialised laboratories around the country that will do various tests for a large fee and then might issue a certificate confirming recovery from Covid-19.
It would appear the people who draw up Hong Kong's Covid-19 policies have no idea about the real world out there and make up rules without first checking on the consequences of their dictates.
P.A. Crush, Discovery Bay
New rules for arrivals are no improvement
I am currently visiting my family in Europe and am preparing for my return home with gloomy anticipation. I am enjoying my visit not just for the pleasure of reunions but also for the complete absence of masks, social distancing and other restrictions I have been spared since my arrival.
Now I have booked my preflight PCR test, I have my certificate detailing vaccinations, I have evidence of my quarantine hotel booking and I shall complete the required declaration form. On arrival, I shall encounter a
new regime
that, while shorter, involves elements of a traffic light system.
The notion that the new system will encourage more visitors to go to Hong Kong, whether for business or social purposes, is fantasy. The prevailing requirements are as repellent as they are redundant.
David Hall, Mid-Levels
City needs alternative to voucher scheme
Since August 7, the Hong Kong government has distributed the second batch of
consumption vouchers
to eligible residents to spur local business. But will the scheme really help soften
the recession
and support people's livelihoods?
Although the first release of the vouchers in April increased retail sales by 11.7 per cent year on year, any boost from this second tranche is unlikely to last. The money that is now in consumers' pockets might boost sales, but the prices of goods are also rising.
Moreover, the city is seeing a
rebound of Covid-19 cases
, with around 4,000 new cases emerging daily since late July. Amid such a worrying trend, consumer sentiment is sure to be dampened. Thus, the estimate of the scheme boosting the economy by 1.2 per cent might not be reached.
The offer of a HK$5,000 (US$640) voucher to every eligible Hongkonger might seem generous, but where does the money come from? The financial burden eventually lies on all taxpayers in Hong Kong. People who don't need to spend the money are forced to spend it or lose it. Such involuntary consumption is a burden to residents.
The voucher scheme cannot address the problem of insecure livelihoods. Instead, the government should seek to guarantee better lives for its people. Put the needs of citizens first. Officials could propose legislation to raise salaries and manipulate market prices. When things become more affordable, consumers will naturally seek a higher standard of living and support businesses.
To spur recovery, it is also vital to curb the spread of Covid-19. Overall, the voucher scheme might not come off as well as expected. The government should opt for a better alternative.
Hobby Wong, Tseung Kwan O