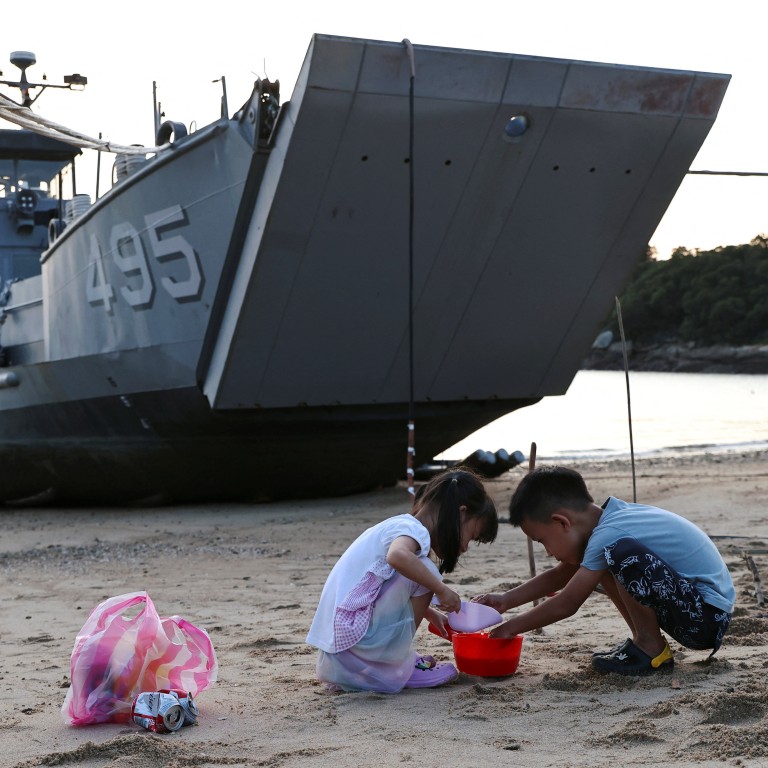 Letters

|
US and China must explore better solutions to Taiwan stand-off
Readers discuss the need for a more constructive approach to the Taiwan crisis from both the US and China, the disconnect between language and nationality, and the danger in Hong Kong persisting with many Covid controls
Feel strongly about these letters, or any other aspects of the news? Share your views by emailing us your Letter to the Editor at
[email protected]
or filling in
this Google form
. Submissions should not exceed 400 words, and must include your full name and address, plus a phone number for verification.
Commenting on the dispute over Taiwan, your correspondent notes that China and the West lack understanding of each other's strategic considerations ("China's conciliatory white paper on Taiwan deserves a fair hearing",
August 13
).
But in fact, the two know each other well. Unlike during the Cold War, we now enjoy a free flow of information.
Conflict between China and the West is inevitable: China seeks
aggressive revival
of the glory of the Chinese state, while Western countries, especially the US, fret about the rise of China.
On Taiwan, China's topmost wish is reunification, whatever the cost, while the US wants to constrain China's rise by using the island as a puppet. If both sides don't back down, the result will be devastating even if no military conflicts are triggered.
The two are among each other's largest trading partners. Neither can afford to lose this partnership in a globalised, highly interdependent world. It is clear that negotiations and compromises are much better than shouting slogans.
The US is using the pretext of protecting Taiwanese freedoms and democracy to legitimise its defence of the island's autonomy. In response, China should persist in its proposal to adopt an approach similar to Hong Kong's "one country, two systems". This will undermine the US grounds for defending the island.
Both sides must explore better solutions to the current stand-off.
Ronald Chan, Hung Hom
Language does not necessarily make the nation
In his continuing attempt to defend the indefensible Russian invasion of Ukraine, and subsequently a potential Chinese invasion of Taiwan, your correspondent suggests that a person's nationality is determined not by their passport but by the language they think in ("In Taiwan and beyond, language is at the heart of nationality",
August 14
).
The vast majority of the US, Canada, Ireland, Scotland, Wales, New Zealand, Australia and Gibraltar will no doubt be surprised to learn that they are now actually English citizens.
Similarly, the residents of Argentina, Bolivia, Chile, Colombia, Costa Rica, Cuba, Ecuador, El Salvador, Guatemala, Honduras, Mexico, Nicaragua, Panama, Paraguay, Peru, Uruguay, Venezuela and the Dominican Republic are apparently unaware that they are now Spanish.
The level of confusion required to put forth such a feeble argument and expect to be taken seriously is hard to fathom.
James Webster, Wan Chai
City's mishandling of Covid 'endemic' is distressing
I am a 76-year-old retired professional who has lived in Hong Kong for almost 50 years and who admires the city very much for its energy, efficiency and culture. It is therefore distressing to see Hong Kong sinking rapidly due to its current mishandling of the Covid-19 "endemic". I say endemic as many developed economies appeared to have accepted it as such and impose few restrictions on people's travel and daily activities.
Hong Kong takes one step forward and two steps back with the
latest rules
. The quarantine period is now halved, with presumably fewer tests than before. When I recently returned from Sydney, I was quarantined for seven days and monitored for another seven, during which time I took four PCR tests and 14 self-administered RAT tests on top of my preflight test. All this fuss for a virus that has become very much like a flu for most people, with mild to medium severity (and I'm speaking from experience).
I have heard from many Hong Kong residents that they have had the virus and never reported it to the authorities. Thus, the daily figures of infections are totally unreliable and serve no purpose.
With the greatest respect to the authorities, Hong Kong should follow Singapore and so many other developed countries and abolish virtually all restrictions on normal life, other than masking (since social distancing in Hong Kong is a joke) and continued maximisation of vaccinations, especially for the elderly. They are the most vulnerable to serious illness and death and must be cared for but they should not be the reason for holding the rest of the mostly vaccinated and robust population to ransom.
It's time to learn to "live with the virus", as so much of the developed world is already doing. Unless we do, Hong Kong will be unable to reclaim its past glory as one of the safest, most pleasant, most efficient and successful cities in the world and will continue to lose talented people through emigration.
George Forrai, Mid-Levels