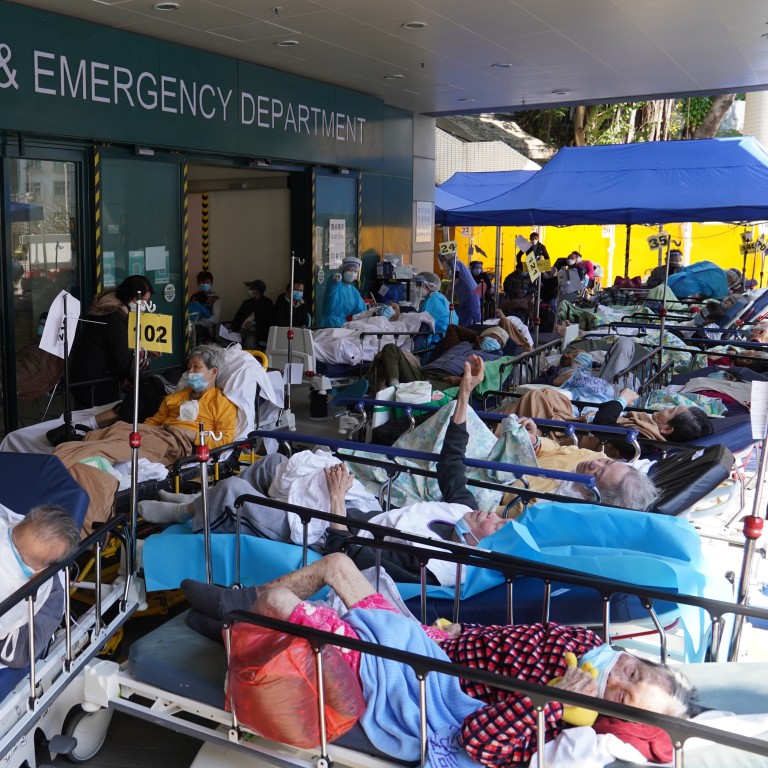 Letters

|
Hong Kong hospitals mustn't let the worst of the fifth wave repeat
Readers discuss the need to improve hospital resource allocation, what the city still has to offer, how to make the city vibrant again, and the end of cheap money
Feel strongly about these letters, or any other aspects of the news? Share your views by emailing us your Letter to the Editor at
[email protected]
or filling in
this Google form
. Submissions should not exceed 400 words, and must include your full name and address, plus a phone number for verification.
I refer to the article, "Hong Kong public hospitals prepare contingency plan to double number of Covid-19 patient beds to 5,000" (
August 15
).
As the Hospital Authority prepares more beds for Covid-19 patients, in the event of a surge in cases, keen attention should be paid to improving the triaging of Covid-19 patients, so that when severe cases are admitted to hospital, it will not lead to a burnout of the healthcare system.
Also, clear information should be communicated to the public on when to visit the hospital so that people do not overcrowd the accident and emergency department, as seen during the peak of the fifth wave in March.
Hopefully, we do not get into such a dire situation again as experienced in the fifth wave. To avoid this, we must keep all hands on deck and ensure better coordination and resource allocation.
Adeoti Joy, Causeway Bay
Let's rebuild the Hong Kong story together
When Covid-19 first hit us in 2020, no one thought it would last for years, but we have been proved wrong. In the third year, the world has mostly moved on, but not Hong Kong.
Being unable to cope with the negativity all around, I took a trip to my home country, as I couldn't bear being separated from my parents any more. We flew despite all the uncertainties – limited flights, flight bans, seven-day quarantine, etc. – because we wanted some respite.
The moment we landed, Covid-19 was a thing of the past. Every place was full of life, abuzz with people. Nobody believed that we would still need to do a hotel quarantine. We spent two amazing weeks with friends and family, keeping fear at bay.
When we got back, even though we had been away only for 15 days, it took us some time to adjust to the different atmosphere. The airport looked like a quarantine facility, with people in blue gowns everywhere.
The hassle was nonetheless worth it, as the smiles on our parents' faces were priceless.
Hong Kong has finally
reduced quarantine
to three days, and it is a much welcome move, but it still lags behind the rest of the world. Hotels remain expensive and scarce. I am keeping my fingers crossed for this to be gone entirely. But a lot of damage has already been done.
Many of our friends have left the city, businesses have moved. The whole atmosphere is still negative and sad. Hong Kong remains an international city despite all the odds, and it should remain so, as that is the essence of Hong Kong – a deeply traditional Chinese city with extraordinary global connections.
I don't think Hong Kong is in a shambles, but the rest of the world is moving very fast. Hong Kong will turn around, albeit over time and with a great collective effort from everyone to bring back the lost glory. The first step could be removing quarantine altogether and starting to build a narrative around what Hong Kong still has to offer.
It is the time-tested Hong Kong story: do business easily, pay low taxes, be safe and enjoy our rule of law, take in our lush nature and savour our unbelievable dining scene. Let the mighty Lion Rock and the gorgeous Victoria Harbour shine again.
Munira Rahman, Tung Chung
Lee can prevent the slow death of Hong Kong
Our new chief executive has an ideal opportunity to write his name down in the history of Hong Kong.
The current economic and social situation needs a proactive approach and hopefully a vibrant return to the Hong Kong of previous times. Opening the border with the rest of the world and dropping the mask mandate in open spaces would be a start.
Looking out from the ferry on my journey to and from home every day, I see a tired-looking city with many old buildings in need of renovation or redevelopment. A collaboration with owners and developers could restore beauty to this great place and also help alleviate the housing crisis.
If a reactive approach continues to be the case, I fear we are witnessing a slow death of my favourite city.
Duncan Hancock, Lamma Island
Winter of property price correction is coming
As HSBC embarks on
raising mortgage rates
, an
almost 20-year climb
in real estate prices seems to be finally at the top of the cliff and HSBC's move could potentially be the psychological tipping point before a property price correction in the coming few years.
The era of cheap money is finally coming to an end. It's time to be safe rather than sorry and maybe encash some of your real estate gains at a slight discount to the market. While many owners have fully paid assets in prime areas, it surely won't hurt to encash them at a time like now, when banks are finally ending the era of low interest rates.
Rishi Teckchandani, Mid-Levels