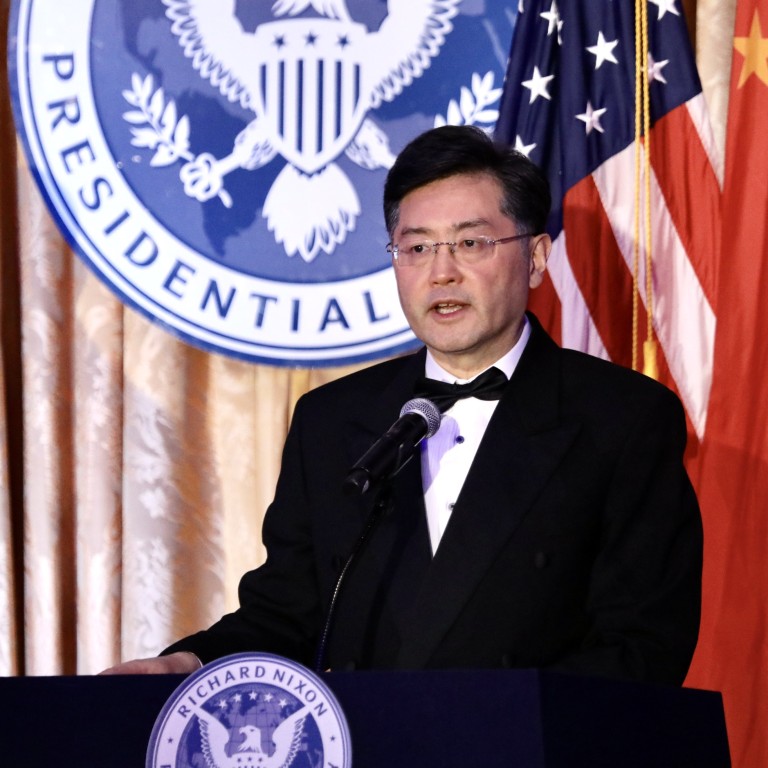 Letters
How the Chinese ambassador interview shines a light on US arrogance
Readers discuss the American world view that emerged during a media session with Chinese diplomat Qin Gang, how friendly superpowers should behave, and one way to prevent Taiwan conflict
Feel strongly about this letter, or any other aspects of the news? Share your views by emailing us your Letter to the Editor at
[email protected]
or filling in
this Google form
. Submissions should not exceed 400 words, and must include your full name and address, plus a phone number for verification.
China's ambassador to the US, Qin Gang,
gave an interview
to the US media recently and I read
the transcript
with deep engagement. It is refreshing in many ways.
The Western journalists were not there to allow the ambassador a walk in the park. They threw wrenches in the works at every opportunity.
Yet Qin displayed a deep understanding of the wide range of issues raised, and knowledge of them from multiple perspectives. He was able to answer the questions by drawing from core principles. That makes him come across as one with integrity.
He was able to not lose his perspective when being questioned. That speaks to his philosophical depth and self-awareness.
Yet towards the end of the interview, Nahal Toosi of Politico surprisingly described Qin as "sticking to the talking points", even though he was clearly not. She likely walked into the event prepared to raise that, regardless of what the reality would be. This is an easy hit consistent with the prevailing image in the West of China as an authoritarian system.
Contrary to what she suggests, Ambassador Qin is an empowered Chinese diplomat, free to connect to his own conscience for answers.
This brings us to the philosophy that likely informs US behaviour towards China, that Americans use their geopolitical advantage to create a reality of their own, in defiance of what the reality is. They are aware of the advantages of language and global audience reach that they wield, and likely feel tempted to test the limits of what their power gives them.
Lim Wei Siang, Selangor, Malaysia
A friendly superpower must be above sabre-rattling
Dear Mr Xi Jinping,
The fact is that China is the most powerful country in the world today. What you and your people have achieved to date is amazing and you should be proud of it. You don't need to prove it by sabre-rattling ("Chinese PLA drills simulating Taiwan blockade seen to become new 'normal'",
August 9
).
I believe a more subtle approach would be better as you now have great responsibility as a world power.
I realise that some Western countries have been actively trying to annoy you but you should try and ignore this noise and get on with being a new friendly superpower that helps people all over the world.
Doug Cliff, Gosford, New South Wales, Australia
The US and Taiwan must stop pushing for war
When president Jimmy Carter signed
the promise
to help protect Taiwan from invasion, it was an easy decision. The only way war could start would be if Taiwan tried to secede. But both the Republic of China and the People's Republic of China strongly agreed that Taiwan was part of China.
The people in Taiwan have autonomy, which is unchallenged by the mainland. They elect their own leaders, print their own currency and have their own laws, their own police and their own military.
But Taiwan is not allowed to secede. In the US, we fought a bloody civil war to prevent the southern states from seceding. It makes sense that the Republic of China and the People's Republic of China also oppose secession.
Nancy Pelosi, Donald Trump, Joe Biden and others who forget all history seem to want Taiwan to secede. Why? Right now Taiwan has freedom, autonomy, peace and prosperity.
Tell President Tsai Ing-wen to stop pushing for war and instead restore tourism and trade with mainland China.
Bill Waters, Texas, US