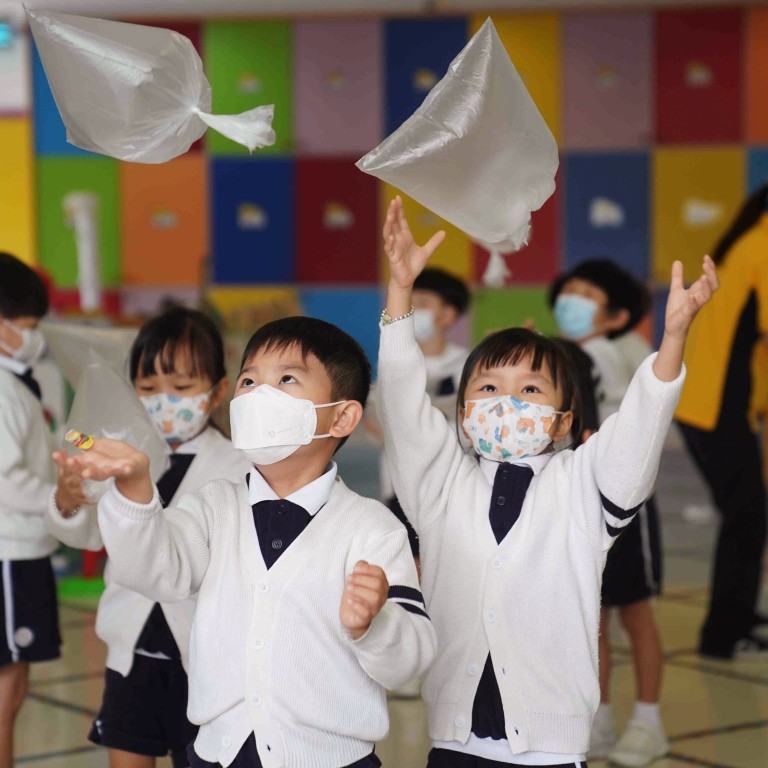 Letters

|
Help Hong Kong's youngest live normally by vaccinating the elderly
Readers discuss the effects of pandemic policies on young children, how to inspire a love of language learning in students and the behaviour of Immigration Department staff
Feel strongly about these letters, or any other aspects of the news? Share your views by emailing us your Letter to the Editor at
[email protected]
or filling in
this Google form
. Submissions should not exceed 400 words, and must include your full name and address, plus a phone number for verification.
Having been trapped in Hong Kong's Covid-19 bubble for more than two years now, I am amazed by the lack of curiosity and concern among the general public over the impact of Hong Kong's Covid-19 policies on the city's toddlers and babies.
Of all the age groups being affected by Hong Kong's pandemic policies, they are suffering the most. They have missed out on making friends, seeing family, going to school
in person
and exploring the world around them.
There is also the question of to what extent wearing masks has affected their speech development, communication skills and general immunity levels. Let's remember that Covid-19 is just one of many ailments they might face growing up, and we need to prepare them for a long, healthy and happy future.
We should also consider the impact on children's general happiness and well-being, as well as the experiences they're missing out on. Some parents seem to have exaggerated the threat of Covid-19 to encourage children to stay protected. Have we inadvertently heightened
anxiety levels
among our children? Protecting them from the virus is one thing, but are we causing longer-term damage?
The most bizarre point to me is why we are not focusing our efforts on the elderly – who are actually our most vulnerable group – rather than children, who are among the least vulnerable. Government figures show this age group is still well behind in terms of vaccination rates compared to both the rest of Hong Kong's adult population and many other countries.
Unless we vaccinate our most vulnerable, the rest of us will be stuck in this perpetual cycle of rising cases and life shutting down, with our young children paying the biggest long-term price.
Let's take action now. Raise the mask-wearing age to five years old – as recommended by the World Health Organization – and let our children enjoy their school and social lives with no more disruption. More importantly, let's get the
elderly population
vaccinated as soon as possible.
B. Ashby, Kennedy Town
Relying on exams douses desire to learn English
There have been deep discussions in Hong Kong regarding
effective teaching modes
for learning English. It is high time for us to reflect deeply and seek out the underlying causes behind the hurdles standing in the way of our students acquiring knowledge.
The problem is the exam-oriented learning mode. Exam-focused learning and teaching approaches diminish students' motivation to sharpen their language abilities. Given that English is our second language, a lack of proficiency in English would not have much effect on people's daily lives. Students would have less incentive to learn something other than their mother tongue.
Using assessment-based measures to evaluate students just creates the illusion that the main purpose of learning English is to pass exams and meet the expectations of parents and teaches. Students would only pay attention to materials related to the exam, severely restricting the scope of their learning.
Another point is that scores and grades will only add to the
already significant pressure
on students, further discouraging them from improving their language abilities. Assessments and tests do provide evidence of students' learning progress, but their side effects do more harm than good.
Instead of devoting resources to arousing interest in learning another language, teachers and students would focus on achieving the right marks on boring exam papers. In such circumstances, it is understandable that students see English classes as just another tiring part of their school day being pushed onto them.
It is just human nature that we would be averse to acquiring new knowledge and skills if they add to our already high pressure and workload. One possible solution is to initiate self-directed learning for students through boosting their intrinsic motivation and showing them that learning English can be a fun experience.
Once they become motivated learners, they will immerse themselves in the journey of reaching English proficiency.
Jeffrey Lam, Tuen Mun
Immigration staff's courtesy to be commended
When my helper's visa expired last month, I tried twice to submit an online application for renewal but failed both times for different reasons. Despite my disappointment, the two officers I spoke with on the e-services helpline were professional, courteous and patient.
My helper and I then went to the Immigration Department to submit the application in person. I explained my story and emphasised that the delay was my fault. The staff was helpful, accepted the application and gave me a tag with a QR code. Another staff member explained how I could use the QR code to keep track of the queue. He said it could take up to two hours because late applications must be scrutinised and suggested we go for a cup of coffee.
In less than an hour, I received a message directing me to the payment counter. The professionalism and empathy of the Immigration Department staff I encountered made a good impression on me. Their behaviour is commendable, and I salute them all.
Choi Chee-cheong, Mid-Levels