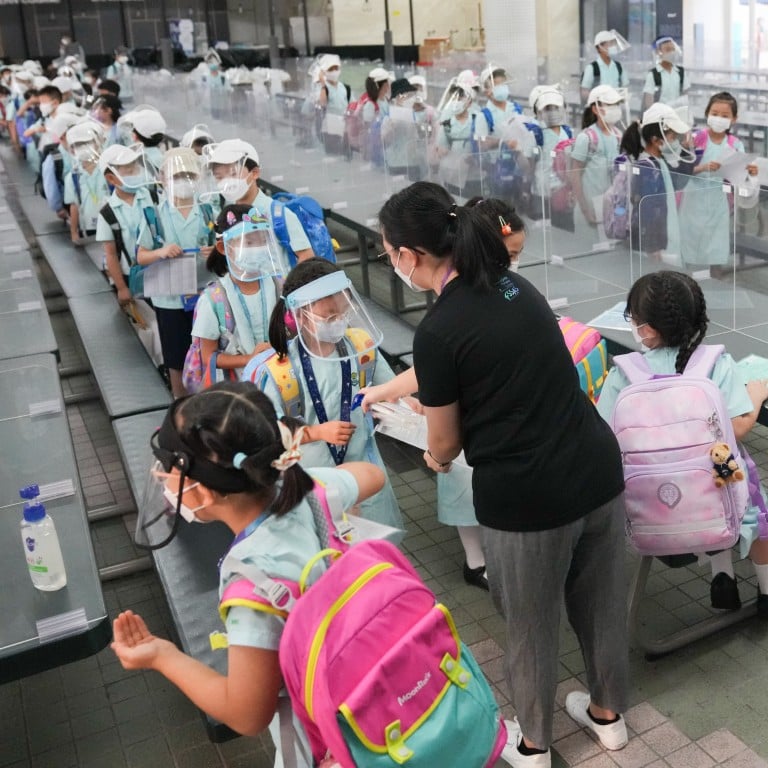 Letters
Stop Hong Kong's pandemic measures heaping needless misery on students
Readers discuss the effect of pandemic control measures on students' school lives, the need to tighten restrictions and whether the city's policies are outdated
Feel strongly about these letters, or any other aspects of the news? Share your views by emailing us your Letter to the Editor at
[email protected]
or filling in
this Google form
. Submissions should not exceed 400 words, and must include your full name and address, plus a phone number for verification.
I refer to the article, "Coronavirus: full-day classes allowed at Hong Kong secondary schools only if 90 per cent of pupils have had third Covid jab" (
August 30
).
The Education Bureau announced that it would tighten the existing two-jab requirement. In the past few years, secondary students like myself have already missed plenty of school activities, events and gatherings with family. It is understandable that the bureau wants students to learn safely, but it is also killing the chance of students to have memorable school times.
May I suggest that the bureau allow students who have had two jabs and three consecutive days of negative rapid test results to join school activities such as inter-class competitions? This will allow students
some good memories
before they graduate.
I understand the bureau's concerns about our health, but is it necessary that schools will only be allowed to hold full-day classes on campus with more than 90 per cent of students having had three jabs? Some schools held full-day classes with two jabs before and there was no sign of lots of students getting Covid-19.
I hope the bureau will consider easing the rules to let students have a memorable school life.
Vanessa Ng, Tseung Kwan O
Costs of a class suspension will outweigh any benefits
As a Form 5 student looking forward to once again attending full-day in-person classes, I was disappointed by her suggestion. The question that comes immediately to mind is whether all this is necessary.
The reality is, despite all these measures, students could still get infected. Should the fear of getting infected be so strong as to make us give up our normal life and hide from it? While the benefits are minimal, the adverse effects of not having full-day in-person classes are many.
First and most obviously, having a half day of school instead of a whole day affects our learning. As the school time is reduced, either teaching time or recess time must be sacrificed. Should the teaching time be shortened, it indicates the speeding up of teaching pace. Students therefore have a higher chance of not catching up.
If recess time is shortened, it puts a strain on our attention span. Students might not have enough of a break to refresh their minds and maintain concentration for consecutive lessons. Both of these harm the effectiveness of students' learning.
Missing out on school time will hinder students from building a sense of belonging to their school. Suspending full-day, face-to-face school also implies the ban of large-scale school events such as sports day or swimming gala. These events play an important role in building relationships. Without these events, students not only lose the opportunities to make and keep friends but also lose some precious and unique memories in secondary school.
Helene Lo, Ma On Shan
Abandon outdated pandemic policies
Covid-19 has been with us for almost three years. Many Hong Kong citizens have been infected with the virus at least once. From a macro perspective, we are gradually adapting to this life of preparedness.
We should not suspend classes as a way to prevent the epidemic but instead urge our students to get vaccinated. With the rapid development of vaccination, students can basically go to school without worries once they have been vaccinated. Therefore, I strongly agree with the arrangement made by the Education Bureau for 90 per cent of the students in schools to be vaccinated.
Looking back on our time in Hong Kong, I haven't taken off my mask to enjoy the natural air for a long time. We need to live with the virus and stop fighting the pandemic with old-fashioned thinking.
Asmi Ma, Tseung Kwan O