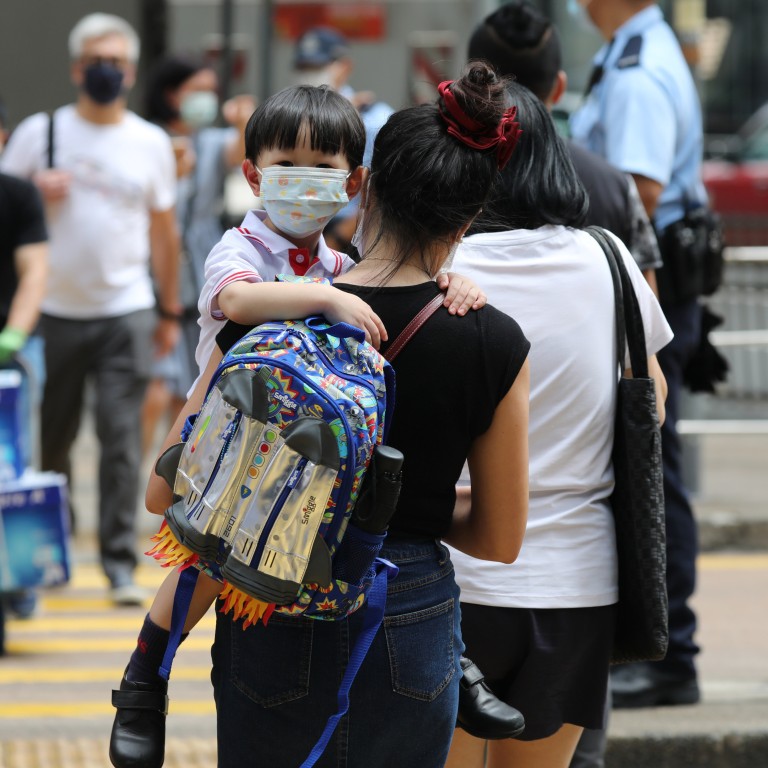 Letters

|
Extending vaccine pass to Hong Kong children is not the way to overcome parents' vaccine hesitancy
Readers discuss the impact of the vaccine pass scheme expansion on children and low-income households, and health consequences of the mask mandate
Feel strongly about these letters, or any other aspects of the news? Share your views by emailing us your Letter to the Editor at
[email protected]
or filling in
this Google form
. Submissions should not exceed 400 words, and must include your full name and address, plus a phone number for verification.
The government's intention to lower the vaccine pass age limit to
include children
as young as five years old raises grave concerns. Currently, young people aged 12 and above need to show their vaccine pass (after receiving two or three vaccine doses) when entering restaurants, malls, supermarkets, markets, swimming pools, sports premises, places of worship and other premises.
A move to lower the age limit raises serious concerns for children's rights and welfare. It would bar some children from engaging in activities that are essential to their development, and have the effect of shrinking their family and social lives further. This is within a context where schoolchildren have already been barred from taking part in many extracurricular activities in school.
Researchers have warned that lockdowns, school closures, virtual learning, disruption of social connections, lack of play spaces and activities – to name but a few challenges – could result in a lost generation with delayed physical, mental and academic development. This is particularly true for children with special needs and children in poverty. The practicability of issuing vaccine pass at such young age should also be carefully studied.
The proposed measure also raises child care and protection concerns. Parents normally will bring along young children when grocery shopping in public wet markets. We worry that as a result of the vaccine pass move, some young children may be left at home alone, risking their safety.
Besides, children at this young age normally do not have their own phone. It is also impractical to ask them to carry paper proof with them wherever they go. Asking families to buy extra phones for this purpose creates a huge burden on low-income families. It is particularly harsh for families with more than one child.
The world and the local health authorities have always emphasised that vaccination against Covid-19 is an effective way to reduce the occurrence of severe disease and mortality. We support vaccination but there are more effective measures to encourage vaccination, and it is not the only means of preventing the spread of the virus. Simply lowering the age threshold of the vaccine pass would not be an effective way to relieve the concerns of parents with vaccine hesitancy.
The pandemic has catastrophically disrupted children's lives in many ways, not just limited to infections and physical complications. Our committee urges the authorities to use all means to reach out to schoolchildren and parents to explain the value of Covid-19 vaccinations and understand their concerns and hesitations.
Vaccination should not be a precondition for children's fundamental rights. This will only harm children physically and mentally, and undermine their welfare.
Billy Wong, executive secretary, Hong Kong Committee on Children's Rights
Consider health consequences of mask mandate
For two years, Hong Kong has required its residents to wear a mask in public places under the Prevention and Control of Disease (Wearing of Mask) Regulation as part of its efforts to control the spread of Covid-19. While I understand the need for masks, this
mask mandate
nevertheless fails to address the important question of how it will affect our long-term health and that of our children.
The regulation states various "reasonable excuses" for not wearing a mask, among them is one referring to "physical or mental illness, impairment or disability". But what about people whose long-term health might be affected by mask wearing?
I was diagnosed with a nasal obstruction that makes my breathing difficult. The doctor has suggested surgery but refused to write me a full exemption from wearing a mask.
My daughter started having breathing problems after two years of wearing a mask, but since the symptoms do not match those listed in the regulation, the doctor has refused to provide an exemption. Other Hong Kong children might have similar symptoms but are not reporting them. Also, how will mask wearing affect those who have speech impediments?
If the regulation is really about health, shouldn't the government consider options that will not lead us to have unintended health problems?
Gianluca Accardo, Tai Kok Tsui