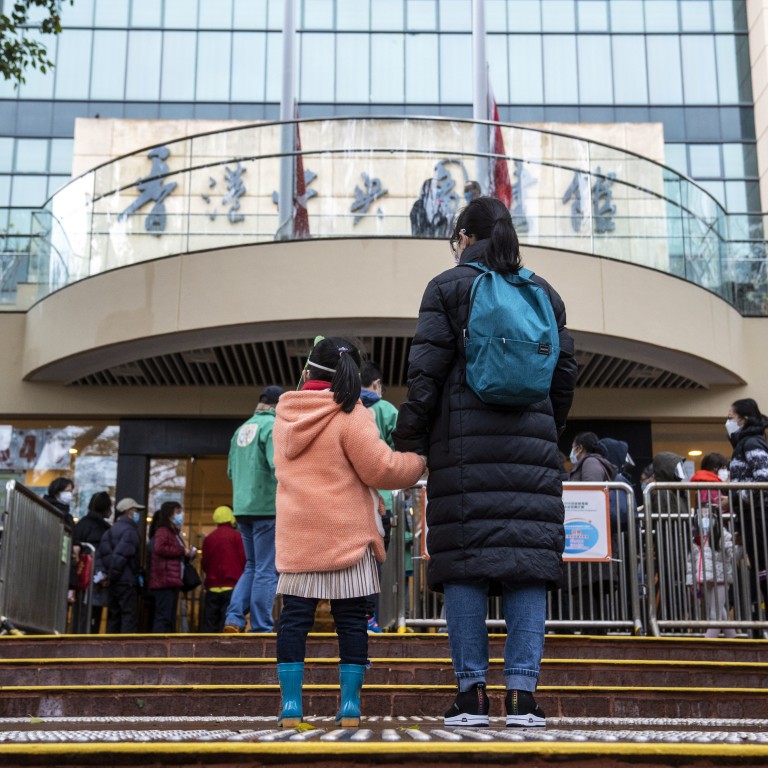 Letters
Hong Kong's Covid-19 vaccine pass: children have a basic right to be vaccinated against infectious diseases
Readers explain the government's rationale for including children aged five to 11 in the vaccine pass scheme, and suggest that efforts focus more on at-risk groups such as the elderly
Feel strongly about these letters, or any other aspects of the news? Share your views by emailing us your Letter to the Editor at
[email protected]
or filling in
this Google form
. Submissions should not exceed 400 words, and must include your full name and address, plus a phone number for verification.
I refer to the
letter
, "Extending vaccine pass to Hong Kong children is not the way to overcome parents' vaccine hesitancy" (September 8) from Billy Wong of the Hong Kong Committee on Children's Rights. We do not agree that including
children aged five to 11
in the vaccine pass scheme would affect the fundamental rights of children.
The government holds the interests of children dear. We absolutely respect children's rights, especially their right to grow and live healthily. It is imperative that the government takes every measure to protect children. We also believe that every child has a basic right to be vaccinated against infectious diseases.
Indeed, it is hard to imagine a more basic infringement of their rights than to put their health at risk. We hope, by lowering the age threshold of the vaccine pass, that young children's risk of being infected with Covid-19 will be reduced. This way, children can stay in school to continue their education uninterrupted, and participate in sports and other leisure activities.
Vaccination is a key pillar in our fight against the Covid-19 epidemic. Nearly a million children and adolescents in Hong Kong have been vaccinated against Covid-19 so far. Most children have experienced mild side effects or none at all. With the accumulation of data, the drug regulatory authorities, both locally and overseas, are moving to
regularise
the registration and administration of Covid-19 shots as with other vaccines, such as for seasonal influenza.
We are also mindful of minimising inconvenience to children and their families. Noting that children may not have their own smartphone to display their vaccine pass QR code, the government will allow them or their family members to present a paper record with the QR code printed on it or a photo of the QR code saved on a mobile phone.
Parents may use the eHealth mobile application to retrieve and present their own vaccine pass as well as that of their children. A new function will also be added to the "Leave Home Safe" app to allow parents to save both their vaccine pass and that of their children. Those below 12 will continue to be exempted from using Leave Home Safe.
Everyone is at risk of contracting Covid-19. Symptoms can be severe at any age. According to the World Health Organization, about 10-20 per cent of people who contract Covid-19 may continue to experience mid- to long-term effects, including fatigue, and respiratory and neurological symptoms.
We appeal to all sectors of the community, including NGOs, to support the vaccination programme and vaccine pass arrangement. Hesitating over vaccination, taking a wait-and-see attitude, or thinking that vaccination is unwarranted, is simply acting against the aspirations of the whole community. For the sake of our loved ones, please do not hesitate any more and get vaccinated as soon as possible.
Dr Libby Lee, under secretary for health, Hong Kong
Where's the data to support forcing jabs on children?
I'm writing this letter as a concerned parent.
Over the last three pandemic years, we have struggled, adapted, accepted and lived in a constant state of anxiety. We have done our duty and protected the vulnerable. This has taken a mental toll, and as parents we want to shield our children from this anxiety.
Having said that, I don't understand why, at the tail end of the pandemic, we plan to impose drastic measures upon those who aren't the cause of the current health crisis: children.
What is the purpose of imposing vaccination on children aged five to 11? If the purpose is to avoid putting a strain on our health system, then I must ask: What is the percentage of five to 11-year-olds who contract serious cases of Covid-19? And how does this compare to the percentage of elderly people who contract serious Covid-19? What is the number of children who have died because of Covid-19 versus the number of elderly people?
Further, where is the data showing that children are better protected by the vaccine than those who have already been exposed to the virus? If by now, many children have caught Covid-19 and experienced mild symptoms, why do we need to mandate a vaccine which does little to prevent the transmission of the virus?
What is our long-term plan? Are we going to keep mandating vaccines every six months when the virus is not a serious threat to children's health? This is not in the best interests of their health or growth.
Looking at examples from other cities, we see that with a protocol on when to seek medical care, we don't need to burden hospitals or clinics with mild cases that can be self-managed, even when the virus is spreading.
I don't understand why we are targeting children instead of focusing our efforts on increasing vaccination rates among those whom the data clearly states are
at risk
: the elderly. Leaders of our world city, please explain the purpose of forcing vaccination against a currently non-threatening virus on young developing children.
Nadia Martins, Kennedy Town