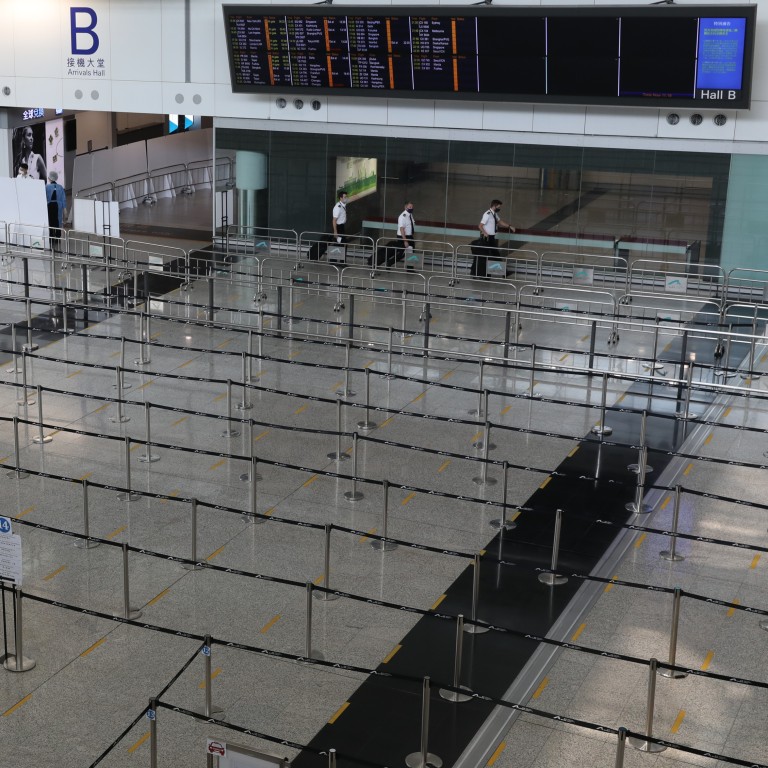 Letters
Outdated Covid-19 restrictions only keep Hong Kong frozen in time
Readers express relief at the reduced hotel quarantine but question the rationale of restrictions at all, and say it's time Hong Kong airport returns to its former bustling avatar
Feel strongly about these letters, or any other aspects of the news? Share your views by emailing us your Letter to the Editor at
[email protected]
or filling in
this Google form
. Submissions should not exceed 400 words, and must include your full name and address, plus a phone number for verification.
This Mid-Autumn Festival marks my eighth quarantine, totalling 87 days in less than two years.
I appreciate the government's move to reduce the impact of Hong Kong's quarantine, such as speedier checks at the airport. But it's difficult to understand how I've been able to travel to 11 countries in the last year with no Covid-19 restrictions and without feeling like I'm a risk to others – yet when I land in Hong Kong, it seems I land back in 2020. For a Hong Kong resident today, it's easier to fly to South Korea or Australia than back to Hong Kong or to mainland China.
Until the end of last year, quarantine, isolation and mask restrictions allowed us to live our lives peacefully and fearlessly amid Covid-19. But things are different now. Omicron is widespread, vaccines and antivirals are widely available, and data is abundant to understand trends and effective measures to minimise the impact of the disease.
I find, therefore, the three days of isolation as ineffective and expensive as ever: involving the
needless generation of plastic waste
, obsessive and expensive daily testing, massive manpower and paperwork. The same efforts could be poured into a vaccination outreach campaign for the elderly.
Is quarantine and the mandatory vaccination of children really protecting Hong Kong today, when most of the population is likely to have been already been infected and anybody leaving quarantine can be infected on the way home?
We're heading into the fourth year of the pandemic: our children have paid the biggest price, followed by separated families, and businesses of all kinds.
Nobody will give this lost time back to us, but at least we should do our best to move on at the soonest and sail towards a new, normalised future. It's way past time for Hong Kong to resolve vaccination issues and lift restrictions.
Marco Galimberti, Happy Valley
Give us back our vibrant airport
I was recently in hotel quarantine. While I felt grateful that I only had to spend three days in incarceration, it also felt like thanking somebody who had taken HK$100 from me and returned only HK$70.
I obtained the necessary PCR test overseas and tested again at the airport. Surely, two negative test results in the span of 48 hours should be enough to send me home to my family?
The paperwork on arrival was confusing. I was travelling with somebody who does not speak Chinese and is not fluent in English and I know how much he struggled to fill in the forms. I did my best to help but am fairly sure he will fall foul of some regulation or other.
I was last in quarantine in July when the incarceration period was seven days. At that time, the airport and hotel staff tended to pussyfoot around incoming travellers as if we were infected with some highly contagious deadly disease. Now, they seem a lot more relaxed; maybe they have come to realise that we in Hong Kong are overreacting to the situation.
I look forward to the day when these regulations are fully scrapped and Hong Kong International Airport goes back to being a vibrant hub instead of looking like a derelict hospital.
Deepak Mirchandani, Wan Chai