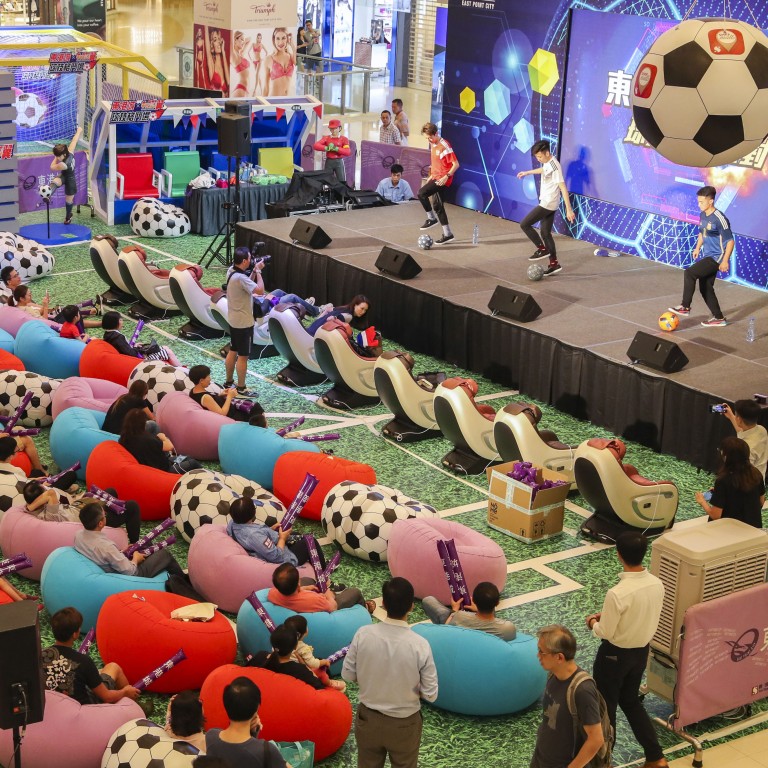 Letters

|
Why Now TV's World Cup package 'early-bird offer' is no offer
Readers discuss Now TV's business practices, harsh police behaviour, and the Pakistan prime minister's trip to London
Feel strongly about these letters, or any other aspects of the news? Share your views by emailing us your Letter to the Editor at
[email protected]
or filling in
this Google form
. Submissions should not exceed 400 words, and must include your full name and address, plus a phone number for verification.
When the news broke last month that Now TV had acquired the broadcasting rights to the Fifa World Cup in November, there was only one question: was it going to be affordable? If
past experience
teaches us anything, the answer would be no.
Given that we operate several food and beverage outlets here in Hong Kong – some of which subscribe to Now TV's Super Sports Pack at HK$8,888 (US$1,100) per month – we contacted Now TV to sign up for its early-bird offer, which is promoted by its sales team as costing HK$48,000 as long as one signs up before the end of this month. We registered our interest for two of our premises.
But one of its salespeople quickly informed us that we could not take up the early-bird offer because our current subscriptions had less than 12 months to run and, unless we extended the contracts, we had to pay the full price of HK$60,000 per shop. This seemed more than a little harsh in the current environment, given the past two years of lockdowns with
reduced hours
of operation. Now TV charged us full price for our subscriptions even when we weren't able to broadcast late-night sports.
Since our commercial leases at both premises expire in 2023, we informed the salesperson that we could not extend Now TV contracts as we could not guarantee we would still be at those locations. Now TV's response was simply "extend the contract or pay the HK$60,000".
On further investigation, it turns out the early-bird offer has a similar "small print" clause for residential customers. To take advantage of the early-bird offer of HK$280 instead of HK$1,080, you need to make a commitment for 24 months and "meet the required increment in monthly subscription fee".
Rather than providing a simple service to the people of Hong Kong, Now TV is roping them into drawn-out contracts they don't need for its own benefit. Shame on you and your business practices.
Noel Smyth, managing director, Delaney's Development Ltd
Harsh behaviour hurts police image
Following the social turmoil that Hong Kong has endured in the past few years, the Hong Kong Police Force has understandably embarked upon an endeavour to
rebuild a positive image
for itself and regain the trust of the Hong Kong people.
While campaigns on this front have been gathering steam, in practice there seems to be a ways to go. A case in point was the intimidation meted out to my wife last week at the doorstep of the Aberdeen police station on Heung Yip Street, just for the mistake of dropping me off on a double yellow line curb.
We are not contesting the breach. What needs to be addressed is the attitude of the two policemen who approached my wife. They lambasted her for the mistake instead of calmly and courteously explaining the situation.
This was a breach that resulted in a fine of HK$500. Point taken and lesson learned. The issue is, why were the two policemen were so verbally abrasive and abusive? Does a traffic violation need to be addressed in such an intimidating manner?
Kenneth Koo, Wong Chuk Hang
Prime minister should focus on Pakistan
Record monsoon rains and glacier melt in northern Pakistan triggered
disastrous flooding
that left as much as a third of the country under water. Tens of thousands of poverty-stricken citizens are at risk of starvation and waterborne diseases, and they need humanitarian aid to live.
Yet just when his presence in the country is greatly needed, Pakistani Prime Minister Shehbaz Sharif went to the UK to
attend the funeral
of Queen Elizabeth. Pakistan could have been represented by its ambassador to the UK instead.
Instead of visiting the UK, Sharif should visit every oil-rich Middle East nation to ask for humanitarian aid to help rebuild the nation into a prosperous one like before.
K.M. Nasir, Mid-Levels