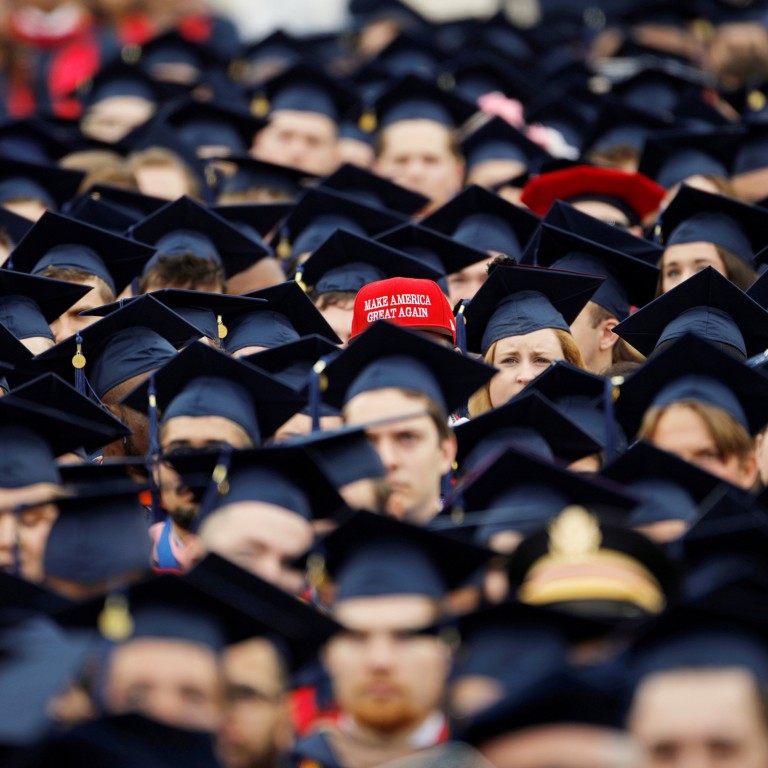 Letters
A sanction-happy, small-minded America will never be great again
Readers discuss the petty China-sceptical politicking that goes on in the US, why tourists aren't coming back to Hong Kong, and the need to take responsibility for outdoor workers' health
Feel strongly about these letters, or any other aspects of the news? Share your views by emailing us your Letter to the Editor at
[email protected]
or filling in
this Google form
. Submissions should not exceed 400 words, and must include your full name and address, plus a phone number for verification.
Sanctions
are widely employed by governments or institutions to punish perceived enemies or those not of their persuasion. This can take many forms, some of which are arbitrary and ridiculous.
Over 50 years ago, I was honoured to be awarded a rare fellowship of the American College of Surgeons. Half a century later, on September 22, the College informed me that my fellowship has been revoked. Apparently, as I am a resident of Hong Kong and therefore of the People's Republic of China, the college took this action to "avoid issues with the PRC laws governing the operations of foreign organisations in the PRC".
I am sure a number of my colleagues will have received the same message though the robust medical establishment in Hong Kong will regard it as a fly in the ointment.
However, by taking this step, the college is brushing aside the practice of medicine as a noble, unifying, global brotherhood. This concept is lost on the college, having given way to petty, small-minded politicking. With this craven mindset, the college should not have found it necessary to revoke my fellowship – I would have swiftly resigned with disgust.
Policing actions of this nature, small in themselves, and perhaps in other areas, ensure America will never be great again. It will have to rely on lesser triumphs, such as Campbell's tomato soup.
Dr Arthur van Langenberg, Deep Water Bay
Hong Kong is crawling while others sprint
Like in the race between the hare and the tortoise, we have been asleep for too long while others continue to steadfastly speed towards the finish line. Slowly opening our door to the outside world, while others fling theirs wide open, will not help halt the Pearl of the Orient's downward spiral into obscurity. To ensure Hong Kong's reputation doesn't go to the dogs, we need to welcome the world again with open arms.
We are moving at a snail's pace when we should be putting on a spurt. While the onerous
hotel quarantine requirement has at last been lifted
, mandatory PCR testing and mask wearing continue to ensure other destinations remain far more attractive to international visitors.
Soon hordes of Hongkongers will eagerly join their ranks, spending their hard-earned dollars overseas enjoying a much-needed return to normality.
We don't stand a cat in hell's chance of remaining relevant if we don't take the plunge and start living with Covid-19 like everybody else.
Joan Miyaoka, Sha Tin
Government must take care of outdoor workers' health
I refer to the article on a
recent survey
finding that many outdoor sanitation workers suffer from heat-related illnesses. Those outdoor workers deserve better treatment.
With climate change, the world is experiencing more extreme weather, and Hong Kong is no exception. Over the summer Hong Kong roasted under
record-setting temperatures
.
While the searing heat has driven residents to seek refuge in their air-conditioned homes and offices, outdoor cleaners are not able to escape. They have no choice but to continue to toil in these oppressive conditions, putting their health at risk.
While they are suffering the symptoms of dizziness and exhaustion caused by the hot weather, there is a lack of legislation to protect outdoor workers facing heat-related health problems like heatstroke.
Although the government has issued some prevention guidelines, these are only recommendations not backed up by specific legal provisions. The advice is often qualified by terms such as "where practicable". This indicates that the safety of workers depends on whether their supervisors are responsible or not.
The responsibility for making and enforcing stricter laws really lies with the government. Thus, I go along with the suggestions by Greenpeace and the Hong Kong Catholic Commission for Labour Affairs urging the government to enact laws on heat-related illnesses, include them in the Occupational Safety and Health Regulation and categorise them as compensable occupational diseases.
Among all the possible solutions, introducing legislation must be the best course of action to mitigate the situation as it has a deterrent effect and a punishment mechanism for irresponsible supervisors. The government should also take an active role in monitoring the issue.
Outdoor workers are entitled to safe and humane conditions, whatever the weather is. For the benefit of the Hong Kong public and for the health of the outdoor workers in general, I urge both the government and employers to address this issue promptly, by coming up with a multipronged and constructive approach to protect labour rights.
Jasmin Cheung Sin Yin, Kwai Chung