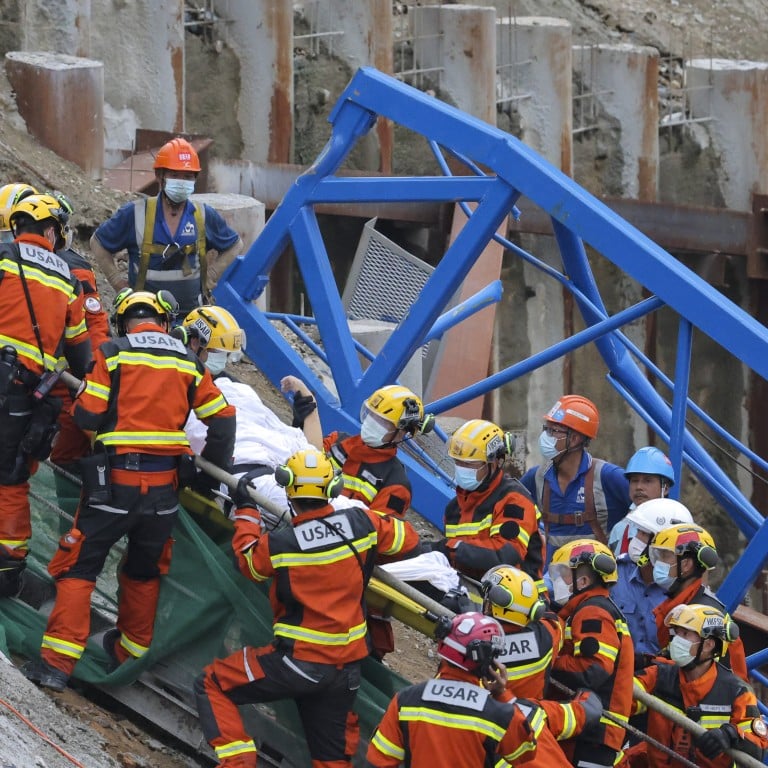 Letters

|
Fatal work accidents must spur Hong Kong to speed up enacting stiffer penalties
Readers discuss the need to do more to ensure occupational safety, what to do when children display pandemic-induced regressive behaviour, and the pace of the city's reopening
Feel strongly about these letters, or any other aspects of the news? Share your views by emailing us your Letter to the Editor at
[email protected]
or filling in
this Google form
. Submissions should not exceed 400 words, and must include your full name and address, plus a phone number for verification.
The
deadly collapse
of a crane at a Sau Mau Ping construction site this month has raised further concerns about worker safety.
The government has long recognised the problem of lapses in occupational safety. In May this year, it proposed to raise the maximum penalty for those found guilty of occupational health and safety offences to a fine of HK$10 million and two years in jail.
Deaths from industrial accidents have remained stable at about 20 a year, according to official statistics. But too many fatalities still involve serious violations of occupational safety regulations, suggesting that current penalties – a fine of up to HK$500,000 and a maximum of 12 months in jail – were not enough of a deterrent.
These all-too-frequent construction accidents are unacceptable. Last October,
scaffolding collapsed
during a typhoon, killing a worker. Last May, a lift platform fell and hit a worker, killing him. A month later, a
gondola plunged
about 20 floors to the ground, killing the two workers on it. Obviously, there are serious problems that need to be fixed.
Job safety is important not just for the workers but also their families who are financially dependent on them. A fine of a few hundred thousand dollars is not enough to ensure that contractors and other involved parties pay more attention to worker safety. The amendment must be passed quickly.
Randy Lee, Ma On Shan
Let's help our kids get over the pandemic
As the Covid-19 pandemic persists, it is not uncommon for parents to notice regression in their children for no apparent reasons – they are becoming clingy, needy and irritable, or prone to incontinence, bedwetting, crying spells and physical aggression – to name a few problems. Developmental psychology may offer insight into such regression as well as potential solutions.
Remember how as parents we try to let children know that things are fine, we can handle challenges, and we have their back? The unexpected emergence of the pandemic, however, has shaken the psychological foundation we naturally build in children.
The world is
no longer perceived
as "safe" nor its future predictable. Inadvertently, children pick up signs of uncertainty and fear from news programmes, social media, and people around them. It is extremely anxiety-provoking for a five-year-old to live in a world of unpredictability.
Regression therefore can be understood as an expression of underlying insecurity triggered by this disruption. With limited ability to make sense of what is going on, children tend to communicate their psychological needs via "problematic behaviours".
And yet parents can still help children flourish during the Covid-19 pandemic. Some suggestions I can offer as a clinical psychologist are: maintain a routine that promotes predictability; limit children's exposure to anxiety-provoking content; be aware of our own anxiety and our tendency to overreact; accept their regression as a call for support, reassurance and love, and allow them to act younger than their age and express your support in words; use body language to bond with the child, such as giving them a hug or a pat on the back, using a calm voice, making eye contact, and smiling back; spend quality time together and engage in fun activities such as playing games, doing sports, reading, drawing, baking and enjoying the outdoors.
Of course, some children (and adults) have adjusted well during the pandemic and there are always multiple factors contributing to a child's condition. With adequate support from the family and community, most children can get through the challenging times unharmed, if not get better and stronger.
Kristen Tang, Wan Chai
Hong Kong shouldn't just reopen halfway
Why is the Hong Kong government hell-bent on a slow recovery? I must admit we have
moved on a lot
but I was always told that you cannot dig half a hole. Why bother with going step by step? We need to open up entirely.
If people are concerned about not being vaccinated, I'm afraid that's their problem. You either cross the road via a zebra crossing or you jaywalk and run the risk of getting hit by a vehicle. Life is full of risks. Why should the majority of vaccinated Hong Kong residents suffer for the people that don't want to get vaccinated?
You wonder why many people have already left Hong Kong. Wake up, Hong Kong government. Covid-19 is not going away. We need to just live with it like the flu.
Andy Gamble, Discovery Bay