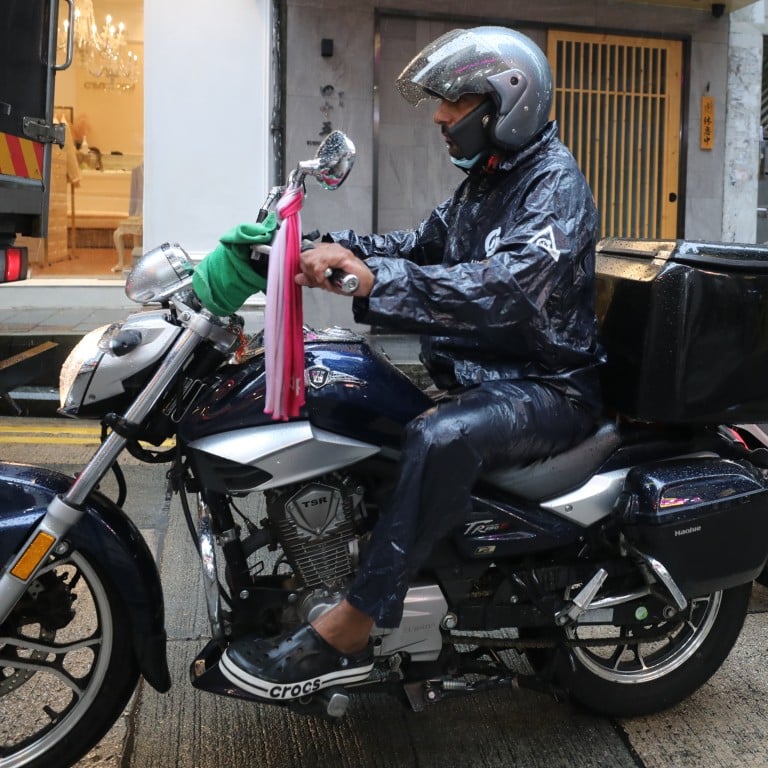 Letters
Protect Hong Kong's food delivery workers from racism and exploitation
Readers discuss racial discrimination in Hong Kong, social education's role in ending racism, and using tolls to ease traffic congestion
Feel strongly about these letters, or any other aspects of the news? Share your views by emailing us your Letter to the Editor at
[email protected]
or filling in
this Google form
. Submissions should not exceed 400 words, and must include your full name and address, plus a phone number for verification.
I am stunned and saddened by the news that food delivery workers from Hong Kong's ethnic minority communities encounter discrimination when interacting with their clients during work ("Half of food couriers from ethnic minority groups experience discrimination in Hong Kong, survey finds",
September 30
).
Racial discrimination has long been a deep-rooted problem in Hong Kong. Workers of Pakistani and Indian descent are not the only ones who face particular hardship at work.
Exploitation of domestic workers
of Indonesian and Filipino descent is also common.
The Race Discrimination Ordinance primarily protects people from being discriminated against, harassed and vilified on the grounds of their race. Victimisation is also unlawful under this ordinance. The ordinance makes it illegal to discriminate against, harass or vilify based on race, colour, descent, and national or ethnic origin whether in employment, education, provision of goods, services and facilities, disposal and management of premises, eligibility to vote for and stand for election to public bodies, or participation in clubs.
It is absurd for people to label certain food delivery workers as dirty and a
source of viruses
. Regardless of the language barrier, cultural differences and tough working environment, these workers weave their way through heavy traffic on motorcycles to deliver food to customers at home, come rain or shine. They work very hard to earn a small wage and make ends meet.
The death of a food delivery worker while he was riding to work in July drew attention to the
meagre insurance protection
afforded to these workers. Last year, food delivery riders
went on strike
to protest against a cut in their already-low fees, highlighting problems they face on the job.
If Hong Kong is really "Asia's World City", our government should take action to protect food delivery workers from ethnic minority communities against exploitation by unscrupulous employers.
Pages Ng, Tuen Mun
Tackling racism will take more than laws
The letter, "A world city like Hong Kong should be more sensitive to subtle racism"(
October 2
) made a valid point about subtle discrimination against "dark-skinned" people. The stereotyping that anyone other than fair or white-skinned people is inferior might have started with the belief that "might is right". From there, films took over propagating that belief together with portraying people with dark, "yellow" or "red" skin as evil characters. The image sadly lives on.
It was universal social education which produced the misguided image that people with certain skin tones are "bad", so it will take universal social education to put it right. Anti-discrimination laws and what have you can only reach a certain level. Ultimately it is how we – each and every one of us, Asian, African, Indian, Caucasian or whatever else one might be – see our neighbours and fellow human beings that will bring about the desired result.
We have a good platform on which to build here in Hong Kong. A first step could be to have a healthy mix of cultures within the government.
James A. Elms, Wan Chai
Raising tolls won't fix traffic congestion
It is disheartening to learn that the government plans to raise the tolls of two
cross-harbour tunnels
to ease traffic congestion during peak hours. Since our affluent motorists are unlikely to care about the increase, it simply will not work to reduce congestion.
Instead, perhaps Hong Kong can capitalise on the beauty of its harbour and build cross-harbour bridges like those seen in Sydney and San Francisco. Such bridges will not only help ease congestion in the tunnels but become tourist attractions and landmarks helping to boost the city's image.
The authorities concerned should also consider the resumption of vehicular ferries so old-timers and other motorists who enjoy the sea breeze have another option.
Lawrence Choi, Wan Chai