Energy
Get more with myNEWS
A personalised news feed of stories that matter to you
Learn more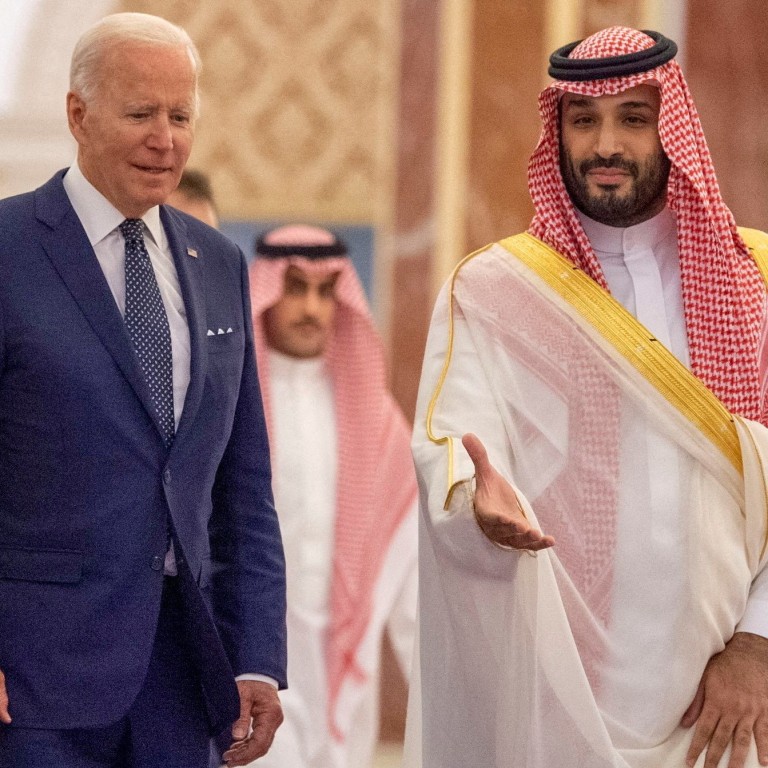 Letters

|
Was Opec+ move Saudi Arabia's revenge for Biden's 'pariah' threat?
Readers discuss the implication of the Opec+ decision to cut oil production, the urgency of avoiding conflict over Taiwan, Russia's nuclear weapons, and the Crimea bridge attack
Feel strongly about these letters, or any other aspects of the news? Share your views by emailing us your Letter to the Editor at
[email protected]
or filling in
this Google form
. Submissions should not exceed 400 words, and must include your full name and address, plus a phone number for verification.
Perhaps US President Joe Biden's vow during his 2020 election campaign to make Saudi Arabia a pariah state is still ringing in the ears of the Saudi royal family. Not only did the Opec+ coalition of oil-producing countries, led by Saudi Arabia, not pledge to increase oil exports, it decided to
decrease production
by 2 million barrels.
This comes despite the Biden administration's efforts to push Saudi Arabia to produce more oil in the wake of supply shortages following the Ukraine war and the resulting Western sanctions on Russian oil. Biden's
visit to Saudi Arabia
in July, during which he fist-bumped Saudi Crown Prince Mohammed bin Salman, was part of this effort.
The Opec+ decision could thus be seen as a US political and diplomatic failure. US Secretary of State Antony Blinken has said the Biden administration is reviewing various options in response, although he did not specify what these would be. Last week, Biden said there would be "consequences" for US relations with Saudi Arabia. Democrats in Congress have called for the United States to freeze arms sales to Saudi Arabia. Such moves would not be surprising, going by how the US has reacted to nations that acted against its interests.
In the past, the US' scaremongering worked to bring defiant nations to heel, but now it is not as powerful and influential as it was in all domains previously. So, given the current global anxieties over the supply of oil, it is no wonder Saudi Arabia seems to have taken the opportunity to make a point.
Randy Lee, Ma On Shan
On Taiwan, peace must be the priority
Wiser minds must constantly remind the generals and politicians in mainland China and Taiwan that it would be unforgivably foolish to sacrifice the prosperous peace enjoyed by Chinese people on both sides of the strait by destroying the wealth-generating engines on the mainland and in Taiwan just to play a bloody game of who gets to boss around the people of Taiwan.
Make no mistake: if war breaks out, the mainland will not escape great damage, destruction and death, as well as condemnation from its trading partners. Brilliant people in Taiwan and on the mainland have worked for many years to create the industries that generate the wealth to support the present high standard of living.
When you step back for a moment and consider that everyone on both sides want the same things – a good life, plenty of food, good healthcare and nice, safe homes – then you realise that a peaceful solution can be found if only the generals and politicians will look for it. It would be a tragedy if hard-earned prosperity is sacrificed by foolish hotheads.
Thomas Cook, Jacksonville, Florida
Russia knows the value of superior weapons
During the Battle of Omdurman in Sudan in 1898, Winston Churchill, who was then aged just 23, saw what a superior weapon could do. Perhaps that is why in 1951 he proposed that the United States should drop nuclear bombs on Russia.
The Americans must have then known that, somewhere by the North Pole, Russia had bombers ready to strike their cities. They focused instead on missiles, just as we did in Russia. Then, we had many German rocket engineers as prisoners of war working on our project.
Mergen Mongush, Moscow
Russia calling bridge attack 'terrorism' rings hollow
Russian President Vladimir Putin is probably dubbing the Crimea bridge attack an act of terrorism to find a reason to use even more devastating weapons, such as nuclear weapons. A simulation of what would happen if Russia launched a single missile strike against Nato concludes that 90 million people would die within the first few hours of the conflict.
By putting the use of nuclear weapons on the table, Russia is threatening the whole world.
Wong Hoi-shan, Kwai Chung