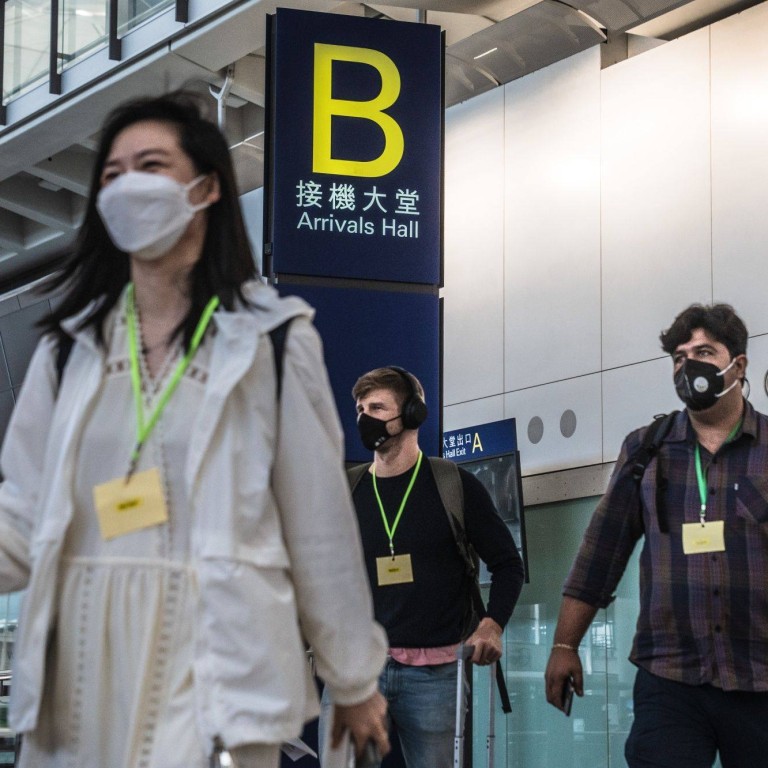 Letters
Drawing talent to Hong Kong is easy. Just remove all Covid restrictions
Readers discuss the pandemic measures keeping foreigners away, the special treatment for foreign bankers, Xi Jinping's message for Hong Kong in his national congress speech, and the elections in Brazil
Feel strongly about these letters, or any other aspects of the news? Share your views by emailing us your Letter to the Editor at
[email protected]
or filling in
this Google form
. Submissions should not exceed 400 words, and must include your full name and address, plus a phone number for verification.
I applaud the steps Chief Executive John Lee Ka-chiu has outlined in his
policy address
to build a better Hong Kong, but he is missing the key ingredient.
I have just spent two weeks in Europe trying to persuade people and businesses that Hong Kong is a wonderful place and still the door to China. It has a free and dynamic business environment, a clever and willing workforce and an open government. It is a great holiday destination.
The issue that always comes up among those who are interested in Hong Kong, or who have left and are thinking of returning, is the city's
Covid-19 policy
. Linked to this are the concerns of those with children about the
ability
to attend face-to-face lessons and mix with peers.
No other issue is as important. The unrest and the national security law are forgotten.
Remove the Covid-19 regulations, as the rest of the world has done, and Hong Kong will prosper. It is the only thing that will really bring back people and investment.
Ian A. Skeggs, Tai Hang
Different codes for different folks
The front page of Friday's edition of the Post bore the headline "Bankers flying in for summit will
avoid some restrictions
", followed by: "Industry chiefs to be spared amber code restrictions and can enjoy freedom to mingle in restaurants".
George Orwell, author of Animal Farm, was right: "All animals are equal, but some animals are more equal than others".
Leo Murray, Tsim Sha Tsui
It's up to us all to strengthen national unity
President Xi Jinping delivered his
work report
at the opening of the 20th national congress of the Communist Party on October 16. What should Hongkongers take away from the report? I share my thoughts as follows.
Our central government has only one aim: to serve the people. It pursues this aim with wholehearted dedication, inspiring people to give their unfailing support in return. It takes a united population to combat corruption and establish good governance and legal infrastructure.
In Hong Kong, good governance and the absence of corruption are systems and values that have been built up and treasured over many years. As such, our government's main task is to strengthen national unity.
This can be achieved by engaging those who are not only patriotic, but knowledgeable and professional, to serve the city. Chief Executive John Lee Ka-chiu has already made efforts to
reach out
to the public and cooperate with community organisations. It is up to Hongkongers to be receptive.
Across society, people from all walks of life have been affected by the prolonged war against Covid-19. Many retail and catering businesses have suffered from the loss of tourism. Yet if we can extend both community and business ties to the mainland, new economic opportunities can be created.
As for strengthening cultural unity, there is no better way than by infusing culture into people's daily lives. Community-based groups can help to arrange visits and exchanges. After all, locals make the best tour guides. We welcome tourists from around the world and would gladly serve as their guides here.
By the same token, dedicated groups from provinces across the mainland can serve as guides for Hong Kong tourists and exchange students. Community organisations can act as bridges between the provinces and cities they represent, enhancing the circulation of capital and human resources.
The government should set up a board of community representatives and professionals to help Hong Kong people explore and access the opportunities that cross-border collaboration will create.
Hong Kong has a pivotal role to play in the growth of our country in the coming century. Let's not lose sight of this in maintaining its world-class governance structure.
Lusan Hung, Wan Chai
Bolsonaro is a threat to democracy and the planet
I refer to "Bolsonaro defies polls to force Lula run-off" (
October 4
).
Brazilian president Jair Bolsonaro's anti-democratic goal may be yet another instance of that often dangerous philosophy: the end justifies the means. The most frightful example of such justification is the pogrom, the primary implementers of which know they're committing mass murder yet still genuinely perceive it all as part of an ultimately greater, moral good.
He's also the same despot who allows the Amazon rainforest to be razed by both meat farmers and wildfires.
In the midst of wildfires a few summers ago, Bolsonaro declared that his presidency – and, I presume, all the formidable environmental damage he inflicts while in power – is "fulfilling a mission from God".
Frank Sterle Jnr, British Columbia, Canada