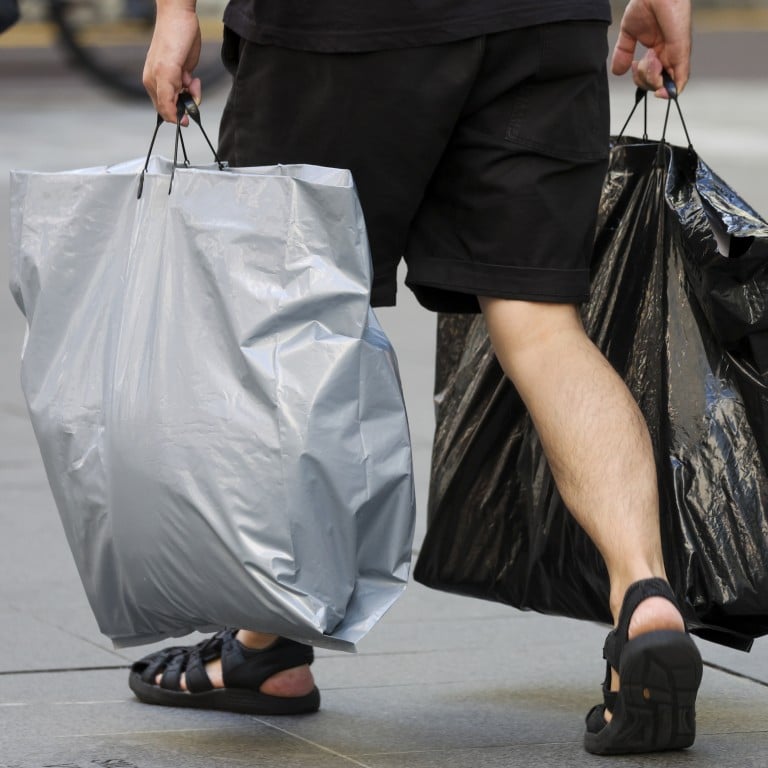 Letters

|
Hong Kong must build on efforts to reduce plastic waste to create a fully circular economy
Readers discuss the plan to increase the levy on plastic bags, whether the measure goes far enough, and the need to treat climate change denial as fake news
Feel strongly about these letters, or any other aspects of the news? Share your views by emailing us your Letter to the Editor at
[email protected]
or filling in
this Google form
. Submissions should not exceed 400 words, and must include your full name and address, plus a phone number for verification.
As we approach the end of 2022, it is encouraging to see Hong Kong is making progress in tackling plastic pollution ("Hong Kong to double plastic bag levy to HK$1 by end of the year following Legco approval",
October 19
). The increase in the levy on plastic bags is expected to be followed by
a ban
on restaurants using single-use plastic tableware and containers for in-room dining by the end of 2023.
This is the result of the collective effort of many environmentalists and businesses, as well as administrative willingness to take a progressive approach on the part of Secretary for Environment and Ecology Tse Chin-wan and his team.
We cannot stop here. Waste management still accounts for 8.7 per cent of local greenhouse gas emissions. We need to continue to change individual behaviour by promoting more refill solutions for personal care products and beverages.
Businesses should look into waste generated from product packaging and office demolitions. Hong Kong needs to adopt a fully
circular economy
to achieve carbon neutrality by 2050.
Cosmo Lo, North Point
Plastic will be abundant despite ban
With regard to "Hong Kong to double plastic bag levy to HK$1 by end of the year following Legco approval" (October 19), let me see if I understand correctly.
When I go to my supermarket, I can buy Coke in plastic bottles, orange juice in a plastic jug, ketchup in a plastic bottle, bread in a plastic bag, peanut butter in a plastic jar, fruit in plastic bags, pork on a plastic tray, rice in a plastic bag, sausages in cling film, eggs in plastic trays, cooking oil in a plastic jug and ice cream in a plastic container, but I must pay extra for a plastic bag to carry them all home because the plastic bag is bad for the environment?
Vince Pinto, Yuen Long
Concerted push needed to combat climate change denial
As the international scientific community has reached a consensus on the main driving force of global climate change being greenhouse gases released because of human activity, it is heartening to read the rebuttals of Hong Kong Observatory staff through letters to the editor against climate change deniers ("Climate change: link between sea level rises and human activity backed by solid science",
September 20
, and "Where's the evidence to support climate change doubt?",
October 5
). Yet, more coordinated intragovernmental efforts are required to effectively educate the public about the looming climate disaster.
The Observatory has been actively refuting false claims about climate change made in these columns. As early as 2013, Mr Lee Sai-ming, the senior scientific officer at the Observatory, wrote
a letter
("Deniers hurt climate change awareness", December 7, 2013) to present strong evidence from both international research and local observations about the climate crisis. Since similar debates have emerged in subsequent years, the Observatory should compile and post a list of its letters published in the
Post
on this matter on its website for the reference of the public.
In contrast to the Observatory's prominent voice, the silence of the Environmental Protection Department over climate change deniers is disappointing. Although the department has written regularly in these columns, most of the letters focused on its policies and programmes. The department should more proactively speak up against climate change denial and promote its educational projects on climate change such as its Climate Ready website, its carbon calculator and decarbonisation e-learning platform.
According to Secretary for Security Chris Tang Ping-keung, the government is exploring how to deal with
fake news
taking into account other countries' experiences and methods. Given the catastrophic consequences of failing to act decisively on climate change in the coming years, attempts to confuse the public on this matter should be made legally punishable. We urge the Legislative Council Panel on Environmental Affairs to work closely with various government departments and bureaus to hold climate deniers accountable.
Langjia Chen, student, and Dr Simon Wang, lecturer, Baptist University