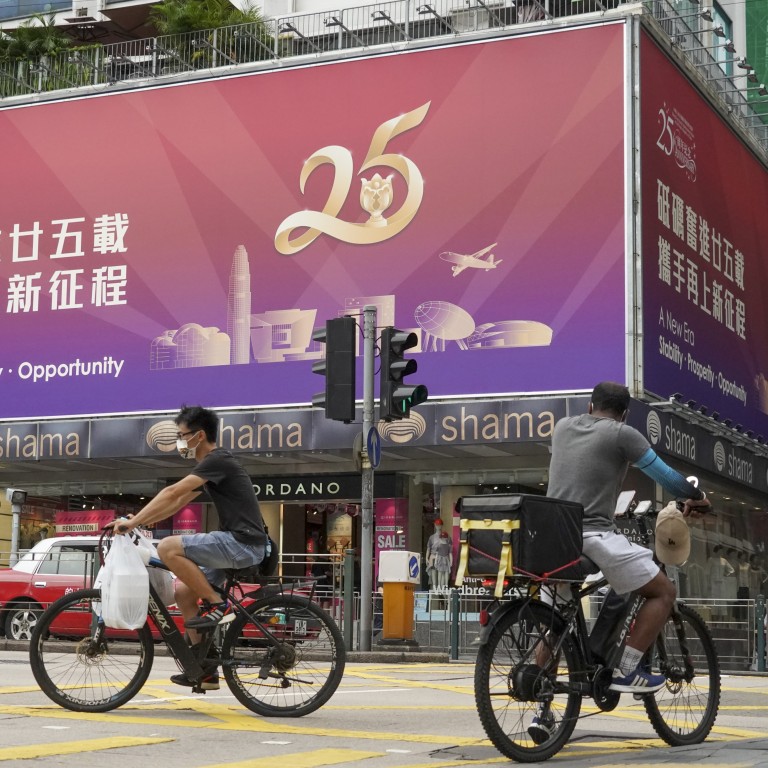 Letters

|
Hong Kong leader's policy address should have mapped route to a more car-free city
Readers discuss gaps in the policy address' plans for transport, and the impact of soaring private car ownership on air quality
Hong Kong Chief Executive John Lee Ka-chiu's first
policy address
includes a section titled "drive development by transport infrastructure" in which he commits to taking forward three major road projects and three strategic railway projects, with the aim of building "a highly inter‑connected and accessible road network and rail system".
It is unfortunate, though, that the policy address does not look much further in seeking to improve mobility. It did not touch on cycling or other types of public transport.
Improving existing cycling paths and constructing new segregated cycle lanes in urban Kowloon, especially on major thoroughfares such as Nathan Road and Argyle Street, could go a long way in promoting cycling in Hong Kong. Currently, there are few to no bike lanes in dense urban areas such as Mong Kok or the busier parts of West Kowloon, but these areas are precisely the ones that would benefit the most from segregated cycle paths.
By making it easier for people to use bikes to commute, work or shop in the area, we can potentially reduce the pressure on public transport and roads while attracting more urban residents to use bikes regularly. Cycling paths could also help reduce car use in those areas, which would be great for the environment and for the reduction of noise pollution.
On the public transport front, I think that buses have been overlooked in the policy address. In neighbourhoods the MTR can't reach, such as Tai O and Sha Tau Kok, buses are a lifeline for many residents who work outside the area. Therefore, it is imperative that greater consideration be given to improving the quality and frequency of bus services, as this too could help decrease the number of cars in these localities.
Consideration should also be given to establishing segregated lanes for buses and minibuses on major arterial roads to minimise traffic problems and ensure punctual bus services.
By improving public transport across the board and expanding cycle networks, Hong Kong could become more interconnected and car-free than ever before, representing an important step towards the city achieving
carbon neutrality by 2050
.
Koios Pang, Sham Shui Po
Private cars are clogging valuable public space
In response to the op-ed pointing out that road transport accounts for about 20 per cent of carbon emissions in Hong Kong ("I am selling my car to help fight climate change",
October 15
), I would like to attest to the appalling roadside
air pollution
on downtown streets which is slowly poisoning each and every one of us.
Roads are clogged with slow-moving traffic because far too much space has been allocated to affluent private car owners. If the roads were freed from these cars, public buses and commercial vehicles could all move faster and services could run more smoothly, thereby assisting the economy.
The monstrous growth of private car ownership in the past two decades has resulted in an almost uncontrolled free-for-all parking of cars at roadside curbs both in and outside authorised spaces.
Our government has always professed to have consistent policies based on a "user pays" principle. And yet affluent car owners are permitted to make use of valuable ground level space in the central business district where the daily rent for shop owners would be thousands of dollars each day. For this, the car drivers pay less than HK$20 an hour.
Why should affluent car owners enjoy this ridiculously low charge for obstructing the streets to the inconvenience and detriment of the population as a whole? We all suffer from being forced to walk along pavements which are far too narrow because large sections of road space have been given over to these wealthy cars owners. It is time to turn the clock back and get these cars off the streets.
P. A. Crush, Discovery Bay