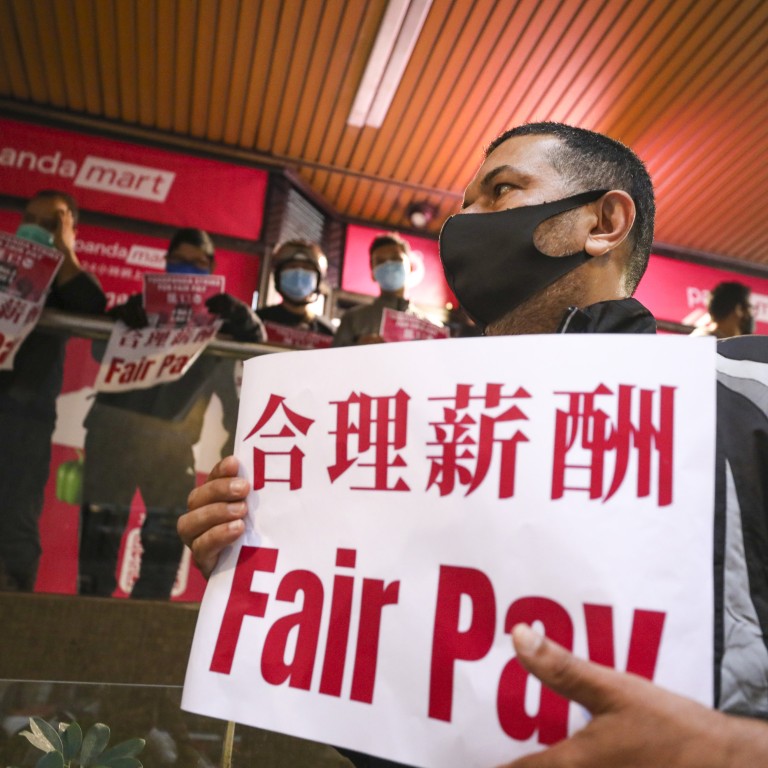 Letters

|
Hong Kong's food delivery riders deserve a better deal
Readers discuss the Foodpanda rider strike, and the US consul general's viral post on a popular local takeaway option
Feel strongly about these letters, or any other aspects of the news? Share your views by emailing us your Letter to the Editor at
[email protected]
. Submissions should not exceed 400 words, and must include your full name and address, plus a phone number for verification
During the pandemic, many Hongkongers have turned to food delivery services, and come to appreciate the convenience of receiving a hot meal at home with just a tap on an app.
However,
the strike
by Foodpanda riders suggests that the company's treatment of couriers might need improvement. Last month, the company launched a new mapping system to calculate riders' wages based on their delivery distances. However, riders say the new system actually lowers their wages. They are also unhappy that they are not allowed to decline or transfer orders.
While we wait for our food in the comfort of our homes, couriers have to endure long waiting times at restaurants while dealing with impatient customers, often bearing the brunt of restaurants' mistakes. They work even under adverse weather conditions. They also face challenges parking in some areas.
Riders are self-employed and must own their vehicle. Many riders are new immigrants and have no other way of making a living.
It is particularly upsetting that they are seeing their wages drop during the pandemic when business has been booming for food delivery companies.
I urge Foodpanda to actively listen to riders' demands and adjust its policies. The company should ensure a fairer and more transparent delivery distance system through discussions with rider representatives. While
the company argues
that their current policy is fair, couriers experience the system first-hand and hence they would be able to offer a more realistic assessment of the system.
The company should also provide benefits for couriers making deliveries in extreme weather.
Iman Wan, Pok Fu Lam
When buying two-dish rice, bring your own box
I am writing in response to
the report
, "US$3 'This This Rice': iconic bargain Hong Kong take-out 2-dish meal fit for city's top US diplomat and maybe even banking titans too" (November 2).
During the pandemic, takeaway lunchboxes containing rice and two Cantonese sides gained popularity. When US Consul General Gregory May posted on social media that he had finally tried the meal, he sparked much discussion. It was heartwarming that the diplomat gave this very Hong Kong aspect of food culture a try.
Two-dish meals are not only cheap, especially when the price of food is rising, but the dishes are also tasty, and remind one of home. When I walk home every day, I see an increasing number of restaurants offering the two-dish option. Getting takeaway for dinner is convenient and saves me time cooking.
However, the disadvantage is that it causes a lot of waste, since the food usually comes in a styrofoam or plastic box. I hope that when Hongkongers enjoy this meal, they will remember to bring their own containers.
Rosa Chen, Tseung Kwan O