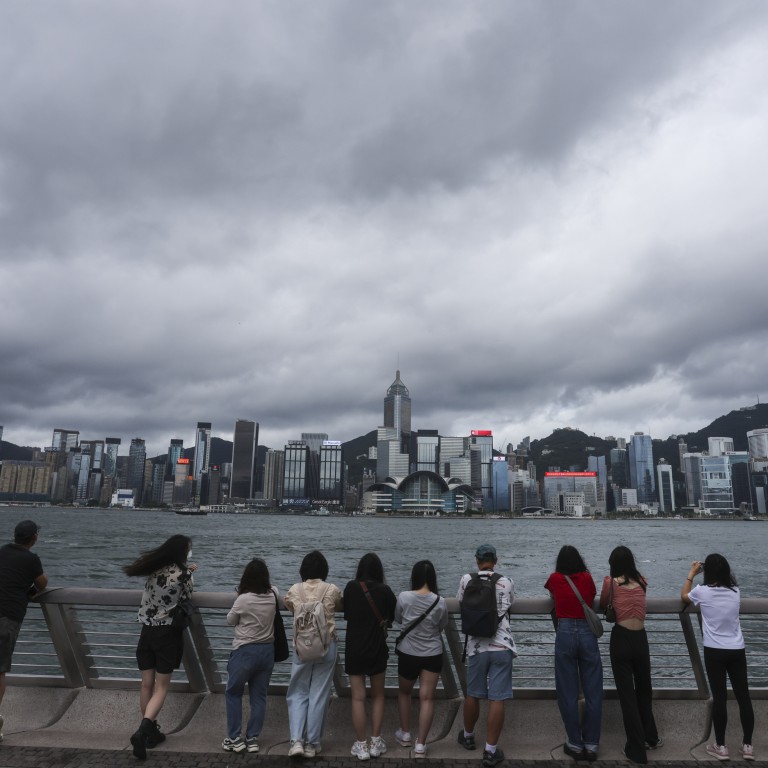 Letters
Hong Kong must focus on the economy, not politics
Readers look to the past to discuss the challenges facing Hong Kong today, suggest how employees can prepare for a rainy day, explain why the nationality of lawyers is relevant in national security law cases, and reflect on the derailing of an MTR train carriage
Feel strongly about these letters, or any other aspects of the news? Share your views by emailing us your Letter to the Editor at
[email protected]
or filling in
this Google form
. Submissions should not exceed 400 words, and must include your full name and address, plus a phone number for verification.
"A barren rock, with nary a house upon it" was how Lord Henry John Temple Palmerston, then British foreign secretary, described Hong Kong 180 years ago. What the British saw as a
"fishing village"
may not have seemed a particularly attractive place to live and do business, but the first British governor of Hong Kong declared it a free port.
This was a good policy. The port facilities and other infrastructure were upgraded, laying the foundation for Hong Kong's transformation into an important trading post in the region.
Today, Hong Kong once again must respond to a slew of challenges. The city has been hit by years of social upheaval and, more recently, the Covid-19 pandemic. There has reportedly been a steady flight of capital and talent from Hong Kong to our rival Singapore, which will affect our economic development. How can we tackle both the
capital outflow
and the brain drain?
We desperately need good policies. We have to make both local residents and newly arrived migrants regard Hong Kong as "home sweet home" so we can stem the
tide of emigration
and Hong Kong residents will not be affected by push and pull factors, but will stay here as permanent residents.
There is a well-known couplet that goes, "The door is open to bliss for all seasons, the house has room for wealth from all directions". Hong Kong has prospered when it focused on business and trade but withered when it was involved in
political turmoil
and conflict.
Should Hong Kong be turned into a political city? If we can uphold the concept of "one country, two systems" purely as a tool to develop the economy, Hong Kong will flourish and can shine even brighter in the years ahead.
Lo Wai Kong, Tsuen Wan
How employees can brace themselves for bankruptcy
In the last two years, a large number of Hong Kong companies have
filed for bankruptcy
, as the pandemic disrupted business both locally and globally. It is time employees understood what would happen to them in the event that their employer becomes insolvent.
Employees should be aware of how companies go about the process of filing for bankruptcy.
With most privately owned companies, the issue of impending bankruptcy may not be obvious to anyone other than executive management. But there are telltale signs that employees can watch out for. One obvious sign is when the company misses its scheduled payrolls.
When an employer files for bankruptcy, there will always be unpaid employee salaries. However, there is protection for employees under law; they become creditors to the company. As a result, their wages become a top priority for the team leading the liquidation process.
However, this does not mean that the wages will be paid on time. This is the unfortunate reality for most employees whose employers declare bankruptcy. Thus, it's important, especially during these tough economic times, for all employees to aim to have a few months wages saved up for a rainy day.
This might be a tough ask for some, but it can help you avoid the more difficult situation of having to go several weeks or months without a living wage.
Kong Cho Yin, Pok Fu Lam
Nationality of lawyers is important in security law cases
Cliff Buddle said in his
column
, "Decision to allow top UK lawyer to defend Jimmy Lai is a welcome move" (November 12) that a lawyer's nationality is irrelevant.
The trial concerns offences against Chinese national security. Not relevant? Then perhaps we should have asked the British parliament to pass the Hong Kong national security law in the first place, or send Lai to a British law court, or generally allow the Chinese to do in the United Kingdom what the British are allowed to do in Hong Kong, for example, allowing Chinese lawyers to represent defendants charged in British courts with national security offences.
If nationality has no meaning, why in 1997 did the British government convert Lai into a British subject without requiring him to take up residence in the UK?
C.Y. Leung, vice-chairman, Chinese People's Political Consultative Conference, and former chief executive (2012-2017), Hong Kong Special Administrative Region, People's Republic of China
Latest accident a blow to confidence in MTR
I am writing in response to "Hong Kong rail operator working overnight to repair station damage after front train carriage veers off tracks" (
November 13
). The front carriage of an MTR train derailed as it was entering Yau Ma Tei station, with about 750
passengers evacuated
. Fortunately, there were no serious casualties.
I used to stand at the door every time I took the MTR, but I will refrain from doing so in the future. My confidence in the MTR has dropped. I hope we will see fewer such accidents.
Linda Poon, Tseung Kwan O