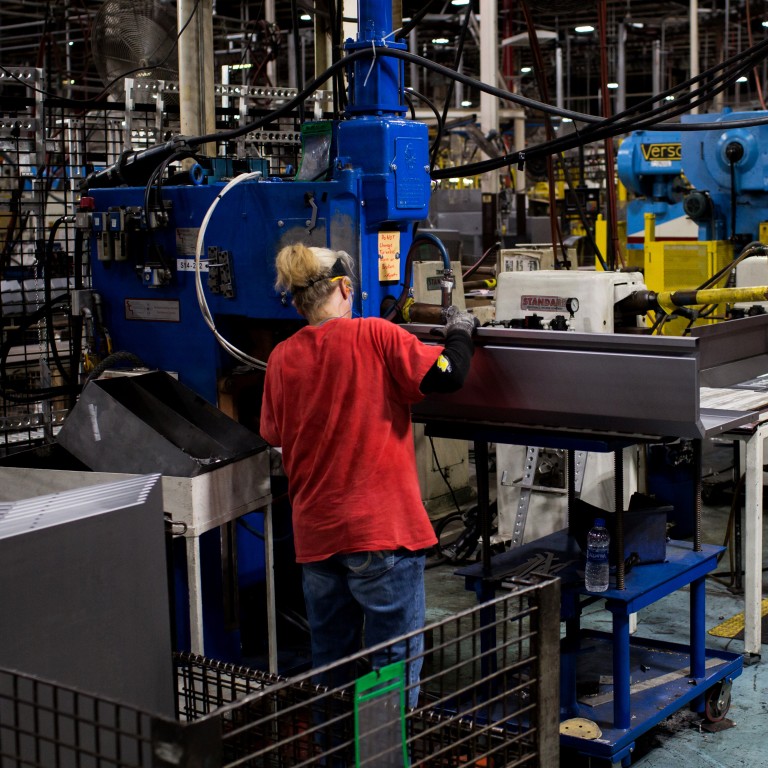 Letters

|
Blame robots, more than trade with China, for US manufacturing job losses
Readers discuss why the argument that trade with China is responsible for diminished US manufacturing doesn't hold up, and partisan politics in the US and Canada
Feel strongly about these letters, or any other aspects of the news? Share your views by emailing us your Letter to the Editor at
[email protected]
or filling in
this Google form
. Submissions should not exceed 400 words, and must include your full name and address, plus a phone number for verification.
US manufacturing is down because of competition from China, right? It is true that employment in manufacturing is down from over 30 per cent of the workforce in the 1950s to under 10 per cent in recent years. Likewise, the value of manufacturing output as a share of the economy has fallen from over 25 per cent to about 10 per cent. People usually point to these figures, and rising trade numbers with China, to conclude that trade with China is killing US manufacturing.
But these numbers are misleading. The value of manufacturing output is based on both the prices and the volume of manufactured goods. The rise in manufactured goods prices has not kept pace with the rise in prices of other goods and services in the economy.
A
2017 study
by the St Louis Federal Reserve found that if you adjust for this, the actual volume of manufacturing in the US as a share of the economy has been fairly constant at around 12 per cent for decades.
"Productivity growth" is the term economists use to describe a situation when manufacturing output grows to keep pace with the overall economy but manufacturing employment and manufactured goods prices fall. The US economy is still a manufacturing power. It just doesn't use as much labour or charge as much for the manufactured goods in these times. We are getting more for less.
No one argues that trade with China has caused this productivity boom; the real cause is continuing innovation of manufacturing processes that is replacing workers with capital machinery. So, if you must blame someone or something for manufacturing sector job losses, blame the robots not trade with China.
Recent calls from politicians and pundits from both political parties to use government-directed industrial planning to "beat the Chinese" thus miss the mark.
First, trade with China isn't the problem; in fact, there really is no problem. Second, industrial planning has failed literally everywhere it has been tried.
This is not to say that the amazing growth in the size of the Chinese economy over the last 40 years, which incidentally was a result of the country's abandonment of Mao's centralised industrial planning, is of no concern. The Chinese military represents a growing threat in the East Asian region and increasingly throughout the globe. Furthermore, Chinese economic and diplomatic power is being exerted in ways that should concern US policymakers.
An aggressive stance against China in these domains may be warranted, but returning to the failed 20th century idea of industrial planning to revive US manufacturing won't fix the problem.
Robert Lawson, Jerome M. Fullinwider chair in Economic Freedom, SMU Cox School of Business, Southern Methodist University, Dallas
Business interests have too much influence over politics
I write with reference to "Powerful Murdoch media dumps on 'loser' Donald Trump as Ron DeSantis shines" (
November 11
).
American partisan politics is not unlike that of Canada. For example, one party having control over Canada's House of Commons doesn't translate into individual elected members actually representing their specific electorate. They basically represent their party and its ideology, thus policy.
Even then, our elected leaders and governments are increasingly becoming symbolically "in charge", while beholden to the most entrenched national or corporate interests and institutions. Lobbyists will even write bills for governing representatives to vote for and have implemented, supposedly to save the elected officials their own time.
Apparently, politically potent and focused big business interests get catered to regardless of which of our two largest parties governs.
Frank Sterle Jnr, British Columbia, Canada